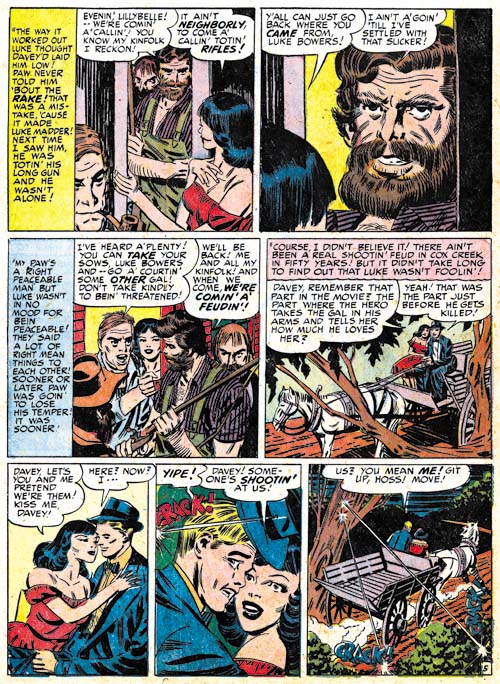 Young Love #10 (June 1950) "My Backwoods Love" page 5, art by Mort Meskin
There is a great web site devoted to Mort Meskin. Among its many attractions is a biography that includes a picture of Mort working on a romance page. I have often wondered what story the page was from but until recently I never could place it. A few weeks ago I spotting it while looking at "My Backwoods Love" (Young Love #10, June 1950). Actually I should have noticed it earlier since I included the splash in one of posts (The Art of Romance, Chapter 11, After the Glut). But Meskin did 1033 pages of romance art for Simon and Kirby so a single page is easily overlooked. Comic books dates are a guide to when a title should be removed from a newspaper stand and so are a couple months advanced from the actual release date. Also time must be allotted for printing and distribution. Generally the cover date must be adjusted by 5 or 6 months to arrive at the calendar date for when the art was done. This would place the photograph as being done around January 1950. All indications are that Simon and Kirby did not keep much of an inventory so that date is probably accurate to within a couple of months.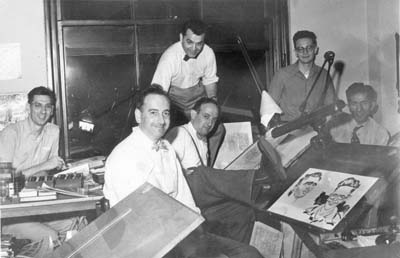 Simon and Kirby studio (probably from 1951 or 1952) Left to right: Joe Genalo, Joe Simon, Jack Kirby, Mort Meskin, Jimmy Infantino and Ben Oda. Caricatures (probably drawn by Joe Simon) of Marvin Stein and Jimmy Infantino.
It may not be obvious, but Meskin biography photograph of Mort has been staged. You can tell because he is holding a pencil despite the fact that the entire page has already been drawn and all but the final panel inked. I have seen other photos from this period taken of the Simon and Kirby studio and they are less candid than they try to appear. I show above one of my favorite pictures where obviously no attempt was made to portray this as a candid scene. They might have been hard working artists but you got to think they all enjoyed a laugh from time to time.
The Meskin website biography states that the rugged man in the upper right panel was drawn by Jack Kirby. I have often wondered whether this was correct. Certainly this character type appears in Meskin's art very rarely. I can think of only one other example. However it should also be said that not many of the stories Mort worked on at that time would call for such a character either. Meskin actually worked in the Simon and Kirby studio (almost all artists working for Joe and Jack did not) so Jack was certainly available to provide a little penciling. But is that what actually happened? While the features of the man in "My Backwoods Love" are unusual for Meskin remove some of the abundant hair and the facial characteristics do not deviate that much from Mort's typical man; perhaps only a bit heftier.
The rest of the page is typical Meskin. Nor is Kirby providing layouts as has so often been claimed. The panel layout includes a lot of vertical captions that Meskin preferred at that time but which Kirby did not. It seems unlikely that Jack would switch his preferences when creating layouts for another artist to use.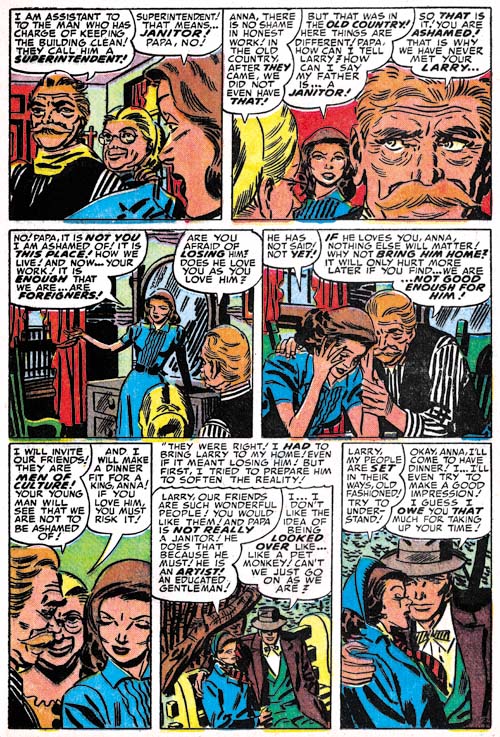 Young Romance #58 (June 1953) "Too Good For Me" page 4, art by Mort Meskin
The other story with a "Kirby" face that I mentioned is "Too Good for Me". A comparison between the two stories suggests two commonalities. They both have a lot of hair and are close-ups. Beards and mustaches were not commonly depicted by Mort and such fully grown examples are even rarer still. Turning to the close-up nature of these drawing it can be said that Meskin would often modify his inking of features by providing more lines. This had the affect of transforming his generally simply eyebrows into more complicated and interesting ones. This change in eyebrows makes the work look more like Kirby's since Jack was famous for his extravagant and expressive eyebrows. But while in close-ups Meskin's depictions of eyebrows become more complicated they really are not done in the same manner as Kirby's.
In "Too Good for Me" Meskin makes frequent use of tall narrow panels such as can be seen on the bottom of page 4. This was a common panel layout technique used by Mort during this period. Such tall narrow panels, however, were not often used by Jack Kirby during the same period. So once again I believe we can dismiss any claim that Kirby supplied layouts for "Too Good for Me".
I cannot completely reject the possibility of Kirby providing a helping hand in the drawing of these particular faces. Nor would I deny the possibility of a Kirby influence on Meskin; after all they were both working in the same studio and early work by Mort was influenced by Jack (Early Mort Meskin). However I do believe that these "Kirby" faces were most likely drawn by Meskin without any direct assistance from Jack.