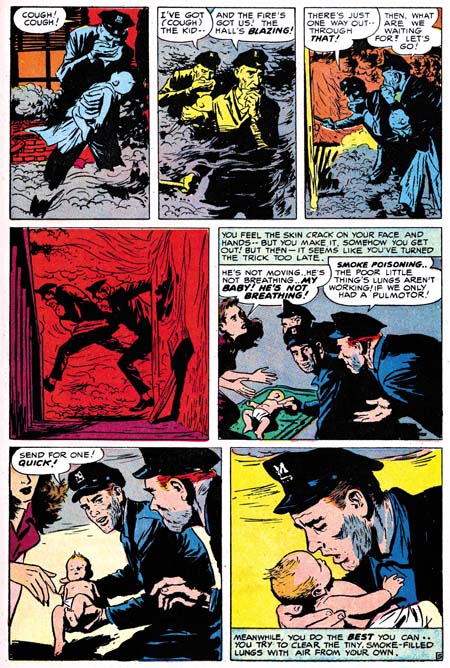 Police Trap #1 (September 1954) "The Beefer" by Joe Albistur
I mentioned Joe Albistur briefly in Chapter 3 of my "End of Simon and Kirby" serial post. Joe is another of those forgotten comic book artists. Web searches have provided nothing in the way of real biographical information. To make matters worse, some have misread his signature and refer to him as Al Bistur. It is easy for me to resist the temptation to look down my nose at those who got his name wrong. Honest mistakes made in the study of comic book history deserve correction not criticism. Besides I have to include myself among those who have made that particular mistake.
I asked Joe Simon about Albistur. Although Simon said he felt he should remember the name, and even corrected my pronunciation, he could remember nothing about him. In a way this is not surprising. Simon worked with a lot of artists over the years and Albistur worked for the S&K studio for only a short period of time. But it was that critical time during the Mainline period. Albistur first appeared in Police Trap #1 (September 1954) and last showed in Young Romance (October 1955). During his stay with S&K Joe produced 21 stories; 6 for Police Trap, 1 for Win A Prize and 14 for the Prize romance titles (see checklist). His appearance in these particular comics, but none of the other Prize titles, is one of the reasons I am convinced that Simon and Kirby were still producing the Prize romance titles at the same time they were publishing their own comics under Mainline.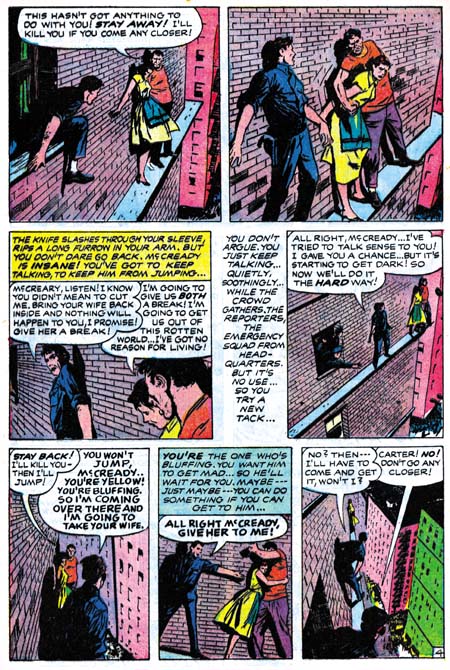 Police Trap #4 (March 1955) "All In A Day's Work" by Joe Albistur
Joe Albistur shows up in S&K productions with a fully developed style, he must have worked in comics elsewhere before this. Joe does a good job in the mild type of crime genre that is supplied by Police Trap. Albistur illustrates the story well and seems comfortable with the action sequences. He excels in presenting a story in unusual situations; on the ledge of a building where a cop tries to talk someone out of suicide, or in burning building rescuing a baby. Kirby is said to have provided layouts for S&K freelancers, but the way Albistur does these stories I doubt it is true in his case.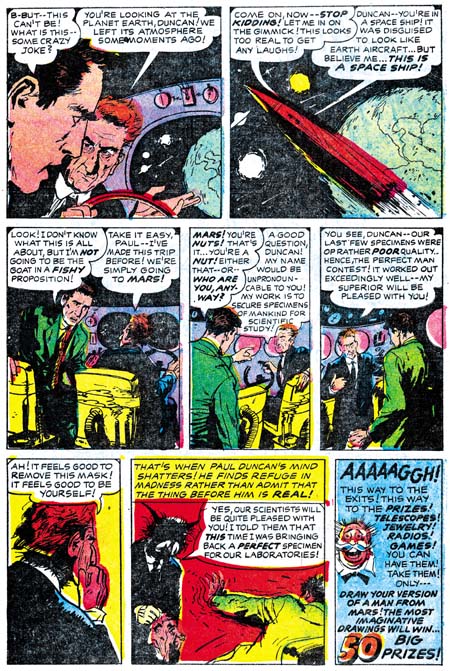 Win A Prize #2 (April 1955) "The Handsome Brute" by Joe Albistur
In Win A Prize #2 Joe's contribution is a science fiction piece. Here again Albistur shows his story telling ability. But it also shows his weakness. When it comes to the part the alien reveals himself, Joe does not seem to know how to visualize him and so casts the face in shadow. Somewhat of a letdown. Of course it may have been difficult working for Jack Kirby, who is a master at this sort of thing. Black Magic had already been cancelled and Win A Prize never went past the second issue, so we never get a chance to see Albistur try his hand at this sort of thing again.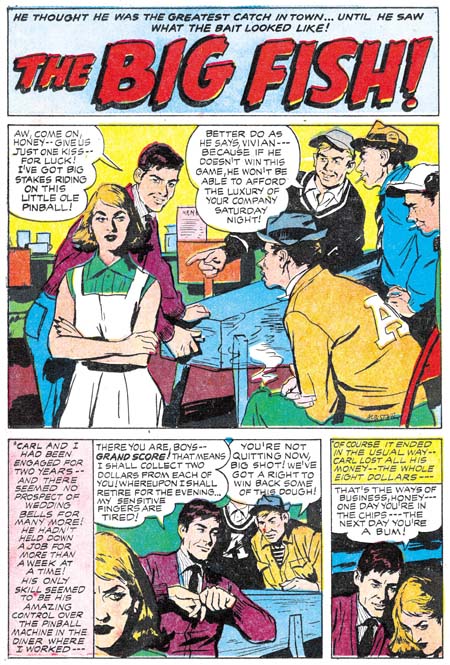 Young Romance #77 (June 1955) "The Big Fish" by Joe Albistur
It was in the romance genre that Joe Albistur did most of his work for S&K, filling in for the absent Jack Kirby. Albistur seems an odd match for the romance comics. His women do not have the clear beauty of Bill Draut, nor the sophistication of John Prentice, nor are they stylized like Mort Meskin's. I am lost for words on how to describe Joe's women. The best I can do is say that they have a sort of roughness that gives them an earthy look. But we do not need to accept the quality standards of a teenage girl from the 50's. I am not sure they would have liked Joe Albistur's work that much, but I do. Joe used some interesting composition devices, like having a panel edge cut off much of the face of the leading woman. Albistur also had an eye for gestures, like the pin ball wizard stretching his fingers. Although Joe's women may not have a typical comic book beauty, they are done in an easily recognized style. I have little interest in a style for style sake. But I do admire an artist who develops a unique style as a way of expressing his own personal voice. That is a quality that Joe Albistur shared with the best of the S&K artists.
When Jack Kirby returned to providing work for the Prize romances he would begin to do pretty much the entire comic. Therefore Joe Albistur disappears from the Prize romance titles. Unlike Bill Draut and John Prentice, he does not show up in the Harvey romances. I suspect his work was not a good match for the Harvey house style of those romances. I have not seen any of Albistur's post S&K work, but he does come up a few times in a search of the internet. It appears he did work for Gilberton in 1961 working in the Classics Illustrated and the World Around Us titles. In 1973 and 1974 Joe shows up in the DC titles Forbidden Tales of Dark Mansion and the House of Secrets.
Joe Albistur was not as flashy as some of the more popular artists, you know someone like Jack Kirby. But at least in the work he did for S&K, he was not a run of the mill artist either. Albistur had talent and his own unique voice. He may not have been a superstar but he does not deserve the anonymity that he has fallen into.