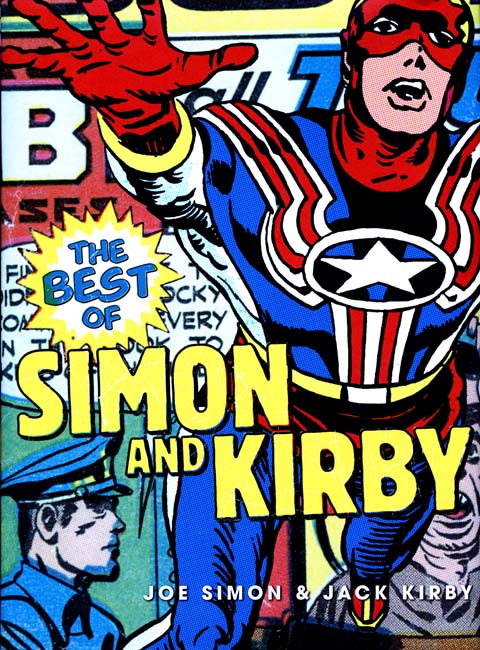 Dust jacket front cover for "The Best of Simon and Kirby"
I have a busy schedule and so I have to budget my time. I had set aside a period last Saturday for doing some scans for this week's blog post. That was the plan. That is until Steve Saffel dropped by that day with an advanced copy of Titan's book "The Best of Simon and Kirby" (Steve is the book's editor). Well so much for my original schedule as I spent the rest of the day pouring over my copy of this long awaited book. Good things come to those that wait. Actually this time great things came. I cannot begin to describe how pleased I am with this book.
Those readers that have followed my blog closely know that I did the art restorations for this book. So I am hardly unbiased. Still I really believe anyone who likes Simon and Kirby will want this book. This is a large book (12 1/2 by 9 1/4 inches, about the same size of Mark Evanier's "Kirby: King of Comics"). While I have nothing against the standard archive sized books it is really nice to see Simon and Kirby art larger then life.
Jack Kirby was the master of exaggerated perspective. His figures often seem to jump right out of the page. The dust jacket uses a collage of Simon and Kirby art including the Fighting American from the cover to the second issue. All the art are from scans except for the figure of Fighting American which is fully restored. The result is Fighting American really seems to jump off the page even more. That may not seem possible but it's true.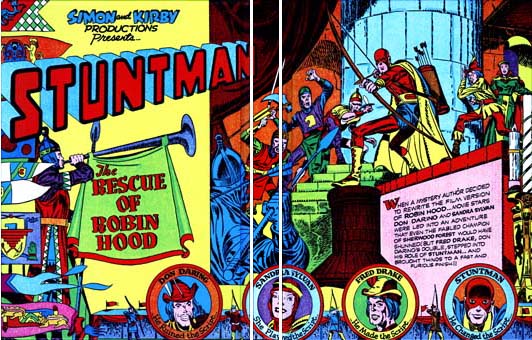 Actual cover for "The Best of Simon and Kirby" (in pieces because I cannot scan the entire book at one time, it is too big!)
The only thing I have against the dust jacket is that it hides the cover. When you buy this book (notice I assume the reader will buy it) be sure to remove the dust jacket in order to admire the cover. The cover is a Stuntman double page splash and it looks terrific.
Joe Simon writes an introductory. Joe's a great writer and the introduction shows his usual flair for story telling. The book is divided into eight chapters and Mark Evanier provides a short essay for each. What can I say, nobody is more knowledgeable about Jack Kirby then Mark Evanier. I wonder if the time Mark spent as Jack's assistant had anything to do with what a great writer he is? In any case scholarly knowledge and great writing skills make for some marvelous essays.
But let us be honest, all that is window dressing. The real reasons for buying this book are the Simon and Kirby features. There are plenty of those; 192 pages of story art and 5 covers. All, as I said above, larger then the original published size. There are plenty of smaller illustrations accompanying the essays as well. Perhaps the biggest difficulty in publishing a book called "The Best of Simon and Kirby" is picking what to include. There are so many great Simon and Kirby stories to choose from. I cannot promise that everybody's favorite will be in this book but I can say that all were selected because of their outstanding quality. No Simon and Kirby work was excluded from consideration because it was not available for any reason. Even Marvel and DC has agreed to the inclusion of some work that they have ownership rights to. All genres are included with chapters on action heroes, science fiction, war, crime, westerns, horror, humor and romance. The period covered ranges from one of Joe Simon's first published stories and goes up to the work Joe and Jack did on the Fly. Most of the art in this book was done by Jack Kirby with all the remaining work done by Joe Simon.
The printing has been completed. My copy of this book went by air mail but the rest of the copies are literally on a slow boat from China. The latest issue of Comic Shop News says this book will be out in April. However I have been told that it will get to Amazon in a month and a half and stores in a couple of months which would put it at May. In any case soon to be at a store near you!