Joe Simon's book, "The Comic Book Makers" (written with Jim Simon), includes a chapter "Marty, The Unknown Writer" that discusses Joe's work on political comic books and how it came about. As usual it is interesting reading, however no examples of the comic books were provided. I thought they might provide the subject of a further post of Joe's work outside the standard comic book field.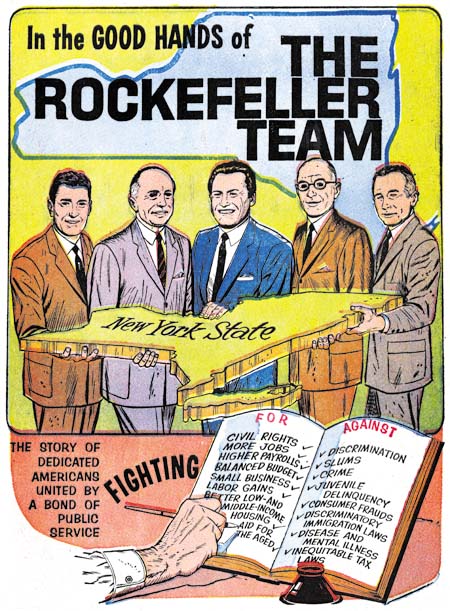 "The Rockefeller Team", art by Joe Simon, script by Martin A. Bursten
The above image is from the cover but like all examples that I provide here the covers were done on the same newsprint paper as the rest of the comic book. The individuals shown are, from left to right, Judge John P. Lomenzo, U. S. Senator Jacob K. Javits, New York Governor Nelson Alodrich Rockefeller, N. Y. Attorney General Louis J. Lefkowitz, and N. Y. Lieutenant Governor Malcolm Wilson. Actually those are the titles they had at the time, but some went on to hold other positions. For instance Nelson Rockefeller was selected to be U. S. Vice President with Gerald Ford after Richard Nixon resigned from the presidency. The comic book is undated but had to been done between 1959 when Nelson first became Governor and 1974 when he left that position to become Vice President.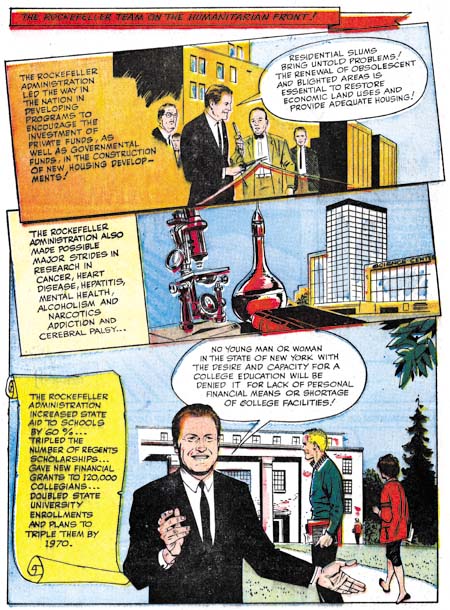 "The Rockefeller Team", art by Joe Simon, script by Martin A. Bursten
The art for all these comics was done in a realistic style which is not unexpected given the political purpose they were created for. They are all short in length having only 8 pages (including the cover). Generally the layout have the standard comic book panels, but occasionally, as shown above, a more interesting panel arrangement is presented.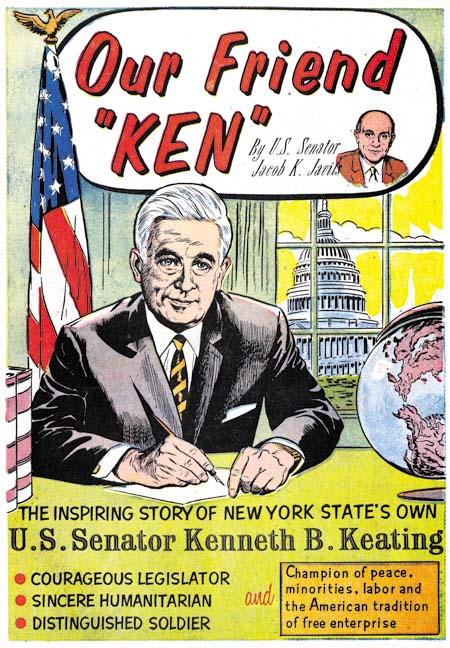 "Our Friend Ken", art by Joe Simon, script by Martin A. Bursten
The Ken of this comic is Kenneth B. Keating, U. S. Senator from 1959 until 1965 when he lost the seat to Robert F. Kennedy. This provides a narrower period for when the comic was published and Keating's absence from "The Rockefeller Team" suggests that comic was produced after 1965.
Joe Simon is credited with the art to both of these comics while the script is by Martin A. Bursten. This is the same Bursten whose name appeared in "Mercury in the 20th Century" (Red Raven #1, August 1940) that Jack Kirby drew which previously led to the mistaken idea that the name was an alias of Jack's. In "The Comic Book Makers" Joe explains that he did this political comic book work on a free lance basis for Bursten's advertising and public relation firm. The name of that firm was Burstein and Newman and was located in Marty's home in Great Neck. Both "The Rockefeller Team" and "Our Friend Ken" were produced by Country Art Studios in Woodbury, which is where Joe lived at the time.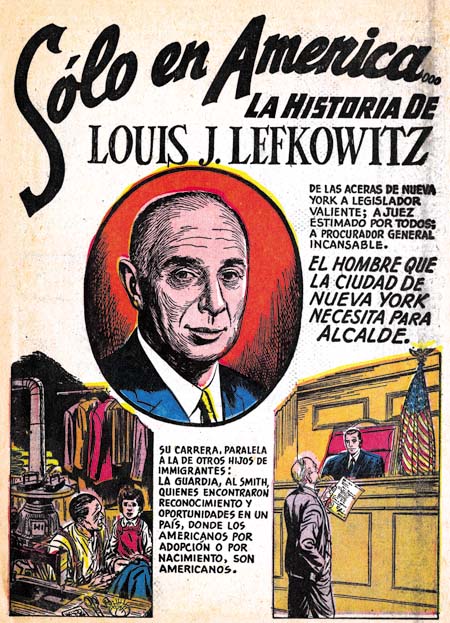 "Solo en America, La Historia de Louis J. Lefkowitz" art by Joe Simon, script by Martin A. Bursten, translation by Dr. Carmen Marrero
Lefkowitz appears a little older then in "The Rockefeller Team" so I believe this was done even later. There are no art credits in this comic but the style is so similar to the others that I have no doubt that Joe Simon was responsible for it as well. Unfortunately I cannot read Spanish so I am unsure if this was just a translated version or if the comic was made specifically for a Hispanic reader.
These three are the only political comics by Simon that I have seen. But given their use in political campaigns their survival is even more unlikely then standard comics. These copies were all given to me by Joe himself and I have never seen examples anywhere else. But although Joe liked to keep copies of his work for his own collection that does not mean that these were the only ones he did. Perhaps others will eventually be found.