Harvey comics had a long history of reprinting stories. According to Joe Simon, any comic that included previously published material was supposed to be labeled as such but that Harvey generally ignored that restriction. At the time comic book readers typically lasted on a few years before giving up comics. Use older material and it was unlikely that many would notice. However when the Comic Code arrived, Harvey Comics had a problem. There was nothing in the code against reprints, but the Code was stringent enough that older stories were unlikely to pass unless edited. I have previously provided an example of such editing (Rewrite!) although at the time I did not fully understand why it was done. I have not found a copy of it yet, I am sure the story that I had posted about, Gangster's Girl, was originally published before the Comic Code.
The editing used to produce "Remember, I'm Your Girl" from "Gangster's Girl" was relatively seamless. Despite the extensive editing involved, nothing obvious in the final story betrayed its reworked status. The handwriting was found on the margins of the original art looks like Joe Simon's and so it likely Joe retrofitted "Remember, I'm Your Girl" for post-Comic Code publication. I have recently come across another example of editing done to reprint an older story for Comic Code approval. But in this case the final result was anything but seamless.
"I Went Too Far" from Hi-School Romance #19 (February 1953) was not that unusual for Harvey Comics. Harvey romances at that time were a little bit more risque then those produced Simon and Kirby for Prize Comics. By today's standards they were still pretty tame stuff. Even then a youngster could see similar "adult" themes in the movies. When the Comic Code was introduced (the stamp started to appear on comics with cover dates about February 1955) what was suitable for a comic book reader underwent severe limitations. So when Harvey decided to reprint "I Went Too Far" changes had to be made. That changes had to be made is not at all surprising, but how they were made certainly was. The final results must have been the most poorly reworked story in the history of comics. If not I shudder to think what the worst one looked like.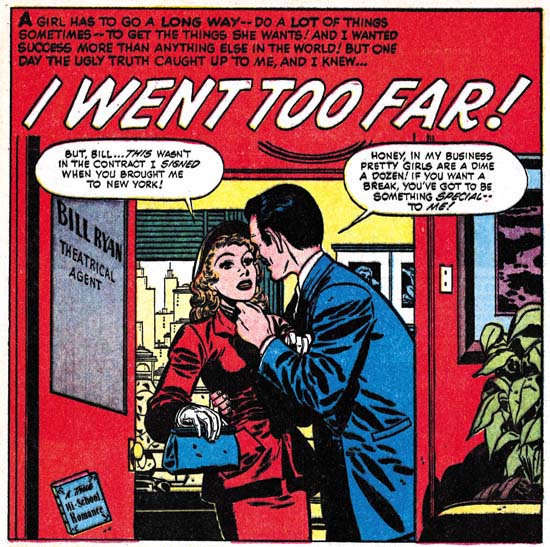 Hi-School Romance #19 (February 1953) splash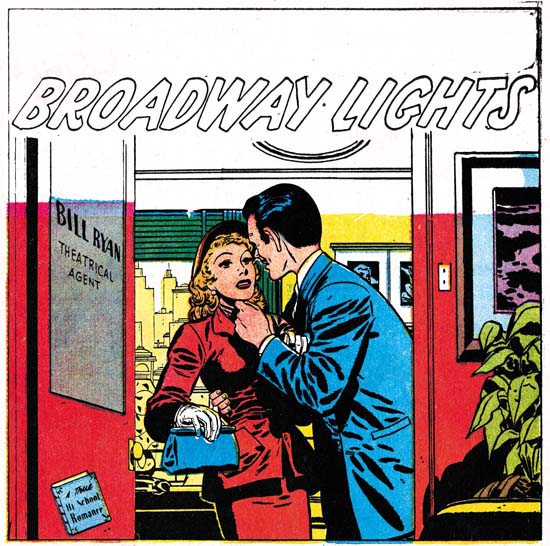 Hi-School Romance #43 (September 1955) splash
The problem faced by "I Went Too Far" under the Comic Code started with its title and theme. The whole suggestion underlying going too far was strictly taboo. Not that "I Went Too Far" truly went too far. There was nothing truly explicit presented but the protagonist Jennie was involved with men whose ulterior motives clearly extended beyond just aiding her career. Removing traces of the theme throughout the story would require significant editing, but the changing of "Gangster's Girl" into "Remember, I'm Your Girl" showed it could be done. To start with a new title had to be used and "Broadway Lights" was a good beginning. However the caption that accompanied the title and the script in the speech balloons of the splash would never get Comic Code approval. Right away it can be seen why "Broadway Lights" would be such a disaster. Rather then come up with some new, more innocuous text, the editor simply discarded all the offending writings. That was bad enough but when combined a decision to keep the original color plates it would only highlight that something had been done. Areas could be removed from the color plates, but colors could not added. So the top of the splash page became emptied of all color.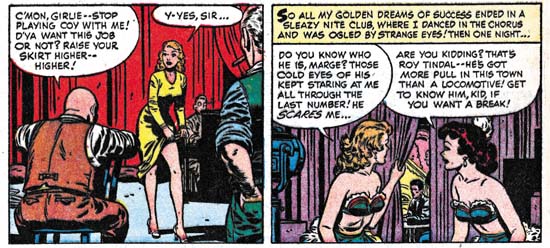 Hi-School Romance #19 (February 1953) page 4, panels 4 and 5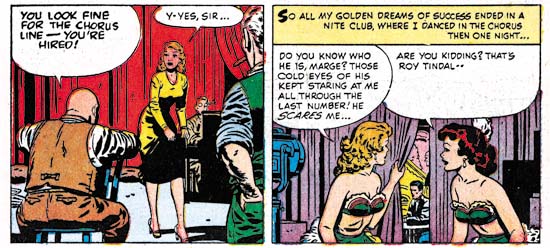 Hi-School Romance #43 (September 1955) page 4, panels 4 and 5
Just about any pre-Code romance story had art that needed to be changed in order to get approval. For instance any prominent display of the female figure, even when clothed, had to be adjusted. Normally this was done by judicious application of ink to shadow the offending art. This was also done in "Broadway Lights" and was the most successful of the editing changes done on that story. The Comic Code would never approve of Jennie showing her leg during an audition in "I Went Too Far", so the leg was just shadowed in panel 4 above. Yes it left her in an inexplicable pose, but only the more observant reader would have noticed. Similar, relatively minor, additions of ink can be found throughout "Broadway Lights".
But changes to the art were not all that needed to be done in panel 4 as the manager request for Jennie to show he leg had to be removed. Also the description of Mr. Tindal's importance in panel 5 was obviously considered too explicit. These panels highlight another shortcoming of the editing done. It was bad enough that a shorter text was to be substituted for the manager's speech in panel 4; no effort was made to center it in the balloon. The editing to the speech balloon in panel 5 required just the removal of previous text, but since no attempt was made to center the remaining speech the balloon looks ridiculously spacious.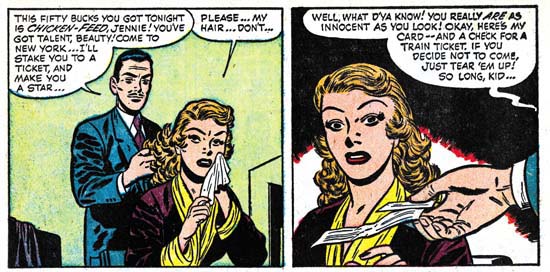 Hi-School Romance #19 (February 1953) page 3, panels 1 and 2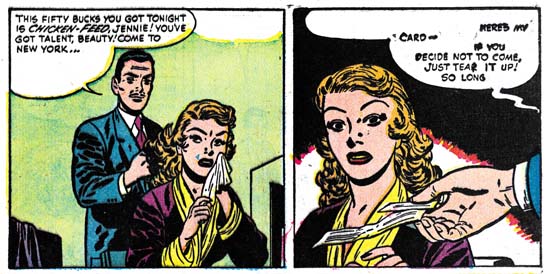 Hi-School Romance #43 (September 1955) page 3, panels 1 and 2
As bad as the examples were of poorly edited speech balloons that I provided above, take a gander at panel 2 from page 3. Could the editor have made it any clearer to the original readers that they were getting damaged goods? In panel one Jennie's remark was completely eliminated but the color plates left behind a trace of the original balloon like some sort of ghost. The primary reason of all this editing was the need to remove any reference to the agent offering Jennie a check for a train ticket! The editor felt that it would be okay under the Comic Code to offer a business card but not any money! Unfortunately in all likelihood the editor was probably right. Note also the editor felt that agent's running his fingers through Jennie's hair was also objectionable and so his fingers get the shadow inking treatment.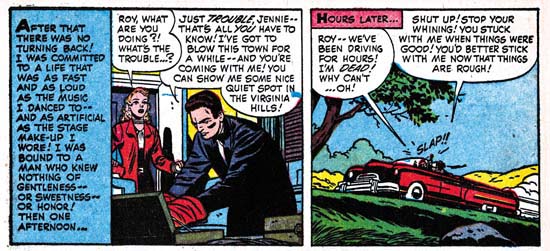 Hi-School Romance #19 (February 1953) page 6, panels 1 and 2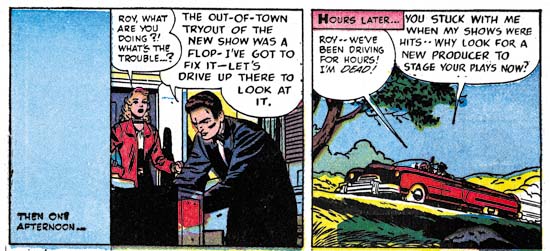 Hi-School Romance #43 (September 1955) page 6, panels 1 and 2
Most of the art changes made were done with covering over areas with black. One exception was the first panel of the last page. The original version showed Jennie's man, Roy Tindal, packing a suitcase. This was probably the most explicit indication of the extent of the relationship between Jennnie and Roy. It was probably too subtle for most of the story's readers to understand, but not subtle enough for the Comic Code. The suitcase was redrawn as a set of drawers or a filing cabinet. It is hard to be sure which, but that was enough. Since the color plates were not altered, this art modification left an inexplicable red patch on the side of the bureau.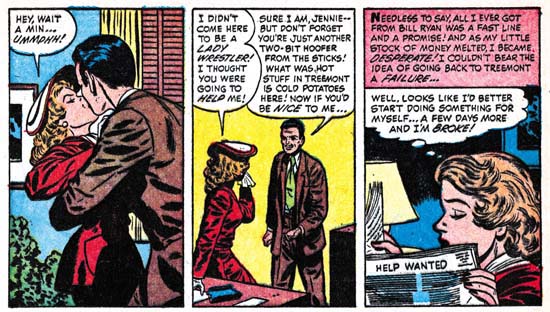 Hi-School Romance #19 (February 1953) page 4, panels 1 to 3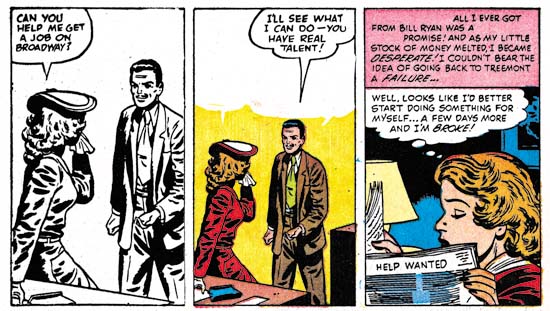 Hi-School Romance #43 (September 1955) page 4, panels 1 to 3
In order to remove the "went too far" theme anything remotely suggesting the trading of sexual favors by Jennie in order to advance her career had to be eliminated. Actually there was little to suggest that in the original "I Went Too Far" but there were two stolen kisses. Jennie's reaction to the first showed it clearly was unwelcome but that did not matter it still had to go. A little shadow to a kiss scene would not hide the kiss, so more drastic measures had to be done. The logical approach would have been to have some artist provide a new panel, but obviously little in the way of artist's fees were going to be added to the costs of updating "Broadway Lights" to the Comic Code. Instead the editor toke a copy of the line art from panel 2 enlarged it slightly and used it to replace the kiss in the first panel. Naturally the color for panel 1 was no longer appropriate so all color was removed. The results are glaringly unnatural.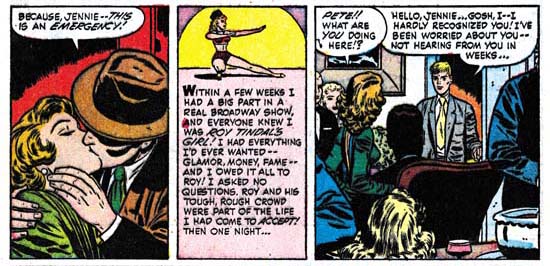 Hi-School Romance #19 (February 1953) page 5, panels 3 to 5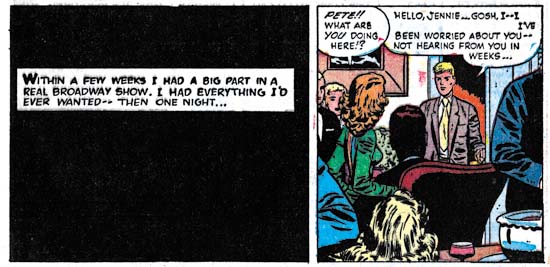 Hi-School Romance #43 (September 1955) page 5, panel 3 to 4
While inking in a little shadow would not hide a kiss, inking in a lot would. Completely filling in the panel was the editor's solution for the other stolen kiss. This drastic solution for modifying art was used in another panel as well. I do not know what I find most egregious; duplicating art or completely removing it.
I have by no means pointed out all the changes made to this story in order to get it approved by the Comic Code Authority. Every single page had multiple examples of glaring obvious changes of very heavy handed editing. I am sure even the most unsophisticated original comic book owner must have known that they were reading reworked material. That reader must have been confused by the ending because while Jennie's former small town boyfriend comes to the rescue, the scenes where he punches out Roy Tindle and the one where the cops lead Tindle away have been inked out. While in the original ending Jennie's attempt to renew her relationship with her rescuer fails as he reveals he is to be married the next day, for the rework version the relationship is repaired. Frankly the "I Went Too Far" version really did not go too far. Nothing was explicit or beyond what might been seen in the movies of that day. None of Jennie's actions were at all glamorized. The story was a true morality tale with Jennie's ill made choices resulting in her loosing everything she previously had while gaining her preciously little. The Comic Code "Broadway Lights" version completely looses the moral message because despite some of her errors Jennie looses nothing of significance.
Ironically the Simon & Kirby studio regular, Bill Draut, was the artist for both the more kindly editing of "Gangster's Girl" to "Remember, I'm Your Girl" and well as the horrendous job of transforming "I Went Too Far" into "Broadway Lights". In neither case would the reprinting of the stories have been of any concern of Draut as he almost certainly did not get any reprint fees. Joe Simon once remarked to me that Harvey had used the left over material from Stuntman and Boy Explorers without any permission from Simon and Kirby. As Joe put it, in the comic book business even a friend would take advantage you.