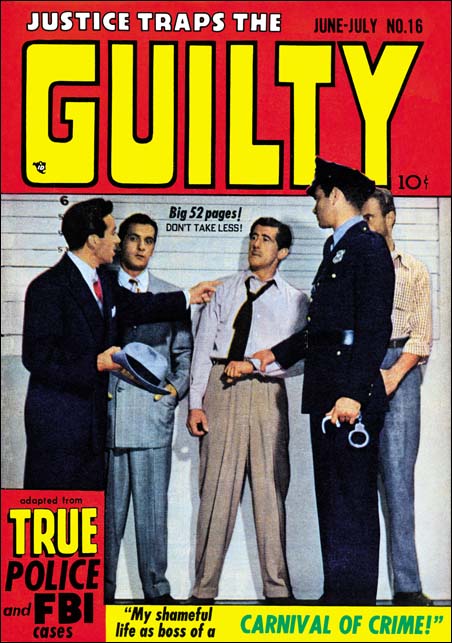 Justice Traps the Guilty #16 (June 1950)
In the comments to my last post, "Lineup", scholar Stan Taylor mentions another lineup cover, Justice Traps the Guilty #16 (June 1950). The crime genre was very popular at that time so I would not be at all surprised if police lineups showed up on other comic book covers as well. Although JTTG #16 was also published by Prize, it is clear that Marvin Stein's model was Mr. District Attorney #4.
Stan questions why some comic books used such photographs. I have always believed the reason was one that Stan provided himself, that is to make the comic look more like a pulp magazine and hopefully attract more adult readers. I am with Stan, I prefer artist drawn covers to these photo versions but modern tastes are not likely to be a good reflection of those for potential buyers then at the newsstands.
It is not clear what would have been cheaper, having an artist draw and ink a cover, or use a photograph. Most cover photos were not made by the comic book producers themselves but rather supplied by an agency. I believe the chief aim of those agencies was the promotion of various actors and actresses. So it was probably the matching of some already existing publicity shot with the needs of some comic book title. Having their client appear on a comic book cover may have been viewed as more important then the financial gain for selling the photo. In any case the possible extra cost for the photograph was spread out over large print runs and therefore may not been viewed as too important. That was what Joe told me about the extra printing costs that photographic covers incurred.