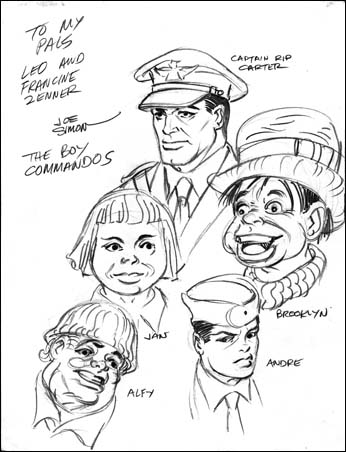 Boy Commandos sketch by Joe Simon (1943 – 1945)
I called Joe yesterday to wish him a happy birthday. He was pleasantly surprised with all the emails he has received. I do not know how many, or what percentage came from readers of my blog. I know Joe answered at least some of them, but if you did not get a reply do not be offended. Joe is not perfect when it comes to using his computer, I know that in the past a number of his emails to me never made it. So even if you did not get a reply from Joe, rest assured from my conversation with him that he was quite pleased by all the attention.
Diego Maya provided his own birthday card to Joe.
For my somewhat tardy Jack Kirby birthday post I included a sketch that he did in 1942 of the Boy Commandos. So here I thought I would use a sketch of the Boy Commandos that Joe did. I asked Joe if he remembered the Zenners and he replied that they must of written him requesting a sketch. Joe added that he had done this while he was in the Coast Guard. So this work can be dated as sometime from 1943 to 1945. Not quite as early as Jack's version, but still from a period where we have very little independent art by Joe Simon. For examples of his published work from this time see my Chapter 8 of The Art of Joe Simon "Off to War". I will post about another Simon piece of art from this period in a day or two.