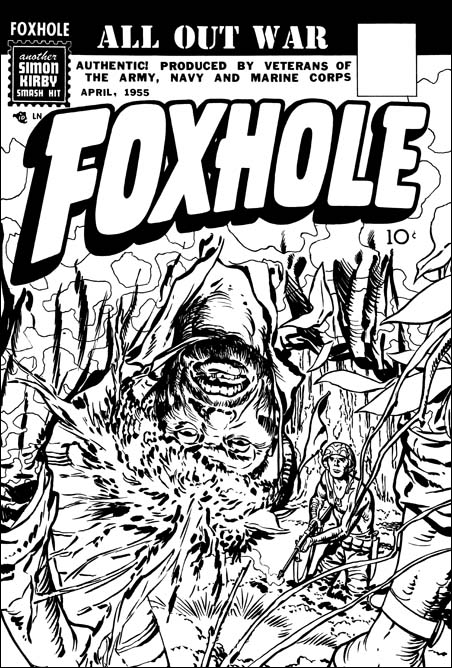 Foxhole #4 (April 1955) unused cover by Jack Kirby
Public criticism about the contents of comics had lead to the creation of the Comic Code. Although not a legal requirement, publishers knew that they must submit their work to this agency for approval or be rejected by most newsstands. Simon and Kirby's company Mainline was no exception to this. So when along with their other titles Foxhole #4 was submitted for approval the Comic Code rejected the cover. Its depiction of a dead enemy sniper was too much for the delicate sensibilities of the young. In all honesty even without showing any direct signs of violence it is a very compelling but disturbing piece of art. S&K's substitute cover had a close-ups of a face wear camouflage makeup. Simon and Kirby could still produce great covers within the Comic Code framework.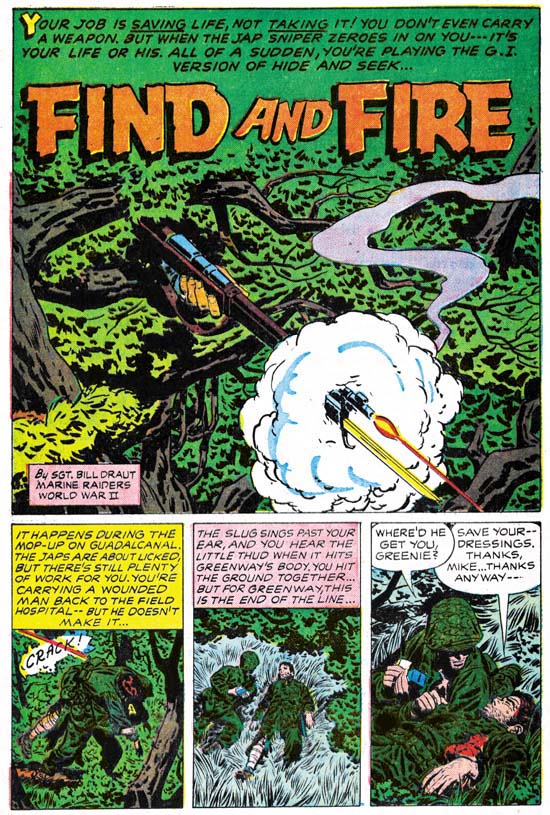 Foxhole #4 (April 1955) "Find And Fire" page 1 art by Bill Draut
The rejected cover for Foxhole #4 was based on an interior story "Find And Fire" by Bill Draut. It is unclear to me whether the cover developed from the story or the other way around. Often Simon and Kirby productions have this cover/story connection. Not infrequently each does not tell quite the same tale. Draut's story starts with a splash very different from Jack's original cover. Most of what we see is just the tree foliage. Only the sniper's hand and firing rifle are visible. By doing so Bill has captured horror of having to cope with an unseen foe. The story itself is about a medical corpsman having to deal with a Japanese sniper alone. As a medic he is not supposed to fight and does not carry a gun. The Japanese, and the sniper in particular, did not care about such niceties and the American is forced to confront the sniper armed with only a knife. Its a great story illustrated by one of S&K's top talents.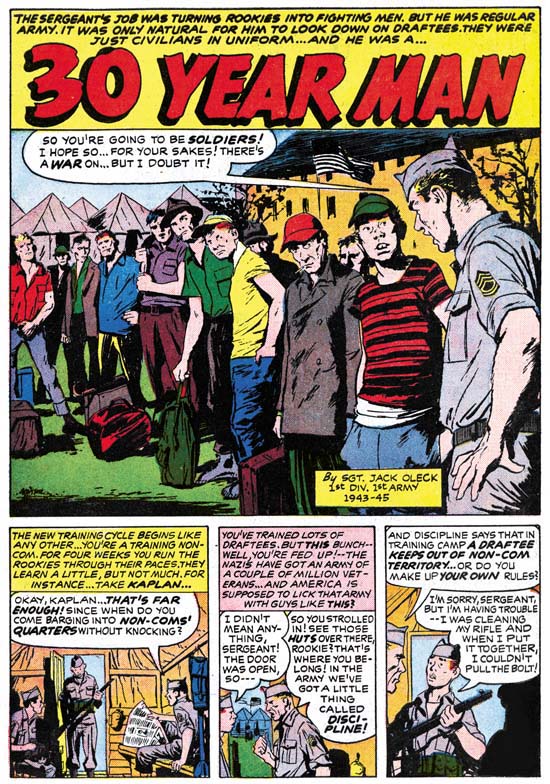 Foxhole #4 (April 1955) "Thirty Year Man" page 1 script by Jack Oleck art by Joe Albistur
This time instead of Jack Kirby, Jack Oleck provided the script for the artist Joe Albistur. It is a great story about a professional soldier and the outfit he first trains and then fights with. The plot is not all that surprising but with it Albistur manages to present some great art. Look at that splash panel. Joe is marvelous at capturing people and their gestures but here he out does himself. There twelve individuals portrayed, each one uniquely. Only the face of two men are partially visible and yet Joe infuses them with personality. Elsewhere in the story there is a fight sequences with four panels without text. Previously we saw Bill Draut draw something similar. Could Oleck have written Draut's story also and provided similar directions? Or could both artists have decided to do this themselves? However the decision was made it was an effective device to use in cases like this were the image was sufficient and words were not only superfulous but were actually detrimental.
This is the second Foxhole piece credited to Jack Oleck. Two scripts are not much to work with in trying to understand Oleck's writing style, but it is all we have. Actually that is not true. From Joe Simon's collection I have part of another script by Oleck. That will be the subject of a future post.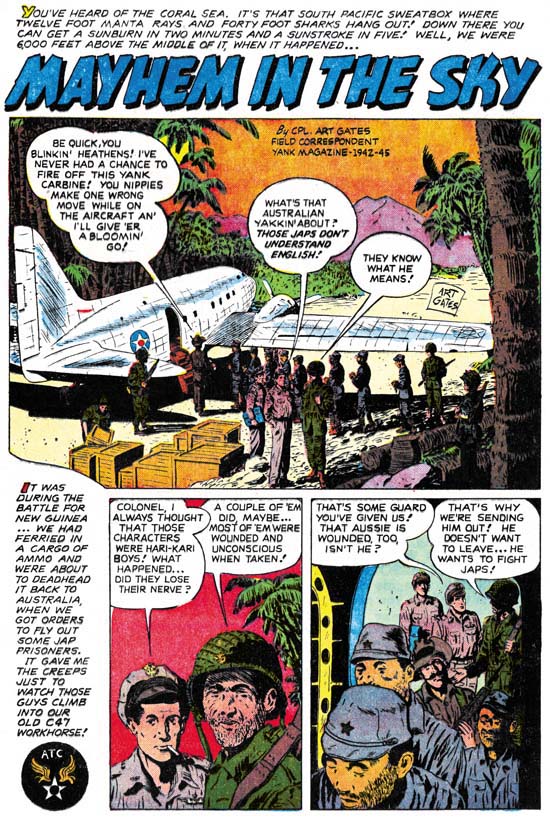 Foxhole #4 (April 1955) "Mayhem In The Sky" page 1 art by Art Gates
As I have said before I enjoy most of the stories in Foxhole. They are generally well written and the artists are very talented. I also get a kick out of "Mayhem In The Sky" but probably for reasons that were not originally intended. It is like watching a slasher movie where much of the fun is knowing that when someone goes out into the night to investigate a noise that he will be the next victim. This story is about an American plane that will be bringing some Japanese prisoner to Australia. The only guard will be wounded Australian soldier. Did I hear the background music become foreboding? When the plane reaches altitude it is placed on autopilot and the co-pilot takes a nap! At this point the background music is downright chilly. Needless to say it is not a stalker that is unleashed but a plane full of Japanese soldiers. Yeah it all seems a bit unbelievable but it is fun.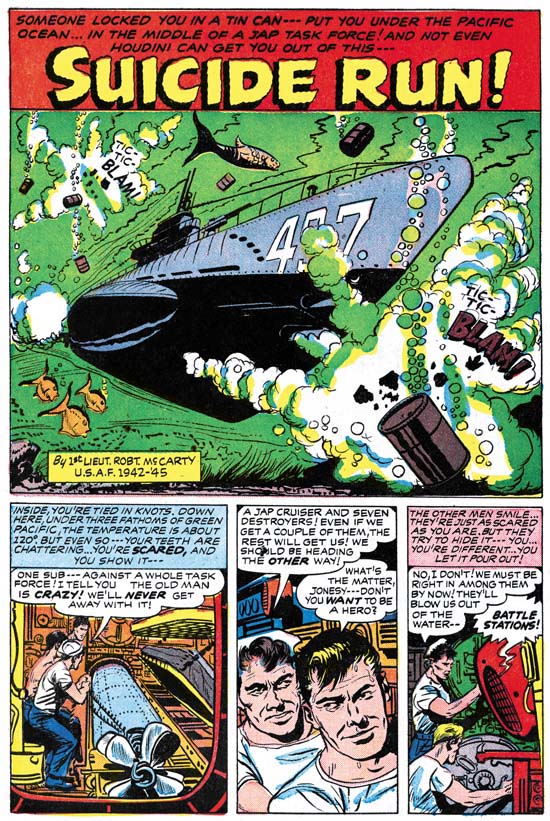 Foxhole #4 (April 1955) "Suicide Run" page 1 art by Bob McCarty
Bob McCarty, a veteran of the Air Force, illustrates a submarine story. This is typical of Foxhole. Although written by veterans they are not autobiographical stories. Still the real service that the creators experienced does imbue Foxhole stories with special qualities. The men in the stories are not the clean cut heroes depicted in movies of that time.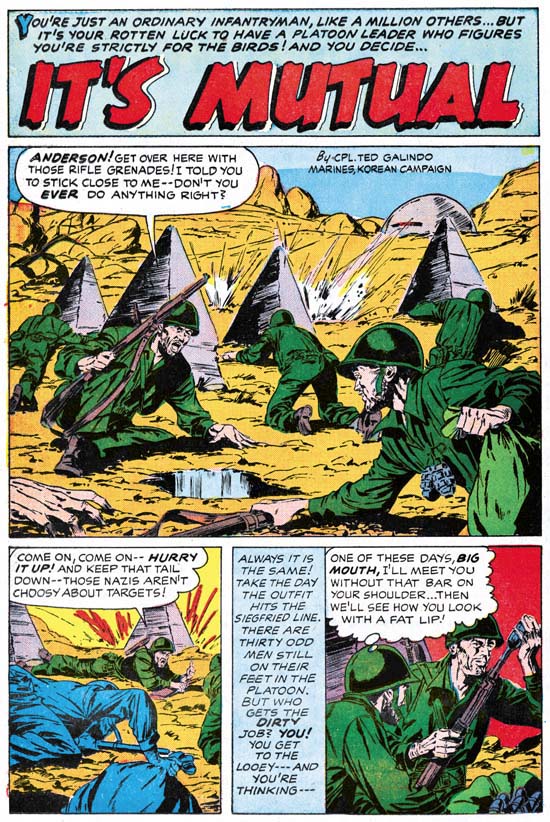 Foxhole #4 (April 1955) "It's Mutual" page 1 art by Ted Galindo
"It's Mutual" is the earliest artwork for S&K by Ted Galindo that I am aware of. Hereafter Ted would often be employed by Simon and Kirby and, after the S&K studio breakup, by Joe Simon. Generally Simon and Kirby used the more talented artists of their day. Unfortunately I feel Galindo is an exception, I would call his work adequate at best.