Previous – 16. Kirby's Kosmic Mystery | Contents | Next – 18. New Beginnings
We're honored to be able to publish Stan Taylor's Kirby biography here in the state he sent it to us, with only the slightest bit of editing. – Rand Hoppe
THE HOUSE THAT JACK BUILT
The young black man from Louisville had become a man. As a teenager he had thrown his life and talent towards boxing. He rose through the ranks of amateur boxing to reach the heights. In late 1960 he defeated a Polish fighter to win the gold medal in the 1960 Olympics. Flush with success, he became a professional and rose undefeated towards national acclaim. Yet his heart was still dark. He returned a conquering hero to the deep South only to find that he was unwelcome to sleep in white's only hotels, and to face white street gangs. In disgust, Cassius Clay threw his gold medal into the Ohio River. He sought out inner peace and understanding by attending religious speeches by the emerging Nation of Islam. He met that young firebrand named Malcolm X. and was soon taking lessons in the Islam religion. He found peace and a purpose in his new religion.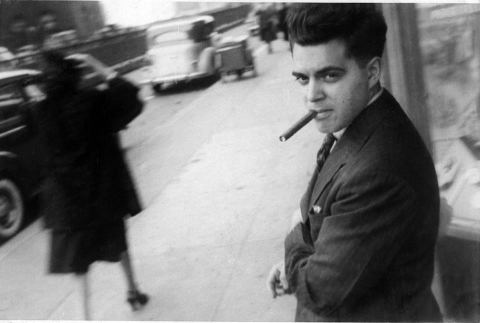 After the horror of his time at DC, Jack sought peace and a new resolve at Atlas, he found his purpose at Atlas. After a couple months doing space opera, he embraced the new style post-atomic BEM story. The Atlas monsters were powerful, and plentiful. Once Jack settled into the Atlas fantasy books, the monsters were endless; 3 or 4 a month, for a couple years with odd names like Googam, Monstro, and Grottu, or simpler like Sandman, Colossus, or Hulk; many names that would be reused at a later date. The six fantasy titles soon were reduced to four totally interchangeable titles. Journey Into Mystery, Strange Tales, Tales to Astonish and Tales of Suspense all opened with Kirby monsters tales, and Kirby covers. They were loud, colorful and eye-catching. Every issue's cover was a beautiful monster poster reaching out from the newsstands grabbing those dimes from the grubby little fingers of kids returning empty bottles for 2 cents deposit.
The formula was easy; big monster in the center surrounded by humans scurrying away in fear. Kirby remembered: "The monster books gave me the opportunity to draw things out of the ordinary. Monster books were a challenge–what kind of monster would fascinate people? I couldn't draw anything that was too outlandish or too terrible. I never did that. What I did draw was something intriguing. There was something about this monster that you could live with. If you saw him, you wouldn't faint dead away. There was nothing disgusting in his demeanor. There was nothing about him that repelled you. My monsters were lovable monsters. I gave them names and some were good. They made sales, and that's always been my prime object in comics. I had to make sales in order to keep myself working. And so I put all the ingredients in that would pull in sales. It's always been that way."
Atlas as a company was still reeling from the forced downsizing, with only 8 titles a month there was no way to get traction. Goodman wanted comics done on the cheap, and that's what he got. They continued to cut page rates until many artists would no longer work for them. But by 1960, they seemed to right the ship, or at least find a balance. The work force had been cut to the bone, but the core of pros left was very flexible and could fill many roles. So they each got an acceptable amount of work. But they were not equals, people like Don Heck, and Dick Ayers and even Steve Ditko filled in their penciling work by inking, while Jack Kirby's role as lead penciler kept expanding. The 7-8 page opening story grew to 12-13 pages, plus Kirby was given romance, and back-up western, and war stories.
Atlas must have been happy; Kirby's storytelling was always PG. His horrors weren't horrible. His monsters were gruesome without being gory, his heroes never had erections at the wrong time (or the right time) and his heroines, no matter how busty never had costume malfunctions. It seems the Comics Code had no effect on Jack Kirby. Kirby wanted to entertain, not shock.
Stan Lee was working with a smaller crew, paying less for work, and he was still despondent. It seems that without fail every month or so, Martin Goodman is threatening to close down the comic division. Stan's office is now a small cubbyhole at the end of a long corridor, as far from Martin Goodman as possible. Jack Kirby didn't become the dominant force because Stan suddenly realized his genius; Jack became dominant because he offered Stan what Stan needed most—time and product, plus his comics sold better than the others.
Dick Ayers says that during one of the down times, Stan Lee called him into the office and told him that the industry was all but finished, and that they needed to jump the sinking ship. Dick says he took Stan at his word and quit. He found a new job with the Post Office. Once again Stan let many of his people go like Al Williamson, Jack Davis, John Forte, and Joe Sinnott. Long time inker Chris Rule was let go. Downgraded were pencillers like Vince Colletta to an inker along with people like Steve Ditko, and Don Heck who took on inking jobs to fill it their income. Soon, Stan called Dick and asked him if he would help out by inking some of Kirby's stories, that plus occasional filler stories brought back Dick to the fold; another legend born of need.
During this Atlas' mini-implosion, production man Sol Brodsky was let go. He wound up as founding editor for a new humor magazine Cracked. Cracked was another in a long line of Mad Magazine clones, this time published by slick magazine publisher Robert Sproul's Major Publishing. Sol hired many of the Atlas cast-offs, such as Al Williamson, Bill Everett, Syd Shores, and Al Jaffee. Sol managed to get Jack Kirby to provide one story. It appeared in the 14th issue dated June 1960. It was a 5-page spoof of the then popular TV panel shows such as "What's My Line" Jack's caricatures are spot-on, and he was again doing Hollywood Kirby style. Jack used duo shade paper for added shading tones, giving a more commercial art effect to the drawings. It's unknown why Kirby only produced the one story—perhaps Stan Lee wasn't happy with the moonlighting for Sol.
Though Stan had fewer titles to produce, he also had almost no support people, plus he was no longer buying scripts from outside sources, so Stan was forced to write much more than he was used to. While Stan focused on the teen humor titles and a few creepy fantasy stories for Steve Ditko, for the adventure titles, he turned most of the fantasy writing over to his brother, Larry Lieber. This only worked because Jack Kirby was able to plot most of his own stories, and it showed. Jack's tales had a formula and feel all their own. The themes, and plot elements were often borrowed from fantasy themes and concepts he had done at DC or Harvey—sentient robots, mythological beings like the Roc, or Rock Men from Easter Island, childlike aliens, all made new appearances at Atlas; radio astronomers and personality changes taken from Sky Masters; and mutants, sorcerers, and inter-dimensional travel galore reoccurred frequently, and of course, recent movies. Jack recalls; "Monster and superstition stories were a necessary thing. Comic historian Nick Caputo has studied them. "The Yellow Claw stories have stylistic traits that point to Kirby as writer. Each story opens with a prologue, something Kirby used in later stories he wrote himself in the 1970s. There are other traits as well, but I'm fairly certain that Kirby initially wrote his own stories at Atlas, and many early ones when he returned in 1959". Sometime later he began working over Leiber scripts, although how much he may have changed in the pencil stage is undetermined." Many of the monster stories share the same confessional nature as his romance stories. Titles like "I Created Mechano" and "I Was a Decoy for Pildor," personalized and humanized the stories. Jack says: "I enjoyed producing them. The work was fun and I could come up with new ones very quickly. They were easy to do and the fan mail was very good. Although they weren't as challenging as the other stories I had done, they gave me a chance to work out a few ideas." The filler stories penned by Lieber and drawn by Heck or Reinman were more in the space opera mode reminiscent of pre-Atomic sci-fi. And the Lee/Ditko closing story had a creepier, more ironic style similar to the TV show Twilight Zone that was taking the watchers by storm. Another factor that made Kirby so valuable was that Kirby's pencils, even when stretched to the limit, were still tight enough for these artists/inkers to finish easily. The pencils were tight enough to follow but not so tight that the inkers couldn't add in and embellish with their own techniques. Dick Ayers explained that when he once simply traced a Kirby western that Stan called him in and made it plain that he wanted the inkers to add in their personalities. "Do with Kirby's westerns what you do with the monster stories! If I wanted someone to trace Kirby's penciling I'd hire anyone off the street! More important, Kirby's stories were just so much better. The action was unparalleled, and the covers unrivaled. The loss of Joe Maneely must have been a huge personal blow to Stan, but as luck would have it, Kirby's personal problems at DC landed an even more productive creator into Stan's lap. Stan had a stallion and this horse wanted to run. After the DC debacle, Kirby had every reason to want to shine for Atlas.
Silly yes, but they sold
On the adventure strips, Stan had left Kirby alone or partnered with his brother Larry Lieber, but the romance titles were Stan's bailiwick, and when Stan assigned Kirby to the romance books they were suddenly partnered. It is there that Stan and Jack began to work out a method to maximize both talents. It was common at S&K's studio for the writers and artists to have story conferences where they all traded forth ideas and stories. It became unnecessary for a writer to supply a complete script since the artists already knew the plotline. The pacing of the story was also left up to the artist rather than the writer to work the story into the page count needed for the comic. This was followed by adding in dialogue. This was how Kirby produced thousands of stories back in the days of the S&K studios. Very quickly Stan's and Jack's work practice became the Simon and Kirby model. This allowed Stan to write and edit more books due to not having to pace out all the stories for the artists. After they discussed the stories, Jack would draw them and Stan would then dialogue them according to Kirby's panel structures, and the bare plot. The Marvel Method, as it became known as, was simply the Simon and Kirby method, placing a large amount of responsibility on the artist to tell the story within the editor's parameters. As Walter Geier had described it at Mainline; 'They were Jack's plots. I just supplied the dialogue". It also freed up Stan for more stories.
In a moment of clarity Stan Lee admitted; "Mine was the task of originating the basic concept, and then writing the dialogue…However, I've long been privileged to collaborate with some of the most talented artists of all, artists who would take my rough-hewn plots and refine them into the illustrated stories…Heading the list of such artists…is Jack Kirby.
Don Heck had returned to Marvel at the same time as Jack Kirby and Steve Ditko. He recalled one difference; "I'd been so used to working from scripts, but when I returned to Marvel Stan said, "I'm going to give you a synopsis."  Jack Kirby was used to something like that because he was also a writer.  Some people might not have liked the stuff he did later, but he did some terrific stuff with all of his different characters, like back when he was doing Fighting American and all the rest of his early stuff so it was easy for him."  …"After a while Stan Lee used to give you the first three pages, tell you who the character was fighting, and give you the last couple of pages so you'd know how it ended. And in between you'd put about fifteen page of stuff.  And at the time, I thought, "Oh, my God! This'll never work!" ….. "It's a freer way of working."
It was during this monster phase that an unusual thing happened. Sales began to rise, and management took notice. The most amazing was that it wasn't happening at DC, Dell, or the other companies. The idea of expansion became possible.


Borrowing from Prize       Credits appear a new team
It's not surprising that several romance stories at Atlas were knock-offs of Kirby romance stories from Prize.
In early 1960, Martin Goodman cancelled a long running western title and asked for a new one. Wyatt Earp had run for 29 issues starting in 1955, based on the real life lawman made popular due to movies and a TV show starring the dashing Hugh O'Brian. The early issues were drawn by an assortment of Atlas regulars, Joe Maneely, John Severin, and Norman Maurer, but by issue ten Dick Ayers came along and made it his own. It was one of the few titles that survived the implosion unscathed. While other titles relied on inventoried stories, Dick Ayers continued creating new stories for Wyatt Earp. Jack Kirby started providing covers with issue #22. Issue #25's cover featured the first collaboration of Jack Kirby and Dick Ayers on the inks. Issue #29, dated June 1960 was its last. Though the TV show would last thru 1961, the comic title had run its course, perhaps due to an over abundance of Earp titles from other companies. Dick Ayers, who had been on this strip longest, lamented as to how he was being paid less in 1959 as it ended then he was in '56, when he started.
The new title was to be The Rawhide Kid. This was an update of an earlier Atlas cowboy title, which was caught in the implosion crunch. The Kid was one of dozens of generic cowboy heroes that Atlas published in the 50's. All of them seemed to be a "kid" of some sort. Dick Ayers was told by Stan Lee that he would be the artist on the new series. Dick was thrilled to be given a new book so soon after the last one was cancelled. Things had been tight for the Ayers family with Dick struggling with filler strips and the low paying inking jobs over Kirby. He says that one day he ran into Jack Kirby while delivering some Sky Masters pages and told Kirby how excited he was about getting the Kid gig. Kirby paid him for the SM pages, congratulated him on the Kid and made his leave. What happened next is pure conjecture. In his bio, Dick Ayers says that later he gets a call from Stan Lee. "Dick? Stan here, I have to tell you…I'm having Kirby pencil the Rawhide Kid and you do the inking. You'll make Jack's western look real good!"
The Rawhide Kid by Jack and Dick     Cobra looking for Thor?
If true, one certainly can't blame Dick for feeling that way, but the reality is that only Stan Lee could make that call. Kirby had no sway over Stan to get assignments. He was a freelancer just like Ayers and the others. But is it possible that armed with the knowledge of a new title, that Kirby went into Stan's office and made a winning pitch for a different type of western, one more to Kirby's style; a more entertaining approach; perhaps a tossed bone to stop Kirby from working for Sol over at Cracked Magazine. Stan was certainly happy with Kirby's results. It's very possible, and if true, it shows another facet to Kirby's Atlas tenure. Jack's new ability to pitch ideas to Stan and Stan's willingness to follow Kirby's lead would become important. But this shouldn't shock anyone; Jack says that he had been pitching ideas to Stan from the very beginning; a return for super-heroes as an example. "I felt I had to regenerate things. I began to build a new line of super-heroes…I was at the stage now where I had to fight for those things and I did. I had to regenerate the entire line. "I felt that there was nobody there that was qualified to do it" Jack told Will Eisner in an interview.
Tom Spurgeon and Jordan Rafael in their book Stan Lee and the Rise and Fall of the American Comic Book talks about the genesis of Lee/Kirby partnership.
"By audaciously combining genres and ignoring the limitations that had settled in on the super-hero, Lee and Kirby were free to foist on their readership a fantasy setting better realized than anything that had come before in the American comic book. Lee and Kirby were presiding over the kind of world-building that would become commonplace in movies and television."
Stan and Jack never really pointed out the specific influences that went into creating this new universe, It's hard to even know if they had a big picture, or if it grew organically as they went along, but I suspect they did not go into it without some blueprint and yes it was a world-building template taken from TV. In the late 1950's television was dominated by a series of shows unlike any produced before. They shared a studio, they shared a producer, they shared a writer and they shared a personal vision. These were the shows produced by Warner Bros. Television Division and watched over by William T. Orr, and Roy Huggins. They came in two distinct genres. The western genre was covered by Cheyenne, Maverick, Lawman, Sugarfoot, Colt 45, and the Alaskans. And then there were the modern day detective/adventure stories as found in 77 Sunset Strip, Bourbon Street Beat, Surfside 6 and Hawaiian Eye. What was unique was the irreverent tone, the personal bickering, romance, the self-deprecating humor, and the odd little insertions of pop culture. They also shared a self-contained universe where they would cross-over into each other's shows.
Roy Huggins explains how he built up Cheyenne by recycling scripts from Warner Brothers movies such as Treasure of the Sierra Madre (1948), often simply inserting the character of Cheyenne Bodie (Clint Walker) into familiar stories from the studio vaults. These elements brought the series a sense of gravitas and a measure of respect as an "adult" western, as opposed to the typical sing-a-song, shoot-em-up, and kiss the horse goodnight, and made it the studio's first full-fledged hit. Similarly Stan and Jack energized Rawhide Kid by recycling old S&K western stories and old Atlas western stories plus added in a more modern sense of character and morality.
As with all success, the mimics are sure to follow. Huggin's westerns were so successful that soon every studio was pumping out copies. The most successful was probably The Rebel, starring Nick Adams as Johnny Yuma, a troubled, brooding ex-Confederate soldier trying to find peace in a fractured post war country.
Nick Adams was short in stature, and insecure in his image, a factor that he felt kept him from superstardom. As Johnny Yuma, he was a fast to anger avenger, bent on seeing justice is done for the oppressed. The tales are as gritty as would be found on TV.
It is with The Rawhide Kid that for the first time we get to see the evolving Lee/Kirby symbiosis in action. In a pattern that would play out repeatedly over the next few years we see the two talents blending in a specific template. Kirby supplying much of the plotting, in fact, the origin gimmick is a direct retelling of the origin of Bullseye, the Simon/Kirby western scout of a couple years earlier. The series also borrowed heavily from the Rebel TV series. A young orphan named Johnny Bart is taken in by an older relative who teaches him to become the best shot in the west. When the relative is murdered in a cowardly fashion, the young man goes after the villains and avenges the murder. Later, both Bullseye and the Rawhide Kid are mistakenly branded as outlaws, so they must travel a lonely road, avoiding the law and evildoers as well. The Kid's short stature, and shorter fuse, is also used to good effect and his image never matches the reality; an aspect used effectively on The Rebel.
What is also apparent is that the Rawhide Kid has more personality than Bullseye. Like Johnny Yuma his back story has more drama, and more pathos than found in earlier Simon/Kirby characters. He shows regret, and longing, and my god does he talk to himself. This is not a stoic Kirby hero, this is a brooding emotional volcano. The dialogue is snappier, the back story more developed, and the pacing a bit slower and more dramatic. The stories are more complex and dramatic. We see a true blending of talents, one making up for the weakness of the other. Stan was never really good with big picture concepts, while Kirby, in his adventure tales was never strong in the small, personality traits, and human interactions that make for a more fulfilling story. Much like the best blending of lyricist and tunesmiths, the sum was stronger than the individual parts.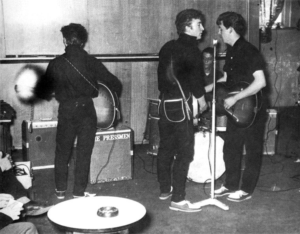 Likewise early on John Lennon and Paul McCartney began collaborating on writing songs. They would cut school and head over to Paul's house where they would exchange lyrics and work out basic tunes on the piano. Many of the songs they wrote between this time and when Beatlemania began to take off in 1963, were co-written equally; as Paul said, 'eyeball to eyeball'. Compositions from this period include 'She loves You', 'There's A Place', 'From Me To You', 'Thank You Girl', 'I'll Get You', 'I Wanna Be Your Man', 'Little Child' and 'I Want to Hold Your Hand'. John explained "All the better songs that we have written – the ones that anybody wants to hear – those were co-written. Sometimes half the words are written by me and he'll finish them off. We go along a word each, practically." Individual qualities become obvious; McCartney's easy going harmonies, and John's cutting iconoclastic personality, but the finished product has its own flavor and feeling blending both influences seamlessly creating its own oeuvre.
Rawhide Kid #17 had a cover date of Aug. 1960. Kirby would provide 3 stories and 18 pages for this new title. This was Kirby's first cover to cover comic at Atlas, since the pre-implosion days. This time the series would continue for 19 years. Kirby would slip in sci-fi bits, and pseudo-super-heroics in the series, just as he did in Bullseye. Later adventures would also swipe from other Kirby plots, but often they would steal plots directly from the Rebel TV series. Stan assigned Dick Ayers to maintain a oughhewn look to the inking. The team was set. Jack needed some more work.
First issue #17 I'm confused              Rawhide Kid origin looks mighty familiar
One of the few comic companies not bothered by the 50's Wertham witch hunt was Gilberton Publishing. They had been publishing Classics Illustrated since 1941 and never a discouraging word was heard. They were a class act putting out clean literate comic book adaptations of classic literature, a young man's best friend when in need of a quick book report. But they were also somewhat stodgy and hard to deal with due to their desire for historical accuracy and obeisance to the source material. Kirby started working there in late 1960 doing a long 45 pg. adaptation of The Last Days of Pompeii. He followed this with 25 or so pages on the Civil War for a Classics illustrated Special. It's easy to see Kirby's natural inclinations being muzzled by the strict grid layout and need for accurate details like clothing and architecture. The artwork lacks any sizzle, and even the inking by Dick Ayers is muted and dull. The presentation more resembled a text book than a comic. Gilberton was not a good match for Jack, whose strength was in improvisation and spontaneity, but it filled in a couple hundred pages of Jack's time. Kirby also supplied some filler material for several issues of Classics factual series World Around Us. The best work he did for Gilberton was some spot illustrations for a Guy de Maupassant short story, The Duel. This appeared in issue #30 of World Around Us titled Undersea Adventures. Strangely, the story has nothing to do with any undersea adventure. It is about boastfulness, cowardice, lost honor and a subsequent suicide, a very depressing and dark story for a Gilberton comic. Kirby used a very heavy, almost woodcut style, that added to the weighty subject. A discouraged Jack left Gilberton very quickly.
Jack broke out the heavy pencil     typical Classic's panel
Besides the monster tales in 4 books, Jack now had a couple romance titles, a complete western title (18+ pages) plus the odd back-up western story, another nice rebound from a down period. Stan Lee had been true to his word and given Kirby all the work he could, and in return, Atlas was getting a personality facelift. And that facelift was thanks to Jack Kirby. Atlas books had taken on a rugged, powerful and easily recognizable product look, and sales were slowly growing. Atlas had become a recognizable brand. The next attempt at something new was different. Looking back, it could be called a failure, but it was the first faltering step leading to what would become an onslaught.
In late 1960, the eyes of the industry were turned inward. The .10 cent retail price of a comic had held steady for 30 years. Yet the price of raw materials, labor and shipping had gone up. Dell Comics, whose kid centric books made them an industry leader decided to make a change. They decided to raise the cover price to .15 cents an issue. This fifty percent increase shocked the industry; many saw only bad things following. The owners of Dell sent a letter to retailers and selected magazines to help the public to understand.
BY WILLIAM F. CALLAHAN, Jr.,
Executive Vice President, Dell Publishing Co., Inc.

"Dell To Back The New 15 (cent) Comic Price With The Biggest Nationwide Consumer TV And Radio Advertising And Promotion Campaign In History!" In 1929, when Dell Publishing first introduced the four color comic – at 10 cents – candy bars, cokes and ice cream cones were 5 cents. Hamburgers and yoyos were 10 cents and cigerettes and movies were 15 cents. Today every one of these items has at least doubled or tripled in price." EVERYTHING'S UP BUT COMICS!

"Yet the comic alone of all these popular items has remained at a dime. This despite the fact that kids' allowances have increased to keep pace with higher prices. The average weekly allowance in 1939 a week – and nowadays the going rate for doing odd jobs and babysitting is at least 25 cents an hour. Meanwhile paper and printing costs have gone up…you are paying much higher salaries and overhead – in other words, the time has come, indeed it is long overdue, for the comics to be put on a more profitable basis. We feel that Dell, as the leader in the comics field, should take the first step. Since 1929, Dell Comics have published well over 5 billion copies. WALT DISNEY COMICS alone passed the one billion mark last year! In sales dollars and cents comics are a $5,000,000 a year business – a big money industry. Yet the publisher, the distributor and the newsdealer are no longer reaping commensurate profits. Therefore, Dell, the leader of the comics field, is taking the initiative to improve your profit picture and to put new life in comic sales. Effective December 15 (1960), all new Dell comics will be raised to 15 cents. In a few months all Dell Comics will be selling at the more profitable price. This means 1 1/2 cents more for you on every Dell comic sold -a whopping 60 percent increase in profits! Better yet – this new 15 cent price will give you a 26.6 percent margin of profit – a greater profit than you now make not only on 10 cent comics, but on any periodical you sell! We are convinced that customers will continue to buy our comics at 15 cents. Dell's world-famous "character" comics have been the backbone of the comic industry since comics began – the famous Walt Disney family, the Warner Bros family, Little Lulu, Tarzan – and the more recent TV sensations, Huckleberry Hound and Yogi Bear. These and many more television and movie comics are the PRE-SOLD favorites which have become household words to both parents and children, appearing exclusively in Dell Comics. They are certainly powerful enough to command the increase in price!"

"We are confident that this new profit picture for publisher, distributor and dealer will help stimulate a whole new attitude toward the handling of comics. It was only ten years ago that paperbacks were all 25 cents and lumped together indiscriminately. Today best-selling paperback titles are handled as individual items of merchandise, priced two or three times higher, and paperback profits are soaring accordingly. The same revolution is now due for comics. They too are "books" and should get the individual treatment they deserve. Dell Comics tested the 15 cent cover price on the West Coast last year. In some areas sales increased…in others there was a decrease. We learned from this test that a major promotion campaign would assure its complete success. Therefore, Dell Comics has prepared a mammoth comics advertising-promotion campaign, the like of which has never been seen in this industry. Detailed plans will be announced shortly. The period of price change is the time of challenge – the time to get to work for greater profits! Give your 15 cent comics prime space… set up better-than-ever comic displays… promote the pre-sold characters to the kids, and the high-quality of the Dell Comics to the parents… play up the TV tie-in titles and movie hits… reorder the best sellers… show off Dell comics for what they are… there's no better buy for 15 cents in your store today!"
William Callahan was an optimist! And he was wrong.
That's about as good a face one might make for a 50% increase. It has been speculated that the Dell price increase was a major failure; one from which they would not recover. Dell had been the dominant company, yet when the price increased, sales fell horribly. Some consider this one reason for Marvels rise as buyers were actively looking elsewhere to spend their dimes. DC and Marvel split the difference and raised their prices to .12 by late 1961. Dell continued the .15 price for a year, and then dropped it to .12 when the other companies raised theirs. This led to interfamily problems between Dell and partner Gold Key that drove them to separate, thus increasing the decline of Dell and the Gold Key comic lines. They also failed to notice the genre changes happening in 1961. They were no longer major players by the mid-sixties. It has been said that the sales of the .15 centers was so bad that their scarcity puts them into a whole different ballpark for collectors.
In late 1960, the United States elected the youngest President in history. This would end a long 8 year stretch of psychic stagnation and re-energize the country.
A bad beginning     Beatles take Germany
The end of 1960, maybe as late as Jan. 1961, Stan ordered up a new title. Amazing Adventures was by all appearances, another generic Atlas monster title. It would feature the ubiquitous Kirby monster on the cover, and a Kirby lead story, a 13 pager with monsters like, Torr, Manoo, Robot X, and Monsteroso. But tucked away in the back pages, a new recurring character appeared. Doctor Droom was the new ongoing heroic character. He was a master of the occult and mysticism. Like any number of earlier characters he received his powers as a bequeathment from an old lama, slowly dying in his monastery in the Himalayas. This take off of the novel/movie Lost Horizon is not particularly original; Kirby had used a Shangri-la type locale in stories of every genre along the way. The hero, Anthony Droom is an American doctor who is compelled to treat a dying Tibetan lama. But first he must pass some rigorous and frightful tests. Once he passes the tests, he meets the lama, who explains that he was brought here to take up the mantle of protector against the evil forces of the occult. The first story, the origin issue is ok, especially thanks to some interesting effects by inker Steve Ditko. At the end Dr. Droom is transformed from a normal white American to a bald Asian with heavy eyeliner. With each new issue, the stories floundered and failed. The biggest problem is that this battler of the occult never meets any occult villains. The villains of his tales are an underground alien civilization, an alien hidden among men trying to gain political power, and another alien visitor who is defeated by a demolition ball. Dr. Droom's only obvious power is that of hypnotism, as that is how he conquers the bad guys. This failure of imagination and promise is unlike anything seen from Kirby. And it appears that Kirby is solely to blame here. There is no evidence in the plotting or dialogue of any Stan Lee influence. This seems to have been a solo Kirby project, with perhaps some assistance from Larry Lieber. The premise is interesting enough, and Kirby could do occult and mysticism, but he was caught up in his Atlas alien monster sci-fi mode and couldn't break free. This can also be seen in some other tales dealing with sorcerers, like in the first Challengers story where though the villain is a sorcerer, the actual tale is straight sci-fi. But a series built on the premise of magic and evil darkness can't survive without actual magic. But once again we see evidence that Stan Lee allowed Jack Kirby the freedom to try new concepts on his own. Dr. Droom is considered by most historians as the first Marvel super-hero, though others disagree since he showed no real powers other than hypnotism.
On Feb. 25, 1961, the last daily of Sky Masters was published. Jack's newspaper strip career ended. Jack cobbles a story from pre-existing art and the strip limps home.
Jack was again producing at breakneck speed. The monsters continued; even diapered ones. Roz would tell of Jack's routine of starting around noon and working almost non-stop til 4-5 in the morning, with the occasional all-nighter where she would awaken at 7:30 and find the other side of the bed vacant. She would physically go to Kirby and force him to go to bed, yet after just a few hours of sleep; Jack was back up and at the board. Jack was busy, but never too busy to ignore family. Weekends would find them at the beach or Coney Island. Every year they would take a couple weeks vacation to Aunt Anita's in Liberty, New York. On odd weekends, family members would visit their home in Long Island to get out of the city. Uncle Dave was like a second father to the kids; visiting almost every weekend, taking Neal fishing, or Susan to the zoo. It was a close family. Kirby never missed a family affair, whether it be a kids birthday or a school project that required parental assistance. Kirby used to wow the elementary kids by drawing caricatures and funny pictures for them. The one great advantage of working at home.
Life on the road for a band was tough, the hours were killers. Paul remembers his time in Germany when the English kids were set free from their grey boring British middle class upbringing. "Most important was sex…was one of the first things 'cause we were kids just let off the leash, you know. And then there was like, the amount of music we played — we played — the sheer amount of music. Some evenings I think we probably…we played eight hour periods 'cause you'd come on and another band would take an hour and you'd take an hour, so we probably played four hours but we had to stretch it over an eight hour period. And that's an awful long time, man, to play."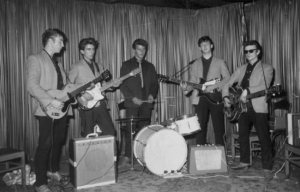 Despite the learning experience the hoped for breaks didn't come. They returned to England and returned as just another house band.
Previous – 16. Kirby's Kosmic Mystery | top | Next – 18. New Beginnings