Previous – 17. The House That Jack Built | Contents | Next – 19. Spider-man: The Case For Kirby
We're honored to be able to publish Stan Taylor's Kirby biography here in the state he sent it to us, with only the slightest bit of editing. – Rand Hoppe
NEW BEGINNINGS
As a matter of policy, Warner Brothers refused to share profits with its television personnel–including Huggins, its most gifted and indispensable producer. Huggins was directly responsible for the studio's three most successful series, but was not even given credit for having created Maverick and 77 Sunset Strip, which studio executives dishonestly claimed had been based on properties already owned by the studio. After five years, and growing animus Huggins left Warner Brothers, in October 1960 he became the vice -president in charge of television production at 20th Century-Fox.
There were international undercurrents already at work readying to boil up and erupt. The police action in South Viet Nam was threatening to expand. The small Island of Cuba had just become a Communist satellite when Fidel Castro took over in 1959. Blacks were beginning to stage sit-ins against Southern merchants who refused to serve them. In 1960, the Govt. approved over the counter birth control pills, thus ushering in a sexual revolution. A U-2 spy plane was shot down causing the U S Gov't. great embarrassment. In. Nov. John Kennedy became the youngest elected president.
On Dec. 5, 1960 The Beatles luck in Hamburg runs out: George Harrison is deported for being underage and working in a nightclub; McCartney & Pete Best are arrested for pinning a condom to a brick wall and then igniting it. The two are told to leave Germany. The band returns home, discouraged.
Comic books certainly needed a shot in the arm. Sales were stagnant and companies were still slowly dying—the residual from the culture wars. It's possible that Jack Kirby didn't even notice. Jack was delirious, in Sept, Roz delivered Lisa, the girl from left field. She wasn't planned, but she certainly was welcome. Once again the Kirby household was filled with the laughter of a newborn. According to Roz; "he (Jack) was a very good baby sitter, because he worked at home. So I was able to get out while he took care of the kids. He had more patience than I did! Like at night, if anybody cried, he was the one who got up and walked the floor with them while I slept. He was great that way.'
JFK, and Jack Kirby were the same age, and both were WW2 veterans, both from the Northeast and both had a vision of grandeur and greatness. They both possessed a vigor and energy that brought out the best in their collaborators. And they both knew the future was in the stars.
From John Kennedy's May 25th 1961 message to the joint Congress:

Special Message to the Congress on Urgent National Needs

Now it is time to take longer strides–time for a great new American enterprise–time for this nation to take a clearly leading role in space achievement, which in many ways may hold the key to our future on earth.

I believe we possess all the resources and talents necessary. But the facts of the matter are that we have never made the national decisions or marshaled the national resources required for such leadership. We have never specified long-range goals on an urgent time schedule, or managed our resources and our time so as to insure their fulfillment.

Recognizing the head start obtained by the Soviets with their large rocket engines, which gives them many months of lead-time, and recognizing the likelihood that they will exploit this lead for some time to come in still more impressive successes, we nevertheless are required to make new efforts on our own. For while we cannot guarantee that we shall one day be first, we can guarantee that any failure to make this effort will make us last. We take an additional risk by making it in full view of the world, but as shown by the feat of astronaut Shepard, this very risk enhances our stature when we are successful. But this is not merely a race. Space is open to us now; and our eagerness to share its meaning is not governed by the efforts of others. We go into space because whatever mankind must undertake, free men must fully share…

First, I believe that this nation should commit itself to achieving the goal, before this decade is out, of landing a man on the moon and returning him safely to the earth. No single space project in this period will be more impressive to mankind, or more important for the long-range exploration of space;
Now the space race and the Cold War were nothing new, in fact from the moment of Sputnik they were an integral part of the comic books. Jack's work on Race For The Moon, and as early as mid-1958, in Challengers of the Unknown #3, Rocky (the brawny Chall) volunteers for a space flight in the hopes that it would cut years out of the space race. Rocky would undergo changes while in space and develop super-powers such as flaming on, invisibility, shooting electric bolts, and size changing. Jack's Sky Masters strip often centered on the space race and geopolitical intrigue. But by the late 1950's the thrill of the actual space research had lost some of its luster, and JFK saw landing a man on the moon as a rallying cry to reignite our national sense of purpose.
Jack Kirby needed no rallying call, everything he had been doing the last 4 years told him that what the public wanted was a hi-tech adventure strip exploring space and beyond in a positive and imaginative way. Martin Goodman gave him a vehicle.
In Hamburg Germany, the Beatles do their first studio recording when they serve as back-up band to British rock and roller Tony Sheridan. The two day session in June 1961, would lead to their first published recordings.
The Beatles in Germany    At the Cavern.
It's doubtful that an artform can be considered a part of pop culture without at some time in its infancy it is discredited as being a bad influence on the children who crave it. Comics had their moment in the mid-fifties. Rock music soon followed later in the decade when images of Elvis Presley's shaking pelvis and Chuck Berry's leer disturbed the blue noses to apoplexy. By 1961, television had been a staple of mass entertainment for little more than a decade. Yet in that decade it had come under blistering fire for its vapid content. Much like earlier lowbrow entertainment forms like pulp magazines, movies and rock and roll, there were calls for censorship and regulation. On May, 9, 1961 the newly appointed Chairman of the FCC Newton Minow gave what is regarded as one of the most influential speeches of the century when he laid down the gauntlet.
"When television is good, nothing — not the theater, not the magazines or newspapers — nothing is better.

But when television is bad, nothing is worse. I invite you to sit down in front of your television set when your station goes on the air and stay there, for a day, without a book, without a magazine, without a newspaper, without a profit and loss sheet or a rating book to distract you. Keep your eyes glued to that set until the station signs off. I can assure you that what you will observe is a vast wasteland.

You will see a procession of game shows, formula comedies about totally unbelievable families, blood and thunder, mayhem, violence, sadism, murder, western bad men, western good men, private eyes, gangsters, more violence, and cartoons. And endless commercials — many screaming, cajoling, and offending; and most of all, boredom. True, you'll see a few things you will enjoy. But they will be very, very few. And if you think I exaggerate, I only ask you to try it."
Roy Huggins' time at Fox was bitterly disappointing. He managed only one new series for TV- a takeoff of the movie Bus Stop. The titular location served as the focal point for an anthology series featuring the stories of wandering, disenfranchised characters that passed through. After a particularly intense episode starring the teen idol Fabian as a mass murderer, the FCC came down hard complaining about the violence and bad influence TV was becoming for children. Fox caved in and put Huggins on a sort of suspension and cancelled Bus Stop. In a move reminiscent of Wm. Gaines testimony before the House Committee investigating comics role in juvenile delinquency, Huggins criticized Newton. In a memorable article in Television Quarterly Huggins scolded the chair of the FCC and other cultural elitists for allowing their contempt for lowbrow–"their dread of being caught in a profane mood"–to cloud their judgment. Huggins's essay amounted to a sophisticated and subtle defense of popular culture in an era when television producers did not make artistic claims for their work. "The public arts," he wrote, "are created for a mass audience and for a profit; that is their essential nature. But they can at times achieve truth and beauty, and given freedom they will achieve it more and more often." Fox allowed Huggins contract to lapse.
Minow's description of television's vapid content could just as easily described comics at the turn of the decade. Void of imagination or artistic flair. The joy had been drained from the artform due to the Wertham witch hunt, and no one had figured how to re-energize it. Most companies were just hanging on as new readers abandoned them wholesale. Jack Kirby tackled it head-on.
Jack moonlighted in 1961 by providing some spot illustrations for the Topps baseball cards. He drew little vignettes spotlighting an interesting fact about the player shown. He shared the duties with other cartoonists such as Jack Davis. One can be sure the extra check was welcome.
In early 1961, in a fantasy story Jack drew a tale of redemption. Headlining Tales of Suspense #22, (Oct. 61) Beware of Bruttu opens the issue; signed by Kirby and Ayers, with no mention of Lee. The absence of Lee on the credits is no small matter; Stan signed his work in the other series. In one sequence his hero, a huge orange brutish monster of a man, with four fingers, and short, ripped pants reacted; unaccustomed to his heft, he smashes through an entrance. The populace panics and he is confronted by policemen who shoot at him. To escape he smashes through the street and flees into the underground mazes. When he reaches his destination he smashes back up to the surface. The hero starts out as a small, timid, milquetoast of a man. Taunted all through high school and college over his size and timidity, he becomes a scientist, taunted even more by his colleagues and his secret love. He fantasizes about becoming large and strong as a fantasy comic book hulk. During a scientific experiment, he knocks into the machine and the resultant surge of radiation transforms him into that same orange, hulking monster. Unable to communicate he flees in desperation as the military is out to kill him. As the army corners him, he realizes that his life would be meaningless if he didn't see his lost love once again. He wanders back to his home and confronts his girl. Unable to speak, he hears her confess her love for the small scientist and blames the monster for killing him. Shamed into action, he writes a note in the dirt telling her she is safe. He lumbers back to the laboratory and turns the machine up to full. He bathes himself in the radiation dreaming of his former self, and slowly transforms back into the small nerdy scientist. He smashes the machine and explains away the monster as an invading alien. He confesses his love to the girl and they are happy as the story ends. It's a well written, well paced, and fully charactered story, filled with self-loathing, shame, doubt and redemption. It was published a month before Fantastic Four #1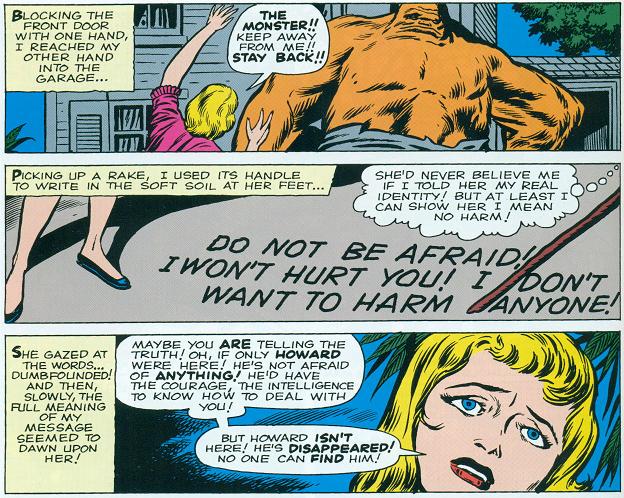 It's long been Stan Lee's contention that the more human, conflicted heroes burst in a blinding flash from his head and started this new trend in storytelling; the result of a suggestion from his wife. Jack always claimed that it was a natural evolution of his patterns that led to the FF. If Jack was right we ought to be able to track down those transitional stories or the missing links from Golden Age silliness to modern naturalistic drama. I think the truth could be found in those issues preceding the FF. One only needs to start at the Challengers of the Unknown and work serially through the monster books.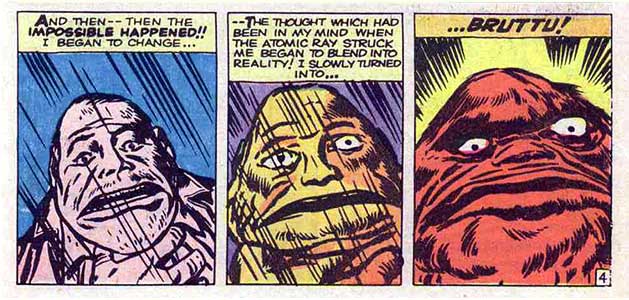 I mention the above story because I think it answers most of the questions and shows that history of patterns that I rely on so deeply. I think of it as a Rosetta Stone into the understanding of how the Marvel Universe arose. Kirby's fantasy stories were unique. They were also formulaic. There was always an underlying base of common sensical reality in the human reactions and interactions. The patterns show a multiple use of the small, timid, nerdy meme we find in the super-heroes such as Spider-Man. The human transformation from radiation was the major repetitive element in the super-heroes, first in the Fantastic Four, then the Hulk and Spider-Man. We see Jack evolve from speedo type briefs for his monsters to torn short jagged pants after transformation; as found in the FF, and the Hulk. We see the huge monster unable to communicate and then becomes hunted as a threat to be so much a part of the Hulk. Unrequited love shows up in Spider-Man, Hulk, Thor and as a subplot in the FF. The idea of these humanistic touches only starting in the super-heroes is silly. They don't begin in the Bruttu story but too many elements converge to be ignored. I find it hard to believe that the two scenes of the large orange brute breaking through the door, fighting the police, and smashing into the underground were the result of coincidence. I see it as the work of a person building on what came before. Yet so many people claim that the personality of the Hulk was so unique and evidence that Stan Lee came up with the hero. They fail to look for the precursors that preceded it; much like the claim that Spider-Man as an angst ridden teen-ager was unique to his origin. The only alternative is to deny that artists build upon their ideas.
Around the same time, Martin Goodman contacted Stan Lee and told him that he had data that told him that DC's new super-hero team, The Justice League of America -–a group of their solo super-heroes– was selling out its runs. Goodman wanted Stan to do something similar. Stan figured, not another super-hero venture. He cancelled them twice before, but what Martin wanted, Martin got. Stan claims it was at a time of personal crisis where he was lamenting his role in the woeful status of the comic industry. He had always wanted to be a legit writer. But his position was a well-paying one. Stan contacted Jack Kirby and they brainstormed over ideas. They decided that it didn't make sense to bring back old characters and make a team ala Justice League. Atlas' old super characters weren't that memorable, and the last time they were brought back was a failure. They decided to create totally new characters and have them form a team. "I came in with presentations, I'm not gonna wait around for conferences. This is what you have to do. I came in with the Fantastic Four. I didn't fool around. I said you've got to do super-heroes." Kirby recalls. "It (the FF) was a revolution in the sense that it was now–the superhero had become now…it was everything based on right now and what people saw everyday and might see five or ten years from now."
Does anyone know if Stan ever read the Challengers of the Unknown?
Stan says his wife suggested that he give this new project his all and write the series as he would like.; a sudden surge of creativity and purpose.
The new team would consist of a brainy scientist, his best friend, a brawny air force pilot, a beautiful woman and her hot headed kid brother; the perfect Kirby team template as evolved from Challengers, to 3 Rocketeers, and Sky Masters; also very similar to Roy Huggins template from the group TV series. The gimmick for the team uniting was to steal an experimental rocket and blast-off in order to beat the Russians into space- similar to the Challenger's story where Rocky goes into space and receives super-powers. While in space they get bombarded by Cosmic Rays and when the spaceship malfunctions they crash land back on Earth, only to be astounded that they are still alive- just like the origin of the Challengers, with a space ship subbing for a jet plane. Then one by one they notice changes, first the woman astoundingly turns invisible, then the brawny pilot becomes a rocky monstrosity-strong as an ox. Then when the rock-creature swings a tree branch at the scientist, he stretches out of the way and finds he can stretch all of his body to extremes. Finally, the young hot head burst into flames and finds he can fly. Several of these were similar to powers gained by the Challenger who went into space. The idea of cosmic rays changing people is one that Kirby used many times, as early as a Blue Bolt story in 1940. Even Sky Masters had a story arc centered on an astronaut whose personality changes whenever he encounters the Van Allen radiation belt.
Much of the technical data that NASA sent Kirby for Sky Masters dealt with the problems of space radiation. Plus, several recent movies had used radiation as a catalyst for mutations. Kirby said; "At the time, the big topic was radiation. We had recently exploded the bomb and I was looking to create supermen. In all my work, you see the times are reflected. I don't contrive stories…and I'm not giving you fairy tales. At the time radiation was the big thing and The Fantastic Four came out of those times." As, it should be noted did several of the Kirby monsters found in Harvey, DC, as well as the Atlas stories. Realizing that it was an act of fate, the four astronauts decide that they should band together and use their powers to help mankind- thematically very similar to the group origin and decision that formed the Challengers of the Unknown. Unlike other super heroes, they at first wore no costumes, rather they worked in jump suits, just like the Challs, and they didn't hide their actual names behind their team names ala the Challengers. Jack says that if he had stayed at DC working on the Challengers that they would have moved in a similar vein, probably getting super-powers and becoming more cosmic in scale. As it was the Challs fought villains with super powers, and explored the cosmos, and ran into a megalomaniac monarch who wanted absolute power while based in an eastern European duchy. One noteworthy aspect of the Fantastic Four is that each issue would contain one long form story, broken into smaller chapters, instead of the 3-4 stories found in the anthology titles. This was also something Kirby experimented in with the Challengers of the Unknown. No one else was dabbling in this format. No other Atlas title featured one self-contained story per issue. Something Stan had never done before.
Stan named the new group the Fantastic Four and braved DC's ire by adding it to the schedule without deducting another title. Martin had his team title, and Kirby had his space title. Stan had his soap opera. Fantastic Four hit the stands on Aug. 8, 1961. The issue was inked by George Klein. The author was ten years old that exact day, and bought a copy with birthday gift money. Atlas was ready to explode.
The German Polydor single, My Bonnie b/w When the Saints Go Marching In was released in August 1961 listed as TONY SHERIDAN AND THE BEAT BROTHERS ([Polydor / 24 673) which became a big top-ten hit for Sheridan in Germany. The credit to the Beat Brothers came about because the name Beatles was considered too close to the German word for penis. When released in the UK in early 1962, the credit was changed back to the Beatles. The Beatles had a record! The music world was about to be amazed!
Just as with the Rawhide Kid, it should be noted, the FF's personality quirks, and love triangle, soap opera-ish continuity seem to come from Stan, and his teen romance background-again the blending of strengths making for a better whole. This also mirrors closely the relationships found in many of Roy Huggins group shows. It's important to note that when I suggest that a particular detail emanated from one person or the other, it does not diminish either. They worked together as a team, and though one may have suggested an element, the other might well have made modifications and changes to fit the new story. It was a true collaboration, and neither dominated the other. But it is obvious that most of the concepts and themes originated from Jack Kirby, but not to the exclusion of Stan who surely supplied plot elements and concepts himself. Stan's contributions seem to be more towards the characterization and human interaction, though Kirby's romance experience certainly provided him with no lack of characterization skills. This focus on the family unit over plot was a hallmark of the series. Many of the early letters to the editor noted the team dynamic and the squabbling and interplay between the characters as the main attraction of the new title, as well as the monstrous hero-the Thing. Most important, after 20 years producing comics, Stan Lee had a bonafide hit—something he never had before. To Jack it was life as usual—just another hit. Ho-Hum.
This collaboration was magical, the sheer exuberance and imagination was unmatched. Flo Steinberg, Stan's secretary tells of how when Stan and Jack got together to plot the next issues, she would have to sometimes tell them to quiet down. The boys were so raucous, with Stan leaping about the office furniture, and Jack providing sound effects while acting out proposed scenes that they were disturbing the bullpen employees. Jack never had this sort of playful partnership before. Will Eisner and Joe Simon were always businesslike and calm. But once Jack left the offices, he returned to his own little world, oblivious to what he and Stan had discussed. Stan was the editor, but Jack was the writer-despite what the credits said. "In other words, he (Stan) didn't know what the story was about and he didn't care because he was busy being an editor. I was glad because he was doing the same as Joe did. He left me alone," Jack told Eisner. John Romita, a bullpen artist had a unique perspective of Stan and Jack's working method. "Sometimes Stan would offer to drive Jack and me home and they would plot stories in the car. That was the interesting thing, I would be in the back seat of Stan's convertible, and these two giants were up front plotting the future of the Fantastic Four and Thor. Or whatever they were working on. And I would listen- absorbing all of that stuff and getting a big kick out of how they ignored each other. Sometimes I could hear that one was talking about something completely different. It was interesting because it appeared that they would finish their conversation, each thinking that they had convinced the other, when it was obvious to anybody else that they hadn't."
They would throw the most outlandish plots around and sometimes talk at cross-purposes, but once Jack was home, all was forgotten and Jack would draw his own stories and when Stan saw them, he had no idea what was going on. They didn't match up to what he and Jack had talked about. But Stan always had the last laugh, as Jack would say "Stan Lee wouldn't let me put in the dialogue." Jordan Raphael and Tom Spurgeon explain in their book Stan Lee and the Rise and Fall of the American Comic Book;
"With Kirby handling the basic construction of the stories according to the collaborative method of working together, Lee had more time to focus on the dialogue. Indeed, Lee had to focus on dialogue. It was his main tool for shaping the story in the direction he wanted it to go, a way to infuse some of his own personality back into the intense artwork submitted by Kirby. Lee drew on his skill with romance and humor books to provide livelier and more fulsome dialogue than had ever been seen in a super-hero title. Lee's dialogue indicated not just character type- good guy, mad scientist, street thug- but helped differentiate the characters among themselves in their closest groupings. At his best, Lee gave each character a verbal stamp of identification equal to the visual imprint made by the artists. Lee's Thing seemed less educated and generally angrier than Mr. Fantastic, who came across as stuffier and more deeply arrogant than the teenaged Torch, and so on. Each major villain also received his own vocal fingerprint. A comic book reader in the early 1960's might have argued that the elegant competence of DC's super-hero artists was somehow preferable to Kirby's rocket-charged virtuosity, but no one could make a compelling case for writing in broad strokes, with all of the characters sounding alike. Few comics had offered writing that could be enjoyed on its own, and none of them had been super-hero titles. Twenty years of benign neglect and creative contempt for the super-hero now worked in Kirby's and Lee's favor. Even the smallest changes seemed radical and daring. "
The sad truth is that for most of the history of comics, the writer and the words were the lowest rung of the creative ladder. The artist always felt they were making a creative statement, they were creating something from nothing, but the writers were a collection of has-beens and never-weres, rubber stamping their crude little lurid tales of good and evil, for pennies a page. Jack Oleck would brag about how many times a single story would be used in different books by different companies.
With the exception of possibly Will Eisner, no comic writer ever dreamed of literary recognition for his comic work, and this includes some very impressive writers, such as Jules Ffeifer, Mario Puzo, and Mickey Spillane, who all dabbled in comic books for a quick paycheck. It was up to Stan Lee to try to lift the literary content of the comic book to new heights; not that that would take much, just adapt long recognized fiction writing techniques of character development, and melodrama to the lowest form of storytelling.
It has also been noted, especially by comic historian Greg Theakston that the FF have an elemental subtext to them, the combination of earth, fire, wind and water. This theme had been used by Kirby before, in an issue of the Challengers, they faced a villain who possesses a mystical object that grants him the elemental powers of fire, wind, water and than the solidity and strength of a being rooted to the earth. The Thing is an interesting and unique character. A monster who looks like a mudslide with unlimited strength and a nasty temperament, though heroic at his core. Of all Kirby's great creations, the Thing might have been his most personal. Jack has been quoted as saying, "He has my manners, he has my manner of speech, and he thinks the way I do. He's excitable and you'll find that he's very, very active among people, and he can muscle his way through a crowd. I find I'm that sort of person." The Thing was the embodiment of the old Jewish myth, the Golem. The Golem was a very popular figure in Jewish folklore and legend. The Golem is a clay formed manlike creature that is created by use of mystical powers drawing on an elemental basis that are to be found in Kabbalistic lore. He was mindless, and often uncontrollable. His mission was to protect the Jewish population from blood accusations and false threats.
Rabbi Loew of Prague, (Kirby's ancestral roots) spoke these words after being told by God to create a Golem.
"Four elements," he said, "are required for the creation of the golem or homunculus, namely, earth, water, fire and air."

"I myself," thought the holy man, "possess the power of the wind; my son-in-law embodies fire, while my favorite pupil is the symbol of water, and between the three of us we are bound to succeed in our work." He urged on his companions the necessity of great secrecy and asked them to spend seven days in preparing for the work. Earth was the principle ingredient and it was found in a loamy riverbed.
The Golem was the source for several early science fiction movies. One earlier comic character, the Heap, a back-up strip in Hillman's Airboy Comics fit the organic monster/hero template first seen in the Golem, though not the religious intent.
Again we get the repeated idea of elemental formulation or perhaps the original source. Surely the stories of the claylike Jewish protector were among the Old World stories that Mama Rose regaled her young son with, or perhaps passed on by the Jewish mystics who looked over the Jews of the Lower East Side; the same rabbis and Kabbalah mystics who held an exorcism over the 9 year old Jacob Kurtzberg when he was deathly ill with pneumonia. Kirby remembered; "My mother held much faith in this kind of thing. She could not give me up. She called on the rabbis and they all gathered around my bed and chanted in Hebrew: "Demon, come out of this boy," they said, "What is your name, demon?" Jewish legend and superstition was a major part of Kirby's upbringing.
Jack never force-fed his religious beliefs to the readers, but the observant eye can find the Jewish influences and inspirations in his work. There was a drawing of the Thing dressed in Jewish prayer garb, complete with yarmulke and shawl while holding the Talmud in a treasured location on a wall in the Kirby household. The fallen angel, the idea of a godlike mythological super-hero coming in times of need was used repeatedly by Kirby. Other allusions to Hebrew mythology would show up time and again in Kirby's work. The legend of Samson, Atlas, and the angelic "Watchers" and the Nephilim race born of gods and monstrous races that inhabit the Earth turn up in series such as the FF, Thor and the Eternals.
There were always precedents
Per Jack's usual methodology, just the month before he had been working on a fantasy story that evolved around a man transforming into a big orange monster due to atomic rays. His fantasy stories never went to waste. The hero was a small researcher picked on because of his size. In Jack's stories everything changed due to radiation, I like the wide eyes and flattened noses.
It has long been a matter of contention over who created the FF; Stan or Jack.
Lee claims he did, and points to a synopsis that still exists, while Kirby claims that he presented the idea based on his Challengers concept. The synopsis can be quickly ignored. It is obviously an overview of a brainstorming session with him and Kirby. Even Stan has admitted that he and Kirby got together before the synopsis. Jack says; "It was my idea, It was my idea to do it the way it was, my ideas to develop it the way it was. I'm not saying that Stan had nothing to do with it. Of course he did. "We talked things out." It was Stan's routine to have his notes from these bullpen sessions typed up for later use when he dialogued the presented art. Likewise there is evidence that while they brainstormed, Stan and Jack would sometimes pace and breakdown the story directly on art pages. There are examples showing action lines and character positioning on the backs of several of the existing pages of early FF stories; nothing by way of specifics or dialogue, just a flow of continuity. These pages were taken home for Jack to refer to. The finished pages show that Kirby followed some of the breakdowns while ignoring others.
Stan also states that at this time, he had an epiphany. He was worried about job security and was thinking of quitting, when his wife suggested he do this new book but do it the way that Stan would do if he was writing for himself. To exit with a literary bang, so to speak. Unfortunately comic books are the wrong business for epiphanies. The market was small kids, and that's who it was written for. But Stan says he brought a newer approach, a more adult, more dramatic, more literate style than he used on other books. If that is so, we should be able to recognize these new approaches.
The best way to see whose the guiding hand on FF #1 was is to look at the actual story. It is usually easy to spot if a writer is the backbone of a story, especially one purposely trying to write a more literate plot. The plot is unusually tight, cohesive and logical- because writers construct in a fairly logical process connecting each element and filling in plot holes for an easy to follow consistent storyline. The best example is Neal Gaiman's Sandman. The plots are so thick and the stories so tight that even without seeing the script one recognizes whose brainchild this book is. When one actually sees the script it is no surprise to see the writer leading the artists step by step. Artists on the other hand see things visually- looking for a visual punch that catches the eye and moves the story along. They tend to ignore the wordy little elements that tie a story together logically and make it cohesive. Stan explained; "Jack created characters visually." An artist' story might look great, but often lacks the cohesive details of plotting that tie everything together. So let's study the actual book.
Let's start with the cover.  Stan says he is working mightily to produce a new, more adult, more hip approach to super-heroes, yet he has Kirby make the heroes secondary to the monster of the week central figure.  And no hint that this was to be a different style book, unlike the companion title Amazing Adult Fantasy where Lee makes it very clear that this book was to be a more adult oriented approach (as evidenced by both the title and the blurb). The Ditko book features several small excellent twisty stories.
The cover of FF #1 is actually one of Kirby's more mundane covers; the monster even lack's Kirby's usual pizazz. The cover doesn't even present an event found in the storyline. The characters offer nothing dramatic, most are fairly stationary, with no Kirby extreme posing dynamic flair. Mr. Fantastic is shown tied up in ropes- for no apparent reason. There is no one on the cover to have tied him up, in fact, the actual villain isn't even on the cover; a nice visual effect that has no literary connection
Let's look at the FF #1 interior to see just what this new, more adult, and more realistic approach to comics looks like.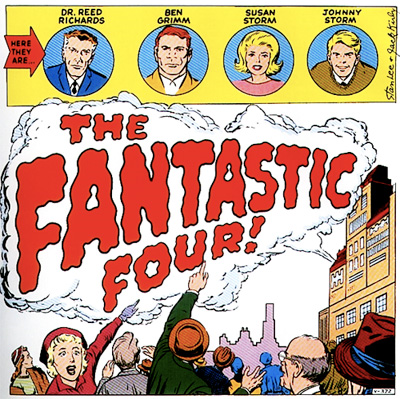 The story begins with a call to arms, via a flare spelling out The Fantastic Four, very visual, very dramatic, just not realistic.  There is no known flare that spells out phrases. But that's minor, we next see a fashionably elegant looking woman visiting a friend for a social tea. She spots the flare (from inside) and without warning becomes invisible and departs leaving the "friend" aghast.  She is then "seen" shoving her way into a taxi leaving a trail of disheveled people behind. Unknown to the driver, luckily cruising around at random drives near her destination, at which point a voice tells him to stop, and an invisible hand hands him the fare, which causes the taxi driver to drive away in fear.
Again, visually effective, but plot wise it makes no sense, it's simple slapstick!  An adult would simply have excused herself from the party, and get a cab to take her to her destination, that way not alarming or hurting anyone, and not leaving the trip to her destination up to the whim of an unknowing taxi driver.  Lucky the taxi driver wasn't going to Brooklyn! There was no logical reason for her to turn invisible at the first sight of the flare.
Next we see a large hulking figure out shopping for clothes, trying to act incognito, when he sees the flare. So what does he do? He throws aside the clothes and busts through a door, in brown underwear no less, scattering debris and scaring the innocent folk, and when told to stop by a policeman, he runs away forcing the cop to fire at him.  At this time he tears a hole in the street and jumps into the…how to say it nicely…sweet smelling, sanitary sewage system and swims to a point that he believes is near his destination and without warning breaks upward into a busy street and gets hit by an automobile. Apparently unhurt by the collision, he makes his way uptown. The street folk scatter in fear. Undaunted, he goes his merry way.   Why not simply exit the store and return the way he came and not cause a ruckus? Because that would be logical!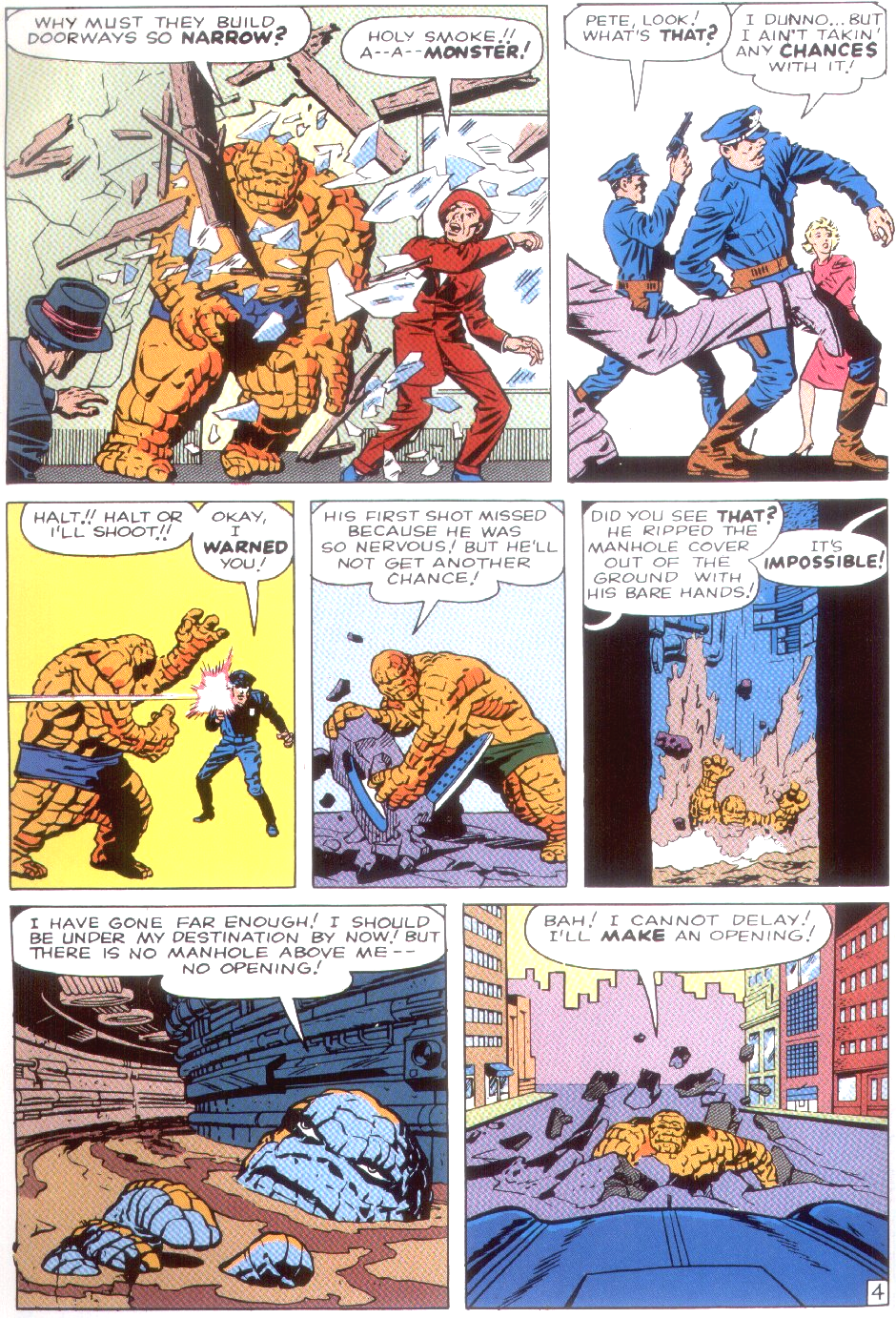 Very, very effective visuals, full of energy and power, but in reality, he is now a wanted felon for destruction of private and public property, indecent exposure, resisting arrest, and fleeing the scene of an accident.
Now we cut to another scene.  A typical all-American teenager working on his souped up hot rod, when a friend points out the flare in the sky, immediately the teen bursts into flame, melting his precious car, and flies off to who knows where. Amazingly, his friend say that "you're turning into a—a—Human Torch" The very name that the lad gave himself when he received the powers; the very type of forced coincidence that a good writer would avoid. He then encounters 3 Air Force jets, armed with nuclear weapons, no less!!   He accidentally(?) melts all three jets–luckily the pilots all parachute to safety– but not before one of the jets fires off a nuclear tipped Hunter Missile (right there over Central City!!!)  Just as the flaming teenager is about to meet his doom, a pair of hands attached to unbelievably long stretched arms shoots up and catches the missile, and hurls it far from the shore where it explodes over the sea; interesting because the man with the stretching ability does not possess super strength. Now the boy has lost his flaming ability and is falling out of the sky.  Quickly the man with the stretching ability bridges several buildings and the boy grabs him and stops his downward spiral. Great action shots, but totally illogical. The section ends with the stretching man greeting the other three and casually thanking them for responding so quickly to his call.  Not one mentioning of the chaos outside the window.
Oh! They have doors!    Don't writers know nuclear bombs don't explode harmlessly over the sea?
So the first chapter ends with one member being hunted by the police for various serious charges against humanity, another being hunted by not only the local police, but the FBI, and the military for destruction of Gov't property, and endangering the lives of 3 pilots, and resisting arrest. And worst of all, a nuclear warhead has just exploded off shore, and the deadly radiation cloud is spreading over the city, and what is the man's response?  Hi guys, thanks for heeding my call!!!
Is this is the work of a writer hell bent on creating a new, more realistic, more adult, more literate style super-hero book? One where actions have repercussions and the action plays second fiddle to the human interaction? Or one where an artist wants to introduce these characters with a visual bang? Kirby states; "Super powers are a show gimmick. Why does a comedian decide to drop his pants on stage? Or why does a dancer come out and do a certain type dance? The answer is attention. You want the reader's attention, if you can't get it with ordinary people; you get it with extraordinary people."
Maybe the writer is just building up the tension, maybe these run-ins with the local and federal officials will be dealt with later in the story. Guess what, it never happened! This whole chapter is never referred to again; there was no manhunt for the Thing or the Torch, no nuclear radiation to bother the civilians. It's like it was all a dream. Bobby Ewing behind the shower curtain. Too many things left to chance to read like a well thought out sequence of events.
Maybe this writer with his back against the wall hints at how this was resolved in his synopsis? Nope, not there, in fact there is no mention of any of these happenings in his synopsis.  Where did the ideas come from? Surely this writer who created everything wrote the first 8 pages!!!   This guy with just one last chance wouldn't leave something as important as the introductions of the main characters up to someone else!
I think why these introductions are visually dramatic, and effective, while literarily incoherent and implausible is simple, they were the creation of the artist not the writer.  A writer looking for natural, realistic, and humanistic plotting would have presented a more logical, coherent plot that lead to, and tied in with the next chapter.    The artist just wants to catch the attention of the reader; the WOW!!! factor.
The next chapter offers a flashback to the origin. Surely this will be more coherent, and internally logical in nature.
It starts out with 4 people arguing about a surreptitious space flight to the stars, a scientist, his lovely girl friend, his best friend, and the girl's younger brother. The gruff best friend doesn't want to go, not because it would be illegal, in fact, there's never a mention of the legal ramifications, but because they haven't done enough research on the effects of cosmic rays on humans. ( Kirby concern)
So how is this debate settled, not by logic, or reason, but by the woman calling the gruff man a coward, (interesting since the gruff man was a heroic military pilot) and baiting him by way of feigned patriotism into accepting. (very grown up and adult)
Next we see them speeding to the spaceport, and only now do they realize that the woman and the teenager have no training or skills needed for the space flight. This amazingly adult observation is settled by the woman saying "I'm your fiancée, where you go, I go." And the young boy responding "And I'm tagging along with sis—so it's settled!"   YEP!!! That always worked at my house, but the Biblical Ruth allusion is particularly nice.
Nonetheless, the 4 slip into the spaceship unnoticed. Amazingly this spaceship wasn't controlled by a separate control center; this one must have had the pilot use a key and press on the accelerator, because they managed to lift off with no outside help. And wouldn't you know it, the man seen earlier arguing about cosmic rays was right and when the cosmic rays hit the ship the pilot loses control and the disabled ship crashes back on Earth. The leader is such a dope, for an egghead. The writer was an egghead also. The problem with Cosmic Rays had been solved years before. At least 4 manned space flights occurred before the Fantastic Four. But one man was aware of the wariness of the Space Agency towards Cosmic Rays. Kirby had been receiving data on just that possibility while doing Sky Masters.
Luckily they survive the crash, but they all react strangely, they begin to bicker among themselves while the gruff pilot plays the blame game. Suddenly, the girl turns invisible, the burly man turns into a rock, the teen ager burst into flames, and the leader stretches.  Just as quickly, all hostilities between them end and they decide to band together as a group, give themselves names, and help mankind.  (very helpful, see first chapter  😉  Would a writer present them in such a jarring, disjointed way? Or, would he provide a logical and interesting flowing context to the events?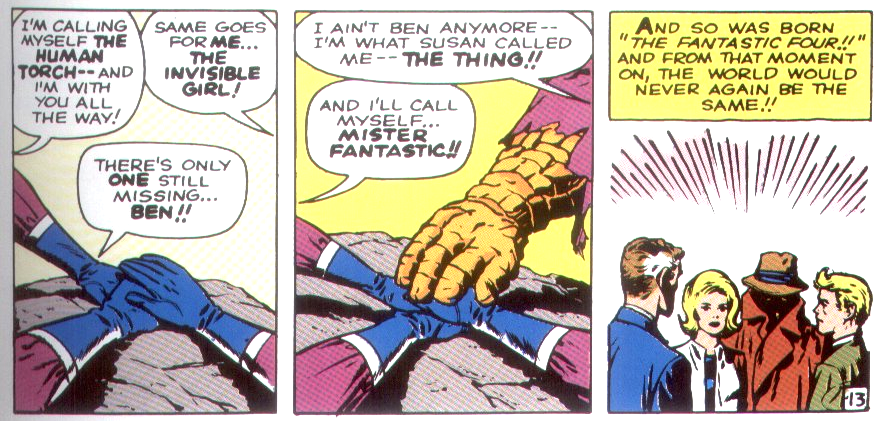 Of course there is no mention that they are now wanted for stealing a space ship and flying it with a minor on board!!! Not only are they now felons, they are also incompetent, inconsiderate, and irresponsible. If Stan wanted human frailty, he got it. Worse, there are never any consequences for their incompetence.
Is this silly, incoherent, illogical, mess of a plot the work of a professional writer inspired to do the best he can?  Someone once said something about "it's the Challs with super powers", I disagree, at least in the Challs the chapters flowed into each other, and what happened in the first chapter tied into the latter ones, and they acted like adults.  It's amazing that the example most often given for showing that the FF were more adult and real as compared to the DC characters is that they bickered  like children. No, more likely this was the result of an artist trying to amaze the reader with Bam Bam Pow!! Great visuals of the spaceship, the cosmic rays, and the new found powers. Bad plot, pretty pictures.
Then we come to the final section of the story, the fight with the Mole Man.
What happened to the angst and contrariness? – Some varmits live forever
This chapter, if read separately, is at least a consistently constructed story with a beginning and end, but it still follows the formula used in countless Kirby Atlas monster stories. But when read as a continuation of the first 2 chapters, one realizes that there is no connection, nothing from the first 2 chapters plays a part in this one, except their powers. The only nod to the personality squabbles is Ben Grimm wisecracks at Reed's expense. But there is no bickering or squabbling among the members. This whole chapter feels like it was tacked on as an afterthought.
Even this chapter has major plot holes and inconsistencies that a beginning writer would have caught, much less one driven to do his best work. Yet it does introduce a very compelling villain; the Mole Man and his underground minions. The visual is part Octavius Alexia from Sky Masters, and Batman's Penguin, wearing 3D goggles, and swinging a staff. This story has some eerie similarities to the film Superman and the Mole Men. (1951) In both stories there are underground civilizations bent on attacking the surface. Kirby provides some great creatures from a three-headed dragon to a hoard of creepy crawlies. One interesting bit is that while trapped underground, the Mole Man has adapted to the darkness by evolving a bat-like radar sense that allows him to see in the dark-something first seen in The Shield during Kirby's Lancelot Strong days. Strangely when cornered his cave simply destroys itself and the isolated one is even more isolated.
Mike Feldman, a wise historian has opined that the book reads like three totally separate tales spliced together, and I agree, it's not the work of one person pouring out all his soul and skill in a last ditch effort to write something memorable. It feels like the work of a committee, with different people doing their own little parts, sometimes in harmony with the other, and sometimes at cross purposes.
One man wrote in a fit of frustration; "I've enjoyed many a Fantastic Four yarn in my day, but there was always something about them that never sat well with me. They become the top super heroes of the Marvel Universe, the first family of comics, famous and admired (while mutants are feared and loathed) but all they do is make a mess of NYC and cause trouble, because right here from the beginning they were a bunch of rogue squares (maybe not Johnny, he's a dunce) that like to mess up and super scientists that take revenge against the world due to their shortcomings."
What holds the whole thing together is not the plot, or the characterization, the only redeeming quality this book has going for it is the Kirby artwork, hiding the plot holes big enough for a Kirby monster to crawl thru. No one cares about the repercussions of melting three jets, and exploding a nuclear warhead over the bay when Kirby's pictures make it look cool. It's understandable to steal a space ship when it's designed by Kirby.
It's the same thing that made the Kirby monster tales so enjoyable, not the formulaic plots, whether provided by Lee, Lieber, or Kirby himself. It's the visuals, the Kirby monsters. The Kirby excitement! There is nothing in the writing or the plotting that sets it apart from, much less above typical comic book writing.  The only addition is some juvenile behavior, and some wise cracking added by Stan Lee in the dialoguing stage.
Lifted from Challengers of the Unknown – Kirby back where he started
If one was to novelize this story as produced, it would be unreadable. Without the graphics the story falls apart. This story shows no more thought and nuance than the latest Millie the Model offering. It certainly wasn't any better written or plotted than the Rawhide Kid stories that Stan and Kirby were doing. In fact, it was worse. The Rawhide Kid stories made sense! When showing how skilled the Kid was at shooting, the Kid didn't shoot his own horse, unlike Johnny melting his own car, instead of opening the door and stepping out first.
Whoever had the genesis for the title is lost in time, but the result was a hit. Stan immediately started getting mail about the new book. The kids loved it. Many complimenting it for the bickering and family feel to the group. The plot holes didn't matter a bit. This initial response ignited perhaps Stan Lee's greatest talent, that of huckstering. By the third issue-even before all the early sales results were in, Stan had a cover blurb boldly announce that The Fantastic Four was the "Greatest comic magazine in the world" What chutzpah! Stan might have been shoveling manure, but he was correct. The improvement in each issue was astonishing; Stan's writing got tighter, the plots more coherent and the characters more complex and inviting. Jack's art amazed with each creation, whether it be shift shaping Skrulls, or the Miracle Man's astounding feats of magic. Mr. Fantastic's stretching ability evolved to an amazing degree, besides simple stretching his whole body could become pliable and form odd shapes like a tire or key. While the Torch's flames continued to adapt and diversify in ability. The Thing got stronger and more melancholy due to his inability to become human. Even his skin evolved into a more formed exterior. Sue became more matronly and protective of her brood. And her powers expanded as she learned to control them.
The second issue features an invading alien force, The Skrulls are shape shifters. A small pre-invasion force is sent to Earth to do away with the Fantastic Four by imitating them in the act of committing crimes. Falsely accused the FF are arrested. They do escape and track down the aliens. Reversing tactics, the FF now imitate the Skrulls and convince that Invasion force that they face imminent death because Earth is protected by huge, horrible, hulking monsters. Reed shows them pictures cut from Atlas monster comics to scare them away. Jack's old bluff gambit to scare away aliens bent on domination. Once again we see a plot with huge holes, and the Thing quick to anger and Reed sulking from self-pity for failing to protect them from the Cosmic rays. This issue also shows the Thing reverting back to his human form, and then sadly back to the Thing, a particularly poignant plot element that would be reused time and again.
Issue #3 has a typical Kirby style hypnotist taking on the team. Not much of a story but the issue does show Sue designing workable costumes for a unified team look. The best thing is that Jack got Sue Storm out of her matronly dresses and into a form fitting outfit. Jack says it was in response to the reader requests. "You've got to think of sales, not only of good stories." This was the issue Stan proclaimed that the FF was "The greatest comic magazine in the world" This was also the issue where Stan first presented a letter page, thus communicating directly with the new fans. Most of the letters are very positive, but Stan does throw in one negative missive from Bill Sarill. "Just finished reading Fantastic Four and must admit to being disappointed. I expect better things from the team of Lee and Kirby. Jack is capable of better art work, and the Thing ought to revert to human form at will as his teammates do. The story also suffers from "Creeping Monsterism" to paraphrase Jean Shepard that has dominated most, if not all your comics for some time." Bill Sarill would become famous later for his techniques in restoring old pulp magazines and comics that had deteriorated over time. Others disagreed. "I think the Fantastic Four will become a great success. The Thing and Torch are very new and different. I would also like to know what the name of your artist is." from Alan Weiss. Alan Weiss would go on to become a professional comic artist and work for Marvel. What is important is that Stan proudly listed Jack Kirby's name on the splash page of every issue, along with his own name of course. Listing credit wasn't new, but it had gone out of fashion during the 50's. It was with this issue that Marvel began the new .12 cent price point.
If the Human Torch was a reboot of an earlier Timely character than issue #4 would go one better, and reintroduce an actual Golden Age Timely character. The return of the Submariner in issue #4 connected the new characters with everything that had gone on before the FF came to be. The Submariner was an amnesiac living in a flop house in the Bowery, a low life section of New York (yes Central City had morphed into New York) and soon to be the temporary residence of the Torch after he had quit the team in disgust at the end of issue #3. When Johnny uncovers the bums' real identity he shocks the Submariner back to reality by throwing him into the ocean. One might question why the Submariner's memory hadn't returned while taking a bath or shower or a nice swim in a pool, but such were the plot holes in early FF's. Unfortunately the Submariner is no nicer than he was in the war years when he and the original Torch would battle endlessly. When the Submariner sees the destruction that mankind has done to the oceans and his lost people he vows renewed vengeance and once again attacks the surface people. The Torch is forced to rejoin with the group in order to fight the threat, and the Thing saves the day when he destroys a giant monster called up from the depths by Subby. He provides a particularly nice scene with the Thing carrying a nuclear bomb on his back. Another interesting subplot is that the Submariner falls for Sue in a big way. This underlying love triangle would last for many issues.
In issue #5, Jack introduced a villain who would become an archvillain for all time, right up there with the Red Skull. Dr. Doom was a twisted genius whom had attended college with Reed Richards. But his talent was warped with a base fascination in the occult, and the nether world. One day while doing an experiment, something goes wrong and an explosion occurs. While he lives, Dr. Doom is disfigured, and worse expelled from school. He then heads off to Tibet to seek more forbidden secrets. Dr. Doom has now returned, cloaked in medieval garb and an iron mask hiding his ravaged face. He kidnaps Sue Storm in order to force the FF to help him retrieve an artifact lost in time. Doom wants Blackbeard the Pirates' treasure and he has invented a time machine to send the FF back in time to get it. While back in time the FF don less conspicuous clothing and are shanghaied and taken to a ship. There they easily overtake the crew and set out to find Blackbeard's ship. Once they find it they quickly defeat the pirate crew and take it over. There they find the treasure. After a brief fling where Ben forgets himself, they are returned to modern day and confront Dr. Doom. It turns out that the treasure contains some jewels that belonged to Merlin the magician and contain mystic powers to make the owner invincible. Very similar to the Challenger's first adventure where they are hired to unravel a puzzling box that the Sorcerer Morelian knows hides a mystic stone that promises immortality. Thanks to Sue's quick thinking the FF defeat Dr. Doom, but he does escape by the use of a hidden rocket harness.
Issue #9 would see the return of one of Jack's more popular themes, the movie production where the heroes are meant to die, only this time the villainous producer is the Submariner. There is also a sub plot about the FF being broke and needing money and turning to Hollywood to make a quick buck. #10 would feature another old S&K bit when Jack and Stan become part of the storyline. The inking which had been uneven really steadied when Dick Ayers took it over in issue #6.
In issue #13, John Kennedy's dream is finally achieved and long before the end of the 60's. The FF go to the moon, battle with Commies and super apes, and find a quietly powerful being living there. The Watcher is Kirby's first and best example of a Kirby icon, the passionless observer, (similar in nature to the Jewish Watchers- angels tasked to watch over humanity) whose job is to observe and record, but not to interfere. The Watcher becomes a very important part of the FF's extended family.
These continuing plot elements and connected issues, and full issue storylines were a big draw to those kids used to 3 stand alone stories from the competitors–which Stan good naturedly called Brand Ecch!!! The plot holes continued, and no error, such as the Torch having two left hands on a cover went unnoticed, but instead of worrying, Stan made them into a rally card when he began offering "No-prizes" for the best explanation for those muffs. After FF#1 was issued Roy Thomas, an editor of a fanzine named Alter Ego reviewed the mag. He was not overwhelmed; he thought Lee and Kirby could do better. But by issue #5 Roy writes a letter to the editor. "FF#3 was excellent! The feud angle made it all the better though, particularly the ending. The continuity in FF is all that could be asked. I've just subscribed to FF for two years—I hope it runs much longer than that." Each month more and more converts were buying the book. It was a smash, Kirby had worked his magic once again, and this time with a new partner.
The audience of comic readers had changed by the early 60's, perhaps due to the Wertham crisis. It had become an older, more mature audience, after losing a few years recruits during the cultural debates. It was also a smaller audience. Even long time staples like Superman and Donald Duck were losing readers. The smaller audience had developed a clannish feel. EC comics had fed into that fannish base when they formed a club and started direct communications with the fans. It had died down with the demise of EC, but small little groups continued and some even formed clubs and began printing booklets talking about their obsessions. The first may have been Dick Lupoff's Xero #1 in September 1960. This was more sci-fi based but did feature articles on Golden Age comics. In March 1961, Roy Thomas and Jerry Bails started Alter Ego.
Alter Ego #1 Roy Thomas' unique pencils – Xero #9 led to All in Color for a Dime
This was much more focused on comic books. It was in this pamphlet that Roy Thomas printed his lukewarm review of Fantastic Four #1. Soon after, Don and Maggie Thompson started Comic Art. While just a small portion of the comic buying audience, they continually communicated with the editors, they had a sway over the editors much larger than imagined. Stan Lee was well aware of them and played up to them. In the first letters page, he notes. "We've just noticed something…unlike many other collections of letters in different mags, our fans all seem to write well, and intelligently. We assume this denotes that our readers are a cut above average, and that's the way we like 'em." The letters columns are full of letters from early fanzine members. The aforementioned Roy Thomas, Bill Sarill, Ron Foss, G.B.Love, Paul Gambancini and many others communicated constantly with Stan Lee. Future pros like Dave Cockrum, Alan Weiss, Steve Gerber, and again Roy Thomas were early fans inspired by Stan's snake oil salesmanship. The fanzines had started an awards program named the Alley Awards, after the early comic strip, Alley Oop. The first few years' winners were all DC stalwarts, and very super-hero centric, to the point of ignoring all other genres. In 1961 for example, the winner for best book was Justice League of America, and best artist was Carmine Infantino. What wasn't mentioned was that the results were based on fewer than 200 ballots. By 1963, Marvel had completely turned the balloting on its head. Best comic award went to Spider-Man, top group went to the FF, best editor and writer was Stan Lee, but Carmine Infantino still maintained his death grip on top artist. Whenever Marvel won an award, Stan was quick to publicize it.
To further play to this captive audience, Stan started an in-house club called the Merry Marvel Marching Society. Stan became the ultimate carnival barker. Stan's letter columns and editorial box was a major part of connecting directly with the reader and making him or her feel like a close family. Stan described the editor and artists as a small tight knit group of happy guys living the Marvel life. The bullpen, as Stan referred to them was led by Uncle Stan, and the artists all had funny monikers like Darlin' Dick, and King Kirby; they even produced a record that went out to club members where the artists (except for the reclusive Ditko) talked to the listener and joked about Stan. The reality was somewhat different. Kirby recalls the early years at Atlas as a time of desperation; "No, there wasn't a sense of excitement. It was a horrible, morbid atmosphere. If you can find excitement in that kind of atmosphere—the excitement of fear. The excitement of "What to do next?" ….It was desperation, but it was a creative desperation because that's when a man really begins to think hard."
The whole point was to make Marvel feel like an exclusive, but small, privileged and desirable country club. Nothing appeals to youngsters like being part of an in-club, and nothing was more "in" than Make Mine Marvel!!! Stan was sophisticated and cuddly at the same time. Stan even used the exclamation "Excelsior" from the beat humorist Jean Shepeard as his sign-off. Stan became an irresistible force, and the readers his obedient followers. Unfortunately his bombast which started as we, we, we, soon seemed to become I,I,I. as Stan's soapboxes morphed into little advertisements for the greatness and majesty of one Stan Lee. Stan Lee went from cheerleader to public face and focal point of all that was good about Marvel.
Success breeds success, and if a comic company has a hit, than they will spawn more of the same. So it has always been. Martin Goodman was happy with the sales figures of the FF and asked for another title. And just as before Stan called in Kirby and they brainstormed. The character getting the most response was the gruesome Thing, so they figured another monster might work. Just a month earlier Kirby had done a Dr. Jekyll -Mister Hyde take off for one of the fantasy titles. "The Midnight Monster" appeared in all his transformative horror in Journey Into Mystery #79. This character drank a serum and transformed from a mild mannered chap into a raging monster. The transformation changed him from a normal looking man into a Frankensteinish monster. Kirby had also used this visual on an earlier Black Magic cover. "I did a story… a small feature, and it was quite different from the Hulk we know. But I felt that the Hulk had possibilities, and I took this little character from the small feature and I transformed it into the Hulk that we know today." "Of course I was experimenting with it, I thought the Hulk might be a good-looking Frankenstein. This idea seemed to click and with further evolution the result was the Hulk–a name that Stan Lee had used repeatedly on the monster characters. Once again radiation would be the trigger for the transformation. The hero was Dr. Bruce Banner, a scientist overseeing a Gamma Ray experiment for the government. Just before the blast, Dr. Banner sees a teenager driving around the blast zone. He rushes out and throws the lad into a trench just as the blast goes off. Dr. Banner is struck full force by the blast, but survives. This bit with the boy in a blast zone was actually borrowed from a Sky Masters episode where young Danny Martin wanders into the blast area of a missile test. Sky Masters sees him and rushes out and rescues him by throwing him into a ditch.
No wonder the first Hulk is gray – again with the fingers 3 or 4
Later at night, Dr Banner goes through a horrible transformation as he becomes a huge mindless beast and goes on a rampage. The only person who can calm him down is the young lad he saved-Rick Jones. He looks like a slightly handsomized version of the Frankenstein Monster, only gray (soon to be green in the next issue) and bulky. The Hulk becomes a hunted beast but he has a habit of destroying bad guys and Commie villains by accident. Another borrowed gimmick is when the Hulk is wounded by gunfire, and when he transforms back into Dr. Banner he is still wounded. This was taken from a story in The Adventures of the Fly #1 from a few years earlier. The Hulk would be a troubled series early on as the creators could never get a handle on the character. Should he be smart or mindless? Transform at night or when angry? Be a force for good or evil?
Neal lived for these special days watching his dad pull his tricks out of his bag. Neal loved sci-fi too, and shared jacks books ideas. "Our time together was full of moments like this. The early 1960s was the era of atomic monsters and bomb fear, so along comes the Hulk. To Dad, the science of the man-monster was in the realm of "maybe." Could a Jekyll-and-Hyde monster be created genetically? Jack Kirby thought so. Remember, the structure of DNA had been discovered only five years earlier, and the workings were still a mystery.
The cover inker is a mystery; most credit Paul Reinman, some say George Roussos, but Nick Caputo, who I consider in the cream of Kirby researchers has a different, but knowledgeable idea. "…the sparse quality, including the way clothing is inked on Dr. Banner, the lack of detail on the Hulk's feet and the singular way the face is inked point to Kirby. There is none of the heavy brushwork of Roussos, or the finer line of Paul Reinman. Ayers also would have had thicker brushwork, so I submit this important cover to be inkd by none other than Jack Kirby." Nick does not come to this conclusion easily. He has been busy comparing inking styles for many years and has published a much longer list of possible Kirby self-inked Marvel covers @ http://nick-caputo.blogspot.com/2011/09/kirby-inking-kirby.html
When Stan Lee and Jack Kirby brought the Incredible Hulk to life in the early 60's, their vision for this character was that of a muscle-bound giant with deathly grey skin.
As the comics came off the press however, it soon became apparent that getting just the right shade of grey was difficult. Sometimes the Hulk came out looking pale and dull, like dishwater, at other times he was almost black. With the 2nd issue, it was decided that the Hulk would become an easy to reproduce shade of green.
Third times a charm – count the Hulk's fingers and toes
One thing that never changed is that he was hunted by the government, in the form of General Thunderbolt Ross–a hard as nails military type and father to Betty Ross, the love interest of Dr. Banner. This was a love triangle doomed to failure. The Hulk's antagonists were typical Kirby villains. Aliens bent on domination, Commie warlords, and rulers of underworld civilizations. They even formed a kid gang to help out the Hulk. But nothing could really help the Hulk, after 6 issues he was cancelled. But the Hulk didn't simply disappear, he was next seen in Fantastic Four #12 in what was the first crossover in the now Marvel Universe. Two heroes from different books interacting wasn't new, but Marvel hadn't done it before and now made it part of the continuity of both characters, and a basic trait of the new books. The same month had the Fantastic Four visited by Spider-Man. The Hulk was a founding member of the Avengers, yet he is gone by issue #3. After that, the Hulk would take residence in Tales to Astonish and share it with Gi(ant)-Man. The Hulk also was centrally figured in the first issues of The Avengers as an unstable force that eventually had to be ousted. His place in the Marvel pantheon, and his legendary brutish strength, were secured in memorable mano-a-mano slap downs with the Thing in FF #25 (Apr. 1964) and with the Mighty Thor in Journey Into Mystery #112, (Jan. 1965)
Two heroes are better than one –  in yo' face highpockets
The Roy Huggins influence was both in the tenor and structure of the stories, and also in the physical depictions of the new characters. Johnny Storm seemed to be modeled after Troy Donahue, the teen idol first seen in Surfside 6 and later in Hawaiian Eye. His sister Sue "Invisible Girl" Storm was the spitting image of the perky bubble headed Connie Stevens, Cricket Blake from Hawaiian Eye. Though Jack said that he modeled Reed Richards after Michael Rennie (of Day The Earth Stood Still fame) he actually looked more like Jack Kelly of Maverick. In the Hulk, the hip, jive talking, hot rodder Rick Jones is an obvious homage to Edd "Kookie" Burns, the ginchiest valet ever to work the Sunset Strip. The borrowed elements such as the family type group, the bickering, the shared universe and the soap opera style continuity that the new comic fans rallied to in the Fantastic Four were the exact aspects that made the Warner Bros shows so popular. Just as Orr and Huggins energized and revolutionized the 50's television genre, Lee and Kirby re-energised and revolutionized the 60's comic book universe.
Late '62 found the Beatles at a critical point. Their local fame was growing, but their new manager, Brian Epstein had bigger plans. The first step was to replace Pete Best as drummer. The new member was Ringo Starr, a local itinerant drummer fresh from another band. The group was now set but at a small price. Pete Best was a very popular member and had many personal fans. The outcry was immediate and alarming. More important, Epstein had leased time at Abbey Road Studios and the boy set about recording their own music in earnest. On October 5, Love Me Do is released and on Oct 16, they made their first TV appearance on a small local teen show People and Places. Pre-filmed in the Cavern on August 22, the show's producer, Johnny Hamp had this to say: "I first saw the Beatles in a club in Hamburg. They were very scruffy characters – but they had a beat in their music which I liked…I got into a lot of trouble over it. Everyone said they were too rough, too untidy. But I liked them. I put them on again and again."
In with the new out with the old
On Feb. 4, 1963 Love Me Do is released in Canada, the first official Beatles release in North America. Paul White, then Capitol Canada record executive, explained why he decided to release the Beatles first single: "I used to listen to about fifty new records a week. Then one day I put on "Love Me Do" by a group called the Beatles. I immediately sat up and took notice. The sound was so different, so completely fresh. "I'm certainly not going to claim that I could read the future and already knew how big the Beatles were going to be, but I did like them a lot and wanted Capitol of Canada to get in on the ground floor. I decided to release Beatles' records in Canada". The Beatles were about to revolutionize rock and roll.
Stan Lee appears on NY Radio to talk about his new creations. He is praised for adding a freshness and energy back to the comic genre. Stan becomes the go to guy.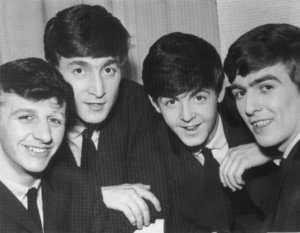 Even before any numbers came in from The Hulk, Stan Lee asked Jack if he had any more characters that they could use. And in quick order, Kirby supplied three new ideas. The first was Thor, a remake of a mythological character that Kirby used in a DC fantasy book, and a theme Kirby reused ever since 1940. Thor was the mythical God of thunder who had lost his hammer, a mystical hammer that transformed the finder into the God of Thunder. Donald Blake is a lame American doctor on vacation in the Norway. He accidentally stumbles upon an invasion by rock men from Saturn bent on domination. While fleeing them he hides in a cave and stumbles across an old cane. When he takes the cane and taps in on a rock he is magically transformed into the all-powerful God of Thunder. With his new hammer and great strength, he confronts the Saturn people and defeats them in battle. Worried about being found, Thor stamps the hammer on the ground and once more becomes the lame doctor. Typical Kirby hero and typical Kirby monsters and plot, but the art was amazing. No one could do mythic like Kirby. His costume for Thor is possibly the best he ever did. And the whirling hammer provided more action and drama per page than ever before. Thor started out fairly generic story wise but quickly changed when the stories began adding other mythical characters like Odin, Loki (the arch villain) Balder and Heimdal. His son gives eyewitness testimony; "In the spring of 1962, for instance, I remember standing over the drawing board as Dad created a truly cosmic hero — it was a brand new character but I was confused when I heard his name. Thor? The story was "The Stone Men from Saturn." My first reaction, before opening my mouth, was "Why the hell is a Norse god fighting rock-pile aliens?" Dad explained the whole origin story to me and how he would work in the entire pantheon of Norse deities in the future." This mix of modern day and ancient mythology was intoxicating. Thor first appeared in issue #83 of the fantasy anthology book Journey into Mystery.
Jack loved the Thor covers – Chic Stone inks a pin-up
The next character was an update of a story from one of the fantasy titles; much like the Hulk, the scientist and concept starts out in a fantasy book. A scientist named Henry Pym discovers a serum that shrinks him down to the size of an ant. Similar to the movie The Shrinking Man, the scientist encounters great hazards from normal items. Other insects hassle him until he befriends one lone ant. While running from maddened ants, the scientist, with the aid of the friendly ant reach his lab and an enlarging serum that returns him to normal height. For the super-hero update Henry Pym dons a costume complete with a cybernetic helmet that allowed him to communicate with insects, and uses the shrinking serum and his new army of insects to fight crime. The first case is against a typical Commie spy trying to steal secrets from a gov't project that Henry Pym is working on. The Ant Man's powers are limited and his foes tended towards spies and petty crooks, and the occasional crazed insect. The series and character never made a big splash, but his strip lasted for quite a while as an ongoing tale in the anthology series Tales to Astonish. The premise did allow Kirby to draw some amazing extreme perspective angles that highlighted the size differentials. In time they modified the serum to allow Henry (Hank) to enlarge as well as shrink and at that time he became known as Giant Man. He took on a female partner called the Wasp, and joined the Avengers.
Pre-super hero not so brave – weak villains but a neat cannon – great extreme perspectives
The next book has a unique history: one that will be dealt with in another chapter. Suffice it to say that when Kirby didn't have the time, Spider-Man, based on the old S&K premise was turned over to the proposed inker Steve Ditko to flesh out. He appeared in the last issue of Amazing Fantasy, the title that evolved from Amazing Adventures, and immediately disappeared. Jack provided the cover. Another character, Iron Man was shelved for a while. Thor, Ant-Man and Spider-man all appeared the same month.
Ant-Man gets a suit – Ant-Man gets a partner the Wasp
Kirby covers – It was a very good month
A few months later, the Human Torch was given his own series in the fantasy title Strange Tales. Often guest starring the other FF members, this series is remembered most fondly for introducing a string of forgettably inept villains, like Paste Pot Pete, Plantman, Asbestos Man, and Living Bomb. Most of the writing was by Larry Lieber and Robert Bernstein. It showed. Strange paradoxes, such as the Human Torch, long known as Johnny Storm takes on a secret identity. This is never explained and ended just as quickly.
Some good covers but lousy villains
Both Stan Lee and Jack Kirby were stretched to the limit. Neither could do all the work on the new titles. Steve Ditko did the artwork on the last issue of the Hulk. Stan turned the writing on Thor, Human Torch and Ant Man over to his brother Larry Lieber, and Robert Bernstein. Robert Bernstein was a long time comic writer, mostly at DC, he was a neighbor of Kirby's. Bernstein said that he would often time his trips into the city to match up with Jack's. He would sit next to Jack and pump him for characters and plot lines that he could use for his stories. After a few introductory issues, the art on Thor was given to artists like Al Hartley and Joe Sinnott. Ant Man was given to Don Heck. But it seems that whenever a new important character was introduced, Jack was brought back to pencil. Jack returns to Ant Man to introduce the Wasp, and the first appearance of Giant-Man. On Thor, Jack returned for the introduction of the Radioactive Man. Many of the plots, even when Jack didn't draw them were by Kirby. They reprise stories from his DC fantasy days.
In late 1962, Lee and Kirby rebooted another old Atlas western hero. The Two-Gun Kid returned in issue #60 totally updated by Kirby with a new alter ego, Matt Hawk. The premise seems to have been borrowed from the popular film, The Man Who Shot Liberty Valance. This series played more like a super-hero title than a straight western saga. Jack stayed with this character for 3 issues and then turned it over to Dick Ayers.
Also in late 1962 Iron Man was taken off the shelf. No one knows why it had been shelved but the concept was turned over to Don Heck to pencil. Iron Man was basically a huge metallic shell with a man inside working the controls. It should be noted that in one of the final Challengers issues, Prof Haley incapacitates a sentient robot and climbs in and takes over control of the metallic shell. He is jokingly called "tin man" by the others.
Don Heck was chosen to draw Iron Man. This was also at the time that Jack was incapable of drawing more characters. Don recalls with horror being told he was to do Iron Man, until he was told that Jack Kirby had already plotted the story and laid out the cover. Don was ecstatic, he recalls that "the main reason the super-heroes existed was because of Jack Kirby."
To continue Stan's heroes with problems schtick, the man inside the machine, Tony Stark, was forced to wear it or die from shrapnel too near his heart. He was a prisoner of his suit. The basic plot is taken from a Green Arrow story that Jack worked on about an American weapons expert captured by a Southeast Communist army and forced to manufacture a weapon to defeat the American naval presence off the coast. The American agrees to help but secretly creates a weapon he can turn on the enemy; in Iron Man's case an armored suit with high tech weapons and an invulnerable skin, worn by the injured armorer, trapped behind the lines in Viet Nam. Stan Lee constantly claimed that Iron Man's power came from miniaturize transistors, never understanding that transistors are not a power source, but the kids didn't care, it was a neat catch phrase.
It should be mentioned that Iron Man was a good reflection of what was happening with technology in the real world. The transistor was invented in the post-war 40's by Bell Labs. But it wasn't until 1958 that inventor Jack Kilby came up with the "integrated circuit" that the computer age became personal. It took till 1959 for Texas Instruments to make it usable. With the new integrated circuit, computers and electrics could be made small enough for the individual to use. The next major leap occurred when Texas Instruments perfected the silicone wafer that was easier to produce, and a wider range of uses. Military transistor use in such items as walkie talkies began in the late '50's. In the early 1960s the first electronic integrated circuits were developed and manufactured in the U.S.A. Although initially incorporating just a few transistors and other components, due to the reduction in the size of the circuit boards required they immediately saw use in hardware for the military and the "space race" with the U.S.S.R. Chips were also developed for use in the mainframe computers of the time where they gave increased functionality. For the public these first showed up in small transistor radios, and personal calculators. In 1962 American manufacturers dropped prices of the new transistor radios to as low as $15. The science magazines promised a future full of small personal gadgets for personal use.
Don Heck used the Kirby proposal together with the reduced size and cost. As for the cover; Don Heck tried to explain some of the confusion;
"I did the first Iron Man story. They have it listed that Jack Kirby did the breakdowns, but that's not true. I did it all. They just didn't bother to call me up and find out when they wrote up the credits. It doesn't really matter. Jack Kirby created the costume, and he did the cover for the issue."
The use of Communist aggressors was prescient. While this story is being produced, the most urgent crisis of modern time was occurring between the U.S., Soviet Union and Cuba. In October 1962, in retaliation to the U.S. missiles in East Europe, the Soviet Union began sending missiles to Cuba. The U.S. threatens to invade Cuba and destroy the missiles. The U.S. and the Soviets went eyeball to eyeball for three days until the Soviets blinked and a negotiated settlement was worked out. The crisis would be the low point of the cold war with the closest the two powers would come to direct conflict. The perceived win sealed JFK's legacy. Marvel would use the Commies as enemies in all their new series. Stan Lee says he based the personality of Tony Stark on the wealthy industrialist Howard Hughes. The story appeared in the March issue of Tales of Suspense #39.
Jungle crude – sleeked up in the home front
Kirby drew some stories and almost all the covers. Curiously, Don Heck says that on Iron Man the covers were drawn first and Kirby designed the costumes for most of the villains. No other Marvel artist has ever said the covers were done first. The original iron suit was a clunky plain mono-colored suit reminiscent of deep water diving gear, but consistent with what a creator might make with the limited access to hi-tech machinery in a forced labor camp. After a dozen or so issues, Steve Ditko redesigned the suit into a modern sleek colorful suit that looked great. Shell head, as he was commonly called, was a long running member in the fantasy title Tales of Suspense, plus The Avengers.
By early 1963, the Viet Nam War was heating up and probably in response to DC's Sgt Rock series, Martin Goodman asked for a new war comic. Stan, feeling his oats says that his new formula would work on any genre and contacted Jack Kirby. A few years earlier during the monster days Jack Kirby had run into John Severin, his old friend from the Prize years.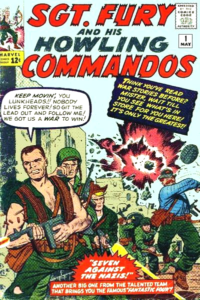 Jack was still pushing ideas for newspaper strips and he asked John if he wanted to collaborate on a war based newspaper strip. Severin explained; "The story would be set in Europe during World War 2; the hero would be a tough, cigar smoking Sergeant with a squad of oddball G.I.s-sort of an adult Boy Commandos." Now Jack, never one to forget a project told Stan about the premise, and sure enough Sgt. Fury and his Howling Commandos became the new series. The formula continued; Kirby supplied the premise, and Lee added in characterization. Sgt. Fury expanded upon Jack's group template, yes it had the stoic hero, the brawny Irish second in command, a hot head, and a Jewish mechanical wizard, but it also had a black bugle player, an Italian lothario, a Southern good ole boy, and a stiff upper lipped officious Brit. Black characters were so rare that the colorist mis-understood on the first issue and made Gabe Jones pink! Perhaps he knew there were no integrated units in WW2. Though their tales were as outlandish as the Boy Commandos, they also had a serious side where reality could intrude by way of occasional death in the field of battle. Kirby's battle scenes were as electric as the ones he drew for Foxhole. The stories had a breadth not seen in the other Marvel series. They dealt with serious topics like racism, and cowardice, and camaraderie in the face of death. The Nazis were as mean in Sgt. Fury as they had been in the wartime books, and took their job seriously. These were no buffoon Nazis-no Colonel Klink and Sgt Schultz, these were the real deal. The predicaments that the Commandos found themselves might be humorous, but never the enemy. When relating war stories Jack was quick to tell everyone that the Nazis, especially the SS, were professional in every way, they were not to be toyed with. Kirby says that several tales and elements were loosely based on his experiences in Europe, perhaps none more than the depiction of war torn Britain.
For his part, Stan had enlisted in WW2, but he never saw combat as he was stateside writing training films. Stan's dialogue on Sgt. Fury may have been his most evocative and sympathetic. Stripped of the bluster needed on super-heroes, Stan captured the tone and frailty of real humans. The forced humor in the heat of battle, the braggadocio needed to hide the fear of death, and the true patriotic fervor found among the vets were all dealt with by Stan in a manner opposite the heavy-handedness of the hero titles. The emotions were real, and the feelings were well captioned. The Howlers were fully developed individuals.
Kirby always found ways to get them on the same page.
Fury's love affair with the veddy British Pamela Hawley was particularly well done, never forced or unduly melodramatic, even when she loses a family member. This series was also a hit, lasting many years. Dick Ayers took over fairly quickly.
Flo Steinberg tells of a chilling coincidence between Kirby's Captain America experiences during WW2 and Sgt. Fury. It seems that not everyone was thrilled with the jingoistic anti-Nazi nature of Sgt. Fury, and one person sent a letter to the bullpen threatening to kill them. It turned out to be nothing, but the FBI was called in. Shades of Simon and Kirby!
After a short hiatus, Spider-man returned in his own title. Kirby did the cover for that also. It seems that Ditko was another artist who flourished with the freedom to plot and pace his own stories. He took to the Marvel Method with ease. Steve Ditko was doing wonders with Spidey. The first issue was boosted by guest stars the Fantastic Four. Stan was having a blast intermingling the new characters and storylines. But Ditko was also creating another character. Dr. Strange, Sorcerer Supreme was everything Dr. Droom wasn't. Though sharing a common origin gimmick, (dying Tibetan mystic passing on his secrets to an American doctor to continue the fight against evil mystics) the new Dr. actually fought beings of the occult and figments of the human psyche. His battles took him to unknown dimensions, and into battle with Nightmare, and other psychic entities. Ditko's talent for rendering strange dimensions and unreal vistas bordered on the surreal. They had never been so extraordinarily rendered before, or since. Many readers mistook him for one of the new breed of artist using mind expanding drugs for inspiration. Nothing could be further than the truth. Steve was as grounded in reality as the next person, maybe more. Drugs were anathema to him. Sales were never great on this feature.
If it wasn't drugs, you explain these scenes
Jack would also co-create 2 more series in 1963. The first was what Martin Goodman had asked for back in 1961; a collection of recognizable heroes thrown together as a group. All of Jack's solo heroes, Thor, Hulk, Giant Man, Wasp, and Iron Man banded together to form the Avengers. Their villains were the worst and most powerful, and required the combined might of the assemblage. The Hulk was problematic as he was uncontrollable. He was in one of his paranoid rage periods and by issue #2 stormed out when he felt slighted by the other members. While searching for the Hulk, the Avengers ran into and up against the Fantastic Four. In issue #25 and 26 of the Fantastic Four, The Thing was engaged in a mano-a- mano battle against the rampaging green behemoth. In what might be the greatest battle issues ever drawn, Kirby pitted his two monstrosities against each other in a no holds barred match for the ages. (Years later those issues were voted the greatest battle issues ever created) It was the Hulk's pure might against the pride, the grit and determination of the Thing. In this case pure might won as no matter how valiant, and intelligent the Thing fought, the Hulk just got stronger and meaner. In the end the combined might of the two groups chased off the Hulk, but the Thing was beaten, and broken; a chilling tale of courage, the brittleness of pride, and the resiliency of man. While still hunting down the Hulk, the Avengers run into the Submariner, and battle him to a draw. The crossovers were omnipresent.
The Avengers – The great two
On the books issued with a cover date of May, 1963, the little company without a true name found one. From then on every cover proudly carried the MARVEL name and logo. The Marvel universe was now official. In Strange Tales #115 Nov 1963, Marvel test marketed a new hero. The Human Torch faced a villain dressed up as the Golden Age Captain America. The story ended asking the readers to let the editors know what they thought about Captain America. This might have been Marvels first attempt at polling the readers.
Even heroes and villains crossed over note corner images – Forced crossover 
In 1962 Roy Huggins launched one of his most successful creations. The Virginian was another western this time modeled after his group template seen in his detective shows. Comprised of a group of brave cowboys led by an elderly mentor, and a stoic boss, a feisty brawling sidekick and a young hot headed female for eye candy, this show would run for nine years. Lee J. Cobb was tabbed as the elderly mentor; he was another Lower East Side resident who fought his way out. An early member of New York's Group Theater founded by great director and admitted Communist Elia Kazan. He dabbled in the burgeoning Communist party and had his fights with HUAC. He was called to testify before HUAC but refused to do so for two years until, with his career threatened by the blacklist, he relented in 1953 and gave testimony in which he named 20 people as former members of the Communist Party USA. Later, Cobb explained why he "named names" saying:
"When the facilities of the government of the United States are drawn on an individual it can be terrifying. The blacklist is just the opening gambit—being deprived of work. Your passport is confiscated. That's minor. But not being able to move without being tailed is something else. After a certain point it grows to implied as well as articulated threats, and people succumb. My wife did, and she was institutionalized. The HUAC did a deal with me. I was pretty much worn down. I had no money. I couldn't borrow. I had the expenses of taking care of the children. Why am I subjecting my loved ones to this? If it's worth dying for, and I am just as idealistic as the next fellow. But I decided it wasn't worth dying for, and if this gesture was the way of getting out of the penitentiary I'd do it. I had to be employable again." He had seen some friends die due to the harassment. John Garfield, a colleague and friend at The Group with Cobb died a year earlier.
The perfect Kirby template: the stoic leader, the garrulous hot head, the elder mentor
After the horror at Fox, Roy Huggins went back to school to get his PH.D. To pay for this he decided to sell an idea to an independent producer and sit back and collect residuals. The idea became The Fugitive, and the producer was Quinn Martin who bought the rights after ABC turned it down. The premise deals with Dr. Richard Kimble, falsely accused of murdering his wife; given a reprieve when a train transporting him crashes and sets him free from his jailer. Dr. Kimble must constantly move and share adventures with people caught up in interesting moments of crisis, all while being tracked by a relentless pursuer. This Les Miserables-like template would become iconic and copied by writers of TV series and comic stories alike. Huggins has said what he was trying to do was update the iconic western heroes by placing him in a modern milieu. Dr Kimble's constant tension between pursuit and capture was unique to TV and the reaction was immediate as The Fugitive became a smash. The show aired in the fall of 1963. What set the Fugitive apart from other Huggins series was a distinct lack of humor. The series was relentless in its seriousness, and somber tone. As bad as Dr. Kimble's situation was, the lives of the people he interacted with were just as sad. Huggins claimed this was a response to what he called "America's cult of optimism. Some have speculated that it was in response to the assassination of President Kennedy and the cultural upheaval starting in the early 60's. So great was the mystery that the final episode uniting the two was the most watched show in TV history. Spider-Man with his constant harasser J Jonah borrowed its tone from this show. A one-armed villain played a big part in Deadman- a new series from DC.
The hunter and the hunted – a nation gripped looking for the one-armed man
In Sept. '63, George Harrison visited his sister Louise in Benton, Illinois in the USA. While there he would buy a guitar and also sat in at a few clubs performing with a local band called The Four Vests. George also went camping with the family and took in some points of scenic interest in Southern Illinois. Anxious to get the Beatles known in America, George and his sister visit a local Benton radio station one Saturday and met up with a very young DJ named Marsha Schaffer who hosted a 1-hour rock and roll program. There they persuaded the DJ to play "Please Please Me" along with another Beatle single. Marking the first time a Beatle song was played in the U.S.
On Jack's birthday in 1963, the family got Jack a new color TV. Jack gave Neal his old 10" B&W to cannibalize. "My father couldn't stop laughing. There was a lot of superhero history flying across his drawing board around that time — remember, September 1963 was the date on the first issue of "The Avengers" and "The X-Men" — but it all took a backseat that day to the mysterious return of Caesar Augustus. Dad had no idea how that coin got inside the television but he did know how it first reached America.
Beatles in 1963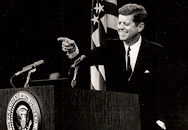 While plotting Avengers #4, the world changed. On Nov. 22, 1963 the world wept for a young lost leader. America lost its innocence that day, Jack and Roz sat glued to the new color TV set like all Americans, sobbing for the end to Camelot. It has been said that Jack Kennedy's murder robbed us of our innocence. Comic books seemed to become a little harder in the immediate future. Flo Steinberg—the Marvel gal Friday remembers. "It was the first time I ever saw everyone at the whole company listening to the radio. It was a very sad time. Things changed." America needed a diversion.
On Dec. 10, 1963, CBS news anchor Walter Cronkite aired a segment about the Beatles phenomenon in England that was filed by their U.K. correspondent, Alexander Kendrick. This was the first official commentary on the group in the U.S. The story contained a clip of the band performing "She Loves You" along with some interviews.
This clip created a strong and favorable impression on Marsha Albert, a 15-year-old girl from Silver Spring, Maryland. She would later be acknowledged by the Washington Post as the Beatle fan that kick started the whole "Beatlemania" craze on USA radio.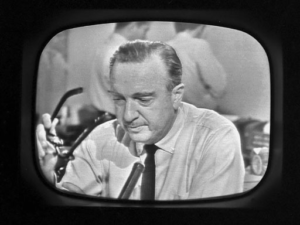 However, Walter Cronkite recalled it differently: "In the wake of the [John F. Kennedy] assassination story, nothing else was happening in the world, at least in the United States — stuff that was important, that is. So we actually had an opportunity to use it. "I was not entirely thrilled with it myself, to tell you the truth. It was not a musical phenomenon to me. The phenomenon was a social one, of these rather tawdry-looking guys; we thought at the time, with their long hair and this crazy singing of theirs, this meaningless 'wah-wah-wah, wee-wee-wee' stuff they were doing."
On Feb. 7th the Beatles land at Kennedy Airport in the USA. The young Liverpuddlians are greeted by 3,000 screaming fans. A reporter for the Saturday Evening Post noted: "Anyone listening to a pop radio station in New York would hear a Beatle record every four minutes and anyone listening to a juke box might hear one right after the other." Beatlemania had arrived!!
If Uncle Walter said it, that's the way it was – They didn't listen The Ed Sullivan Show
Feb. 9, 1963, the Beatles debut on the Ed Sullivan Show in New York; 50,000 fans apply for 728 available seats. An estimated 73 million viewers watch that night. America's mourning period has officially ended. The collective mindset has been diverted. The country was caught up in a new craze. Camelot gave way to Liverpool. Paul recalled the feeling the band felt while taping. "FEAR, FEAR, FEAR! 'Cause you know, if somebody made the mistake of saying, 'Oh, you know how many people are watching this?' If someone had mentioned 73 million – Ohhhhhhh! So it was very very nerve racking. But you know, by then we had so much practice, that the nerves didn't show. I can see them when I watch it. I can remember it."
Avengers #4 hit the stands in Feb. 1964. It opens with Submariner in a rage, he throws a huge block of ice bearing the body of a man into the sea-simply because some Eskimos were worshipping the figure in the iceblock. Caught in the ocean currents, the huge iceblock began to melt and when the Avengers cruised nearby they saw a figure floating in the ocean. When they rescued the figure they recognized the costume the figure was wearing. It was the long lost costume of WW2's greatest hero, Captain America. But Cap wasn't dead, just frozen in a state of suspended animation and the
thawing revived him. This was the real Cap, not a pretend villain. Cap awoke in a fright, reliving the last few seconds when his partner Bucky had died when a plane exploded. The connection between the Golden Age Timely, and the new Marvel universe was now complete; Cap, Torch and Submariner had all returned, and this time for more than 3-4 issues.
Hero on the rocks  – not real: test market strategy – follow him anywhere
As the Avengers explained to Cap what had happened in the last 18 years, he regained his full strength and fighting form. The Avengers asked him to join, thus Simon and Kirby's iconic hero was once again brought back, this time to be drawn by the only hand to ever do him justice- Jack Kirby. One leader lost, and one reborn, once again Captain America coming to America's rescue in our darkest hour.
Interestingly, this issue might have been the first straw on the camel's back. On the splash was a blurb introducing the reappearance of Cap to the public. In typical Stan bluster he announces; "The Mighty Marvel Comics Group is proud to announce that Jack Kirby drew the original Captain America during the Golden Age of comics…and now he draws it again! Also Stan Lee's first script during those fabled days was Captain America— And now he authors it again! Thus the chronicle of comicdom turns full circle, reaching a new pinnacle of greatness."
Stan Lee was a huckster, but this blurb seems to claim that Stan Lee was a scripter of Cap's tales and he was returning to this job. Yet Stan never scripted a Cap story, that was Joe Simon, Stan simply wrote a separate two page text piece (probably plotted by Joe) thrown in for issue #3 and of no interest to anyone. I have asked others who said that Marvel didn't want to praise Joe Simon because he was trying to get the copyright back. This is absurd since there was a 3 year gap between this reboot, and Joe suing for the copyright. This happened again a short time later when Cap got his own series and when they retold the origin, (with no change from the 1940 series) again there was no mention of Joe Simon as Stan again seemed to be credited with the tale. Similarly there was no mention of Bill Everett when Submariner returned or Carl Burgos for the Human Torch. It seemed that early on that no credit was too absurd for Stan to take or Marvel to hide. And one wonders how Jack Kirby felt.
After a run of 19 straight victories, on February 25th 1964 Cassius Clay is offered a shot at the championship. Though a large underdog, Cassius used his great speed and pinpoint jab to defeat Sonny Liston, a large lumbering giant of a man. Though he had joined the Nation of Islam, he was loath to make it a public affair. Yet within a week, standing next to Malcolm X the new champion announced that he was throwing off his slave name and taking a Muslim name—given to him personally by Elijah Mohammad. Cassius Marcelus Clay was to be known now and forever as Muhammad Ali. The heavyweight champion of the world was now a lightning rod for all the social ills the U.S. was living through. He used his membership of the Muslim religion as an excuse to refuse induction into the military. He was the most recognized draft dodger in the world. In words never to be forgotten, Ali explained his refusal to join the service. "Man, I ain't got no quarrel with them Vietcong," he says to reporters who called him at home in Miami. He later explains … "no Vietcong ever called me nigger"; the perfect joining of two distinct social causes; civil rights, and anti-war revolutionaries. Soon Martin Luther King Jr. who was loath to bring in foreign affairs to his civil rights campaign is forced to merge these different causes into one larger movement. For this, Ali would lose his license to fight. He would have his time in the wilderness. With his new national stage Ali attracted all the leaders of the cause; Malcome X, even Martin Luther King Jr. would come together with the champ. Emmett Till's legacy was now complete.
The Viet Nam War had been a large part of the early stories at Marvel, but at this time they changed alignment, and with Stan's liberal sense and pop culture tastes of Jack Kirby Marvel was soon adopted by the counter culture. They managed to ignore the starkest divisions and vile specifics while embracing the rainbow finery of the new generation. Stories of Gabe Jones overcoming bigotry, Black Widow fighting slum lords and the Silver Surfer finding peace, love and understanding led many to think of Marvel as radical and left leaning. Yet this was not unanimous. Stan Lee would face a tug of war in the bullpen. He says he was too liberal for Steve Ditko, but too conservative for the left leaning Jack Kirby.
Within a few months, Cap got his own series, sharing Tales of Suspense with Iron Man. Kirby's splash pages for Captain America could serve as posters for the personification of bravery and leadership. Jack always saved his best cover poses for Cap. (see Avengers #4, Sgt. Fury #13, and Captain America #100) Neal witnessed it all; "Sgt. Fury was Dad, big cigar and big action, the only difference being about 9 inches in height and 50 pounds of muscle. These days there's a view that a liberal Democrat can't be fiercely patriotic but my father was exactly that. Captain America, Sgt. Fury, the Boy Commandos, Fighting American and "Foxhole" were all born of that powerful love of country."
The other title is sort of an enigma. The X-Men are a group of teen aged mutants-born with an evolved gene- and being trained by a mysterious mentor to fight against evil mutants. Their mutations have given them each special powers. The kid gang genre suggests Jack Kirby, and the template sort of fits; the quiet leader type in Cyclops, the brawny sidekick in Beast. The hot headed Iceman, and the rich snobbish Angel mixed in with a young girl of indeterminate mental power, led by an older mentor/guardian, also with great mental powers. But the stories and ambiance aren't typical Kirby. There is no obvious recent earlier template as in the other characters. This may have been a Stan Lee created group. Both men had done stories about groups of mutants, but the silly sci-fi of Kirby isn't nearly in evidence. The relationship between Prof. X and Magneto the leader of the evil mutants doesn't feel like a Kirby relationship. Parts of it, like the training room, and Cerebro seem all-Kirby, but not the overall feel. The stories never captured the Kirby flair, the villains, except for Magneto were second rate, perhaps Kirby was just burning out, or Stan was feeling his oats, but this one seems more guided by Stan's fascination with relationships and dialogue; the group talked …a lot! The tales seem more plot heavy and full of narratives and exposition as might be expected from a writer's book. Though there is one gimmick that Jack had used before. There is a scene where Magneto has unleashed some Hunter missiles on the X-Men. One is homing in on the Angel, (the flying member) when the Beast miraculously catches it, and Marvel Girl telekinetically tosses it into the sea. Very similar to the sequence where Reed Richards saves the Torch from a Hunter missile in FF#1.
And the girl does what? – Together again – Thor by himself
The month after X-Men and Avengers debuted, another magical wrinkle appeared when Journey into Mystery, which had still been serving fantasy tales as back-up strips to Thor began a new strip. Tales of Asgard featured stories of Thor's childhood and his secret life in Asgard, the home of the Norse Gods. This delved into the mythological base of Thor and separated the two sides of the character. Son Neal says that this was a idea Jack had from the beginning. With this strip, Jack Kirby would finally release his inner Hal Foster, and dazzle with his sense of wonder wrapped in Viking garb and Old World sensibilities. Coupled with Stan's quasi-Elizabethan dialogue this strip quickly became superior to the main Thor story dealing with typical mobsters, mad scientists, and Loki's mechanizations. In a rare off-hand moment, Stan told an interviewer that Asgard was 90% Kirby ; he knew all that Norse religious stuff much better than I ever did.
Jack worked in solitude at his house; his trips to the Marvel offices became fewer. But they were not without excitement. Once a month, Jack would pull Neal out of school and take him into the city with him. Neal would usually sit in an anteroom while Jack collaborated with Stan. Fabulous Flo would offer young Neal a soda, and after the brief meeting, Jack and Neal would head over to Central Park or to a museum for the afternoon. Mostly historical type museums filled with ancient historical artifacts, Egyptian mummies, suits of armor, things like that, which both Neal and Jack loved. Rarely to a modern art museum; "I don't have any recollection of him being interested in Modern Art whatsoever. He never made the suggestion to go to the Guggenheim Museum, or anything like that." Neal recalled.
You can't touch this – EPIC – Foster on steroids
Yet Jack was always trying to find unique techniques to help tell his stories, from double page splashes, to the confessional splashpages, and in late 1963 he began adding collages into his panels. The first one appeared in Fantastic Four #24 March, 1964. Little dioramas made from cut and pasted magazine photos and newspaper advertisements. The layered and complex surreal vistas were perfect for showcasing Kirby's new dimensions and outer space perspectives. Kirby's use of collages was not an example of art used to reflect reality, but as an escape mechanism to the unreal. "Collages were another way of finding new avenues of entertainment. I felt that magazine reproduction could handle the change. It added an extra-dimension to comics. I wanted to see if it could materialize and it did. I loved doing collages. I made a lot of good ones." Jack told an interviewer. Collages had become part of pop art in the '50s, by artists as diverse as George Grosz and Robert Motherwell. In 1961 the Museum of Modern Art had presented a show called Art of Assemblage with over 250 samples of collages. The show was very well received. In 1963-1964, Romare Beardon, the prolific artist spawned from the Harlem Renaissance also had a well received show of collages called Projections. Perhaps one of these shows sparked Jack's interest in the technique. Jack's collages would show up in comics for many years. Jack would also produce large collages for his own amusement. Following art styles wasn't anything new to Jack. He had used abstraction, cubist and Dadaistic techniques before to present other world dimensions. Jack even swiped techniques such as melting landscapes and curvaceous vistas from Salvadore Dali to represent the Fourth Dimension in a Harvey fantasy story. Jack kept up with modern art techniques. He was not a hermit living in a secluded cave. He just never let them overwhelm his own art.
The final core super-hero character of the Marvel Age was Daredevil. Though it doesn't appear that Jack provided much input into the genesis of the character, artist Bill Everett says that he did ask Jack for some plotting and design assistance, and the cover is taken from a Kirby presentation page. After a couple issues of revolving artists, Wallace Wood came on board and brought his considerable gifts to the character. Wallace Wood, a second-generation comic artist from Minnesota, had gained great renown for his time as an EC artist, mostly on the science fiction stories. He was also the original inker on Kirby's Sky Masters newspaper strip. His art was very detailed and dramatic. Unfortunately the early 1960's had not been kind to Wallace. He had struggled and took on comic work as part of the low paying Vince Colletta's studio working for Charlton. Stan Lee introduced Wallace on the cover of Daredevil #5 thusly. "Under the brilliant artistic craftsmanship of famous illustrator Wally Wood, Daredevil reaches new heights of glory" For once, Stan was actually correct in his huckstering. In issue #7, Woody totally reworked the two-toned costumed into a solid red, with deep black shadows and more pronounced horns making the character appear devilish. The fight with Submariner is a high point of Daredevil's mythos. Wallace Wood would last but a few issues more than leave in a huff—a result of his stubbornness and inability to compromise.
Daredevil comes into his own
Mark Evanier provided an anecdote which shows the exact nature of Kirby's relationship with the other artists and his willingness to share concepts. "Jack designed new characters for a number of books where he did not work directly on the interiors. Sometimes, he did this by designing a new villain (or someone) on a cover and then Don Heck (or whoever) would use that cover as a model for drawing the interior. Jack also sometimes whipped out a sketch for a character. Wally Wood told me that one day, he and Stan were trying to figure out what could happen in the next issue of Daredevil they were going to do. Jack happened to walk into the office and he was dragged into the meeting, whereupon he suggested Stiltman and did a little sketch…and then Wood expanded on that sketch. We don't know (and will probably never know) how often this happened and which characters had uncredited Kirby input."
Kirby helps Woody repays favor
Stan Goldberg, the Marvel colorist tells of a story that shows Kirby's import to the company. "Occasionally, we (the freelancers) would come in after delivering our stuff at noon or so. At that time, a lot of the artists were coming in and out, walking with Stan–it wasn't just the two of us–Jack would be there, maybe Frank Giacoia would come by. And maybe one would say to the other "if you're in no rush to get home, let's have lunch" The office was on Madison Avenue and walking with Frank and Jack, we had to cross the streets, and Jack had been doing all that great stuff. So we devised a little thing where we'd cross the streets. Frank would stand on one side of Jack, and I would stand on the other side, protecting him from the traffic. As we said, if we lose him, we're all out of work!"
Kirby does Ditko.  yeah yeah yeah – The Howlers meet James Bond
On Aug.7,1964 after new President Johnson had informed Congress and the country of a supposed attack on U.S. ships by North Viet Nam naval units, the Congress passed the Gulf of Tonkin Resolution, which granted President Johnson the authority to assist any Southeast Asian country whose government was considered to be jeopardized by "communist aggression". The resolution served as Johnson's legal justification for escalating American involvement in the Vietnam War. Many consider this as well as the Kennedy assassination as the impetus for the anti-war movement and the hippie revolution. Stan and Jack, always the monitors of pop culture noted the rise of the Beatles when the Human Torch and the Thing meet the Beatles in a Strange Tales story. Beatle wigs soar in popularity.
The rise of the Beatles was unprecedented, toy companies swarmed to take advantage. Revell was a small time model manufacturer started in the late '40's. By the sixties, they switched from wood to plastic. Most of their inventory was airplanes, and cars. By 1964, they took a chance by venturing into pop culture. They got the license to make replicas of the hottest act in the entertainment. Soon they ventured into cartoons, and toys. Rock and roll branched out; the Beatles soon sold games, books, magazines and toys. They may have been the first action figures. They even sold records.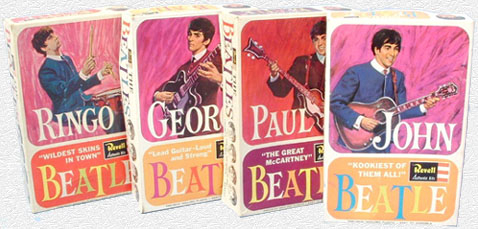 Pop culture had its first phenomena. Merchandisers soon branched into other genres. Soon, TV, radio, movies, and comics would find life and money outside their boundaries.
Comic books survived by following trends, and no trend was more obvious in the early '60's than Cold War spies. James Bond had spawned the greatest movie series ever. And in 1965, Moonraker was in the top ten as well as more realistic spy flicks like The Ipcress File, and Spy Who Came In From The Cold. On the small screen, I Spy, Man From Uncle, and Get Smart represented the genre well. Comics couldn't sit back and let this slide by. Marvel jumped into the genre when they updated their WW2 hero and made him the head of a modern super hi-tech spy agency. Kirby explained: "Now when I did SHIELD, I had to go five to ten years beyond James Bond. I couldn't accept Bond, but he was the big rage….that was my job. I had to experiment with things, I had to take one leap beyond James Bond. Nick Fury, Agent of S.H.I.E.L.D. took over The Human Torch's slot in Strange Tales. Jack Kirby's virtuoso machines and gadgets dominated this fast paced strip. From an impressive floating headquarters in the sky to souped up cars and mechanical duplicates, Kirby's imagination never waned. The villains were a network of evil crime syndicates that gave Stan plenty of room to bring in the other heroes to help out. The series was custom made for cross-overs.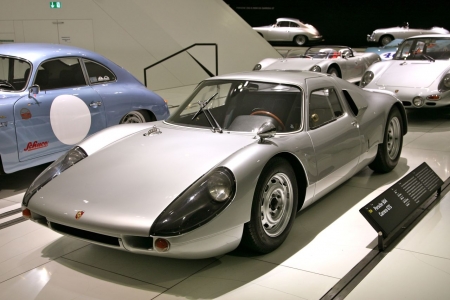 Neal was a high-school student and he remembers that "Dad needed a James Bond-type car and came to me (At that point in my life I was more interested in cars than girls). With just a little bit of research into my stack of Road and Track magazines, I found the perfect car, a Porsche 904D racer."
"We knew we needed to go a step beyond machine guns hidden in headlights so we stuck some missiles in the fender wells and, of course, wheels that flip and whisk the car through the air." Neal always loved cars and planes and filled his room with models. Jim Simon told me that though they weren't close, he loved to visit with Neal just to see and play with his models.
Jack was doing more pages than ever before; he was juggling 5-6 strips plus all the covers and various layouts and plotting elements. His time was stretched and his visits to the office became rarer; his meetings with Stan fewer. "Well, I didn't exactly work with Stan Lee. I worked at home and I wasn't at the office much. I'd come in maybe once or twice a month to deliver my drawings. Stan Lee would usually be pretty busy, being the editor there, and I'd deliver my stuff and that would be all there was to it. I'd tell Stan Lee what the next story was going to be and I'd go home and do it."
In the early 1960's, a theory evolved wherein a film's director, if the movie was personal enough should be considered the movie's author. This concept, "Auteur Theory" named by critic Andrew Sarris started in the late 1950's by the French New Wave school of filmaking that saw film as a means of personal expression. For this group, the film's director controlled every aspect so that the final vision was seen as a singular viewpoint. They often considered Welles' Citizen Kane as the first such movie, but perfected by Ingmar Bergman, Francois Truffaut, and Jean Renoir, and in America, by Alfred Hitchcock, John Ford, and up through Spielberg and Lucas. Others, like critic Pauline Kael thought this theory as too dictatorial, and ignorant of the true collaborative nature of film making, where the screeenwriters, cinematographer, and studio heads added in their two cents worth. Kael noted how Sven Nykvist was equally as important to Bergman's film as the director at portraying the milieu. Notwithstanding who was right or wrong, we did see films entering a much more personal style as the directors took control of most facets of the films they made. Often the director's name was as important as any cast member in selling the movie to both the studio and the public. Stanley Kubrick's name was much more important than the actor's seen in 2001, A Space Odyssey. Fans started following the artists rather than the characters and comic artists started demanding recognition.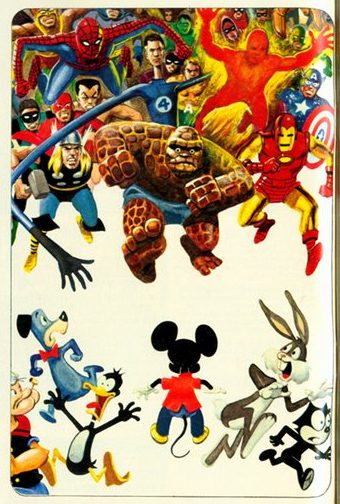 In pop music, acts like the Beatles, Dylan and Beach Boys took over complete control of the production of their records, producing some of the most personal works of musical art ever. Rock music was entering the Auteur stage as songs became personal statements.
It was only a period of time to where comics were suddenly seen as personal productions rather than corporate mish mash. Perhaps it was Stan Lee's thrusting of the creators to the fore that suddenly made them so important. Either way, suddenly a book with "by" Jack Kirby, or a Steve Ditko held its own cache, rather than the book's characters or company name.
My own theory is that there is room for many theories and milieus. Just like novels, films, songs and comics, these media serve many different purposes. They can be pure entertainment, or deep philosophical treatises. I see no reason to try to pigeon hole the whole medium into one narrow theory. There's room enough for a Teen Titans thrill ride, and a Steve Ditko political diatribe; a Kirby epic or a Jack Chick tract. I think proportionality plays a part as the roles seem to have changed over the years. Also there is an egg vs. chicken role as one must look as to where the original thought comes from. It seems that shortly after the series started, we see Jack take over the role of originator of the new stories and Lee simply added in dialogue blurbs after Jack had told the story. Does one consider the man who wrote up the dialogue blurbs in the silent films as the author, or the genius comedian who conceived and acted out the role? Personally a shared credit is fine to me.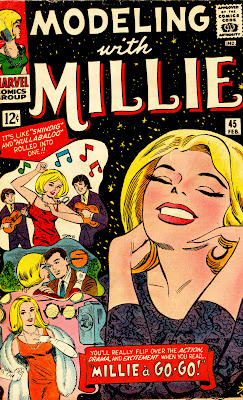 A true rarity turned up when historian Nick Caputo questioned Stan Goldberg-a teen humor artist – about a questionable piece of art. Nick showed Stan the cover to Modeling With Millie # 45 Feb 1966. This featured a smiling facial shot of Millie that Nick had problems believing Stan had drawn. Stan's eye lit up. Nick asked Stan if the face was drawn by someone else. With a twinkle in his eyes he say "Jack Kirby drew that face" This fortified Nick's faith in his work as he had told others that he thought Jack Kirby had drawn this face. Stan told him that Stan Lee wasn't happy with the original face and asked Jack to make a quick correction- something Stan says was not unusual. He said Jack even inked some work for a small book Stan Lee published on golf.
When Jack began drawing the Fantastic Four, his figural work was still in the naturalistic phase as seen in his westerns and romance stories. The people were realistic in proportion and his heroes tended towards scrawniness. Mr. Fantastic was downright skinny, but this sort of fit in with his stretching power. The Torch was a scrawny teenager, and The Invisible Girl was a slender model type, dressing in Jackie Kennedy clothes. Even Thor was more lithe than muscular. Only the monstrous characters, such as The Thing and the Hulk were huge and bulky. Within a year, Jack's natural instincts and more personal style towards superheroes took over and they all started to bulk and buff up and become imposing as compared to regular humans. Sue, became more fit and curvaceous, but never zaftig, more Raquel Welsh than Jayne Mansfield. Jack regained his touch for extreme posing and foreshortening. Biceps became semi-circles rather than long arcs, and forearms looked more like Popeye with each new issue. Neal Adams would talk in awed terms of Kirby's style of sinew as hard slashes and bold lines. He says "I couldn't do that". The difference between issue #1 and #10 of the FF is about thirty pounds of muscle per person. The Thing became bulkier and more defined, almost ripped as his hide became rocky and cracked.
Skinny heroes to super buff
Despite this added bulk, the characters were never stiff. They still had Kirby's patented looseness, and fluidity. As the writing became sharper, so did Kirby's details. The machinery and the backgrounds filled in with remarkable detail. The vistas became epic in scope. On the FF, Marvel's flagship series, Dick Ayers maintained a natural, organic line over Kirby, never prettifying it or over embellishing, until #21 when George Roussos took over in a scratchier, over-wrought Golden Age style that made the work look dirty. Roussos could never come up with an acceptable Thing. It didn't matter; nothing could hurt Kirby's pencils. They were that strong and inspiring. Kirby had reached a point where his art was bulletproof. And more to the point, Marvel had reached a point where it became bulletproof. Chic Stone soon became the regular Kirby inker. He remembers how it began. "Just before 1964 I was pounding the pavement, going from one publisher to another, picking up jobs at random. At the time I was penciling Batman, and inking Superman covers for [editor] Mort Weisinger at DC. I happened to walk into the Marvel offices at the time [editor-in-chief] Stan Lee was editing a Kirby pencil job. Looking over his shoulder I was totally awestruck by the magnificent penciling. Stan looked at me and asked, 'Chic, would you like to ink this?' My knees turned to Jell-o; all I could murmur was, 'You're kidding?' [After I turned in the assignment,] Stan was exceedingly pleased with my rendition of Jack's work, and from that time on I would finish one job to have another waiting. There were times I'd be working on three stories at once; working 12 to 16 hours a day was not unusual. The page rate for inking was not that great, but being able to work on Jack's pencils was a substantial bonus."
In FF #28 (July, 1964) for the first time Stan Lee titled Jack Kirby as "the king" in the credit box. A title he would wear proudly, yet humbly the rest of his life. After a so-so start, Lee and Kirby had so enthused the readership to where anything they threw out was immediately accepted. The rise of Marvel had become irreversible. The media began to take notice of Marvel. The Village Voice ran an article in 1965. The "Super-Anti Hero in Forest Hills" spotlighted Spider-Man as an example of how the Marvel characters were the first super-heroes to evoke the "Real" world. Esquire magazine cover featured the Marvel line and listed the Hulk as one of 28 "people who count" on college campuses. The Wall Street Journal ran an article talking about how the new books had rejuvenated Goodman's company.
Early in the super-heroes, Jack added a storytelling technique to the Marvel stories that was very effective. He would end his stories with a series of three small panels that wrapped up the emotional core and used the dramatics of changing perspectives that focused the readers on the emotional details. Colin Smith, in his blog called this epilogue Jack Kirby's closing triptych. The main action has stopped, and the participants add their parting thoughts to the story. Note the close up progression that adds tension and focus and leads into the next story. These final 3 panels would often be the lead in to the next story. It actually replaced Stan's preview blurbs. This concept started just as Jack started doing stories with serial continuation. I wouldn't be surprised if Jack added this in response to Stan's text pattern.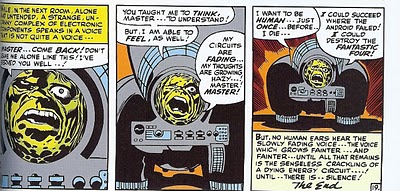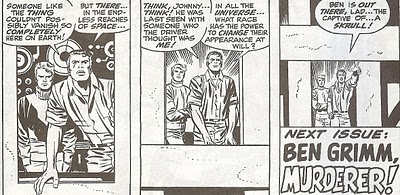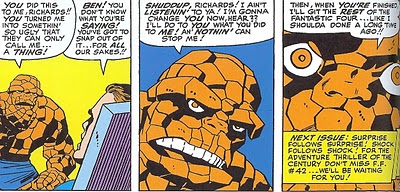 Leave 'em wanting more
Marvel was an unstoppable tsunami overwhelming the competition. They had captured the minds of a new generation of reader, while holding on to the older, fannish base.
In early 1965, black firebrand Malcolm X had been exiled by Islam head Elija Muhammad. Originally a shining beacon, he was now called a traitor and during a speech he was cut down in a hail of bullets by his own people. In a bit of equipoise, Jack drew a story for Fantastic Four #37 where the duplicitous Skrull villain, an accepted national hero, is suddenly called a turncoat and killed by his own people. We know it is prescient or coincidental because Jack would have had to have drawn these months before the actual event. Sadly, for Malcolm X had recently undergone a transformation from bigoted, angry revolutionary to preaching a new peaceful and optimistic resolution of our race problem.  Following a transformative visit to Mecca, Malcolm X stated; "The true brotherhood I had seen had influenced me to recognize that anger can blind human vision," he said. "America is the first country… that can actually have a bloodless revolution." In the FF story, Reed noted as the enemies reach a new cohabitation. "Perhaps we're not really so different from other…either on Earth…or in the endless void of space! And the days all of mankind realizes that lesson–we shall come a step closer to brotherhood– and Universal peace!" Malcolm X's spoke of his own act of prophesy just 2 days before his death. "It is a time for martyrs now, and if I am to be one, it will be for the cause of brotherhood. That's the only thing that can save this country."
To the comic buyer, there was Marvel and then everyone else. Kirby had a new secure home, and he built it himself from the ground up. The paint job and the drapes were Stan Lee, but the foundation was pure Kirby. Unfortunately, the salesperson was also Stan Lee, and therein laid the first cracks in the foundation.
Previous – 17. The House That Jack Built | Top | Next – 19. Spider-man: The Case For Kirby