Tom Morehouse is one of Jack Kirby's biggest fans and scholars. He built a significant collection, a.k.a. his Kirby Krypt, which contained every one of Kirby's U.S. published works (note the past tense, he sold it years ago), and continues to study Kirby's work.
Tom recently reached out and asked "What was the name of the Australian 'Snake River' comic, again? Because I think I found it." I reminded him it was "Showdown at Snake River", and we talked more. Turns out he'd asked an auction seller about a Black Rider story that was listed in a comic they were selling. They replied it was titled "Guns Roar at Snake River!' and sent along a low quality snapshot.
And there it was. A Kirby splash for a previously unknown Black Rider story! The circular lower left panel was a big clue.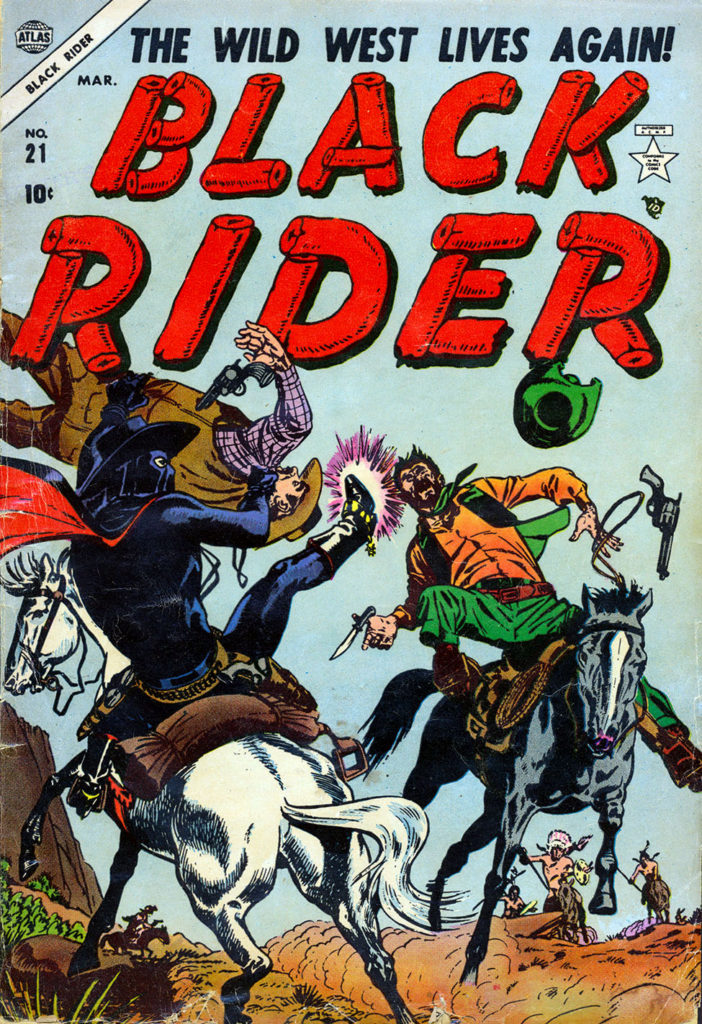 Some background: the first Black Rider comic book series published by Timely/Atlas/Marvel publisher Martin Goodman started with #8 dated March 1950. Publication took a hiatus between issues #18, January 1952, and #19, November 1953. Then, its name was changed to Western Tales of Black Rider with issue #28, dated May 1955, and ran until #31, dated November 1955. Jack Kirby was not involved in any of these comics. (Thanks GCD!)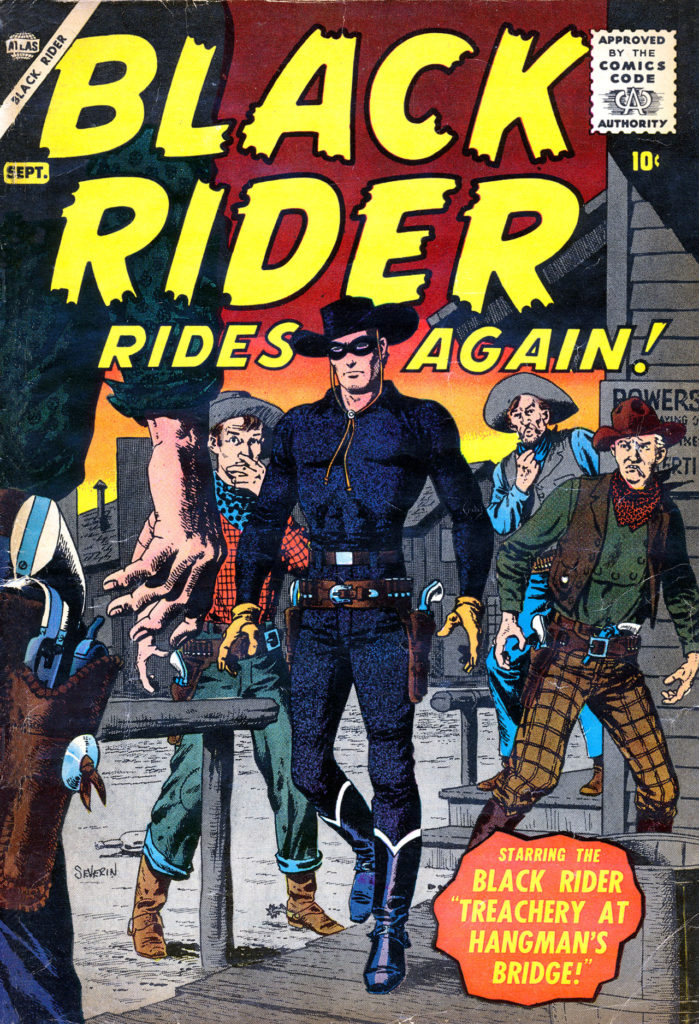 However, two years later Goodman started a new quarterly Black Rider series, dated September 1957. With a beautiful cover by John Severin, the issue contained three Black Rider stories across nineteen pages by Jack Kirby, the seven page "The Legend of the Black Rider!", the six page "Duel at Dawn", the six page "Treachery at Hangman's Bridge!", a four page story by Bob Powell, and a text story with illustrations by Gene Colan.
Title splash pages for the three Black Rider stories in vol 2 #1, dated September 1957.
The second issue… well, there was no second issue, but it appears one was planned because Goodman published three more Jack Kirby Black Rider stories totaling fourteen pages. The four page "Trouble in Leadville!" appeared in Gunsmoke Western #47, dated July 1958, the five page "The Raiders Strike!' appeared in Gunsmoke Western #51, dated March 1959, and the five page "Meeting at Midnight!" appeared in Kid Colt, Outlaw #86, dated September 1959.
Title splash pages for the three Black Rider stories published later in the U.S..
Tom found the Black Rider "Snake River" story in Giant Western Gunfighters #4, from Horwitz Publishing. After receiving it, he graciously lent it for scanning and indexing. The comic is a mixture of Goodman-published stories, but interestingly, contains five 5 page stories, including the Black Rider, that have not been found to be published in the U.S..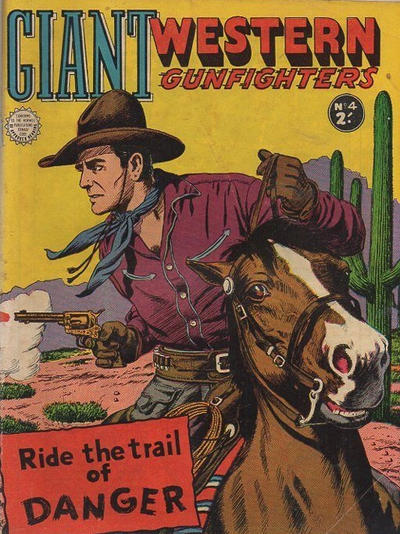 Splash pages to the four other stories that do not appear to have been published in the U.S.
Ok, enough background – here's the new discovery!
Yes, We have better scans… 🙂
Time to call in some art Identifying experts! Harry Mendryk, Dr. Michael J. Vassallo, and Nick Caputo all agree that the pencil art is all Kirby, while Doc V. and Nick agree that the inking is by George Klein. The lettering is still in question. Alex Jay suggests Joe Rosen, and Nick Caputo suggests Ray Holloway. If you have any thoughts, please share!
It's somewhat interesting that two recent Kirby western story discoveries have "Snake River" in the title, and are inked by George Klein, who is now acknowledged as the inker of Fantastic Four #1. Quite a coincidence that Kirby sold both Snake River stories to Goodman's editor Stan Lee, but neither were published in the US.
A hearty hail of gratitude to Tom Morehouse for continuing to do the deep dive! And many thanks to Harry, Nick, Doc V., and Alex for their help.