Previous – Title, Dedications, and  Notes | Contents | Next – 1. Jack Kirby's America
We're honored to be able to publish Stan Taylor's Kirby biography here in the state he sent it to us, with only the slightest bit of editing. – Rand Hoppe
Not just another day
What I remember most about the drive to Thousand Oaks was the weather change. Coming from Palm Springs where the air was warm and dry, perhaps warmer than expected in November. Since I had lived in the Los Angeles area before, I had always wondered at just how much and how quickly the weather changes when one goes through one of the mountain ranges. Going East from the ocean cities into the San Fernando Valley, one is always struck by the ten-fifteen degree jump in temperature, and another ten degree jump heading toward the desert locales. But I was on a vacation, five years since my last visit to the City of Angels, and passing from Palm Springs, over the mountain through Banning and Beaumont I was once again amazed at how suddenly the air changed to a nice comfortable coolness. It was still early as we had a four hour trip head of us.
My wife and I were taking our first vacation back to California in five years. The first priority was visiting friends long forgotten, and taking in all the money grabbing tourist sites. But we also decided to spoil ourselves a little and indulge our hobbies. This meant stopping at every out of the way antique store looking for little tchotchkes, and doodads that caught her eye, while I had mapped out every comic shop in the county. The reason for our spending two days in Palm Springs was for my pleasure. I had seen an ad in either CBG, or the Overstreet book for an art dealer named Tom Horvitz, who always advertised that he had Kirby art available, so we had left Long Beach and traveled to the desert to track Mr. Horvitz down. It wasn't hard to find Tom, and he invited us over to his apartment to view what he had. Imagine my amazement at seeing a whole batch of Kirby art from a splash page from Vagabond Prince to multiple pages of Thor, the FF, and later Kirby works. I even got the chance to look at a copy of the small digest sized b&w comic of Boy Explorers #2. But what most caught my eye wasn't even by Jack Kirby; on one of the walls of Tom's apartment was the original cover art to Hit Comics #5, featuring the Red Bee fighting a huge swordfish under the sea. It was perhaps Lou Fine's greatest cover–so energetic and fluid–the line work was so delicate but strong at the same time. It was no wonder that Kirby had mentioned him so often as an inspiration.
While looking through the stack to make a purchase, Tom and I discussed Kirby and what he meant to the industry. This was 1989, and comics were doing ok, the direct market system seemed to be doing just fine, and a lot of new publishers were flooding the market with new and different product. We both agreed that the absence of new Kirby was a minus. I carefully picked out a Thor page that had caught my eye: it wasn't a great action page with Thor fighting Ulik or Mangog, but one of those gentler more humanistic pages of Thor intermingling with humans- a guy on a motorcycle reacting in disbelief and scorn at a God in his presence. So Thor picks up the cycle and rider and takes him on a real trip, leaving the rider in complete disarray. It was a fun page gently inked by one of my favorite inkers, Vince Colletta in his scratchy, textured manner. After reaching a mutually satisfactory price, I called my ever patient wife and said we were done and we could go shopping. But before I left, almost as a parting nugget, Tom asked if I would like to meet Jack Kirby. Call me a doctor, my heart has left the building! "Of course!" I answered. I knew Jack lived in California, but never expected to possibly meet him. Tom grabbed his wallet and turned to a little note pad and scribbled down a number. "Call him up; he is the nicest guy you'll ever meet. I stammered, "Just call him and invite myself up?" "Yeah, Tom replied, "he does it all the time"
That evening, after some shopping on the Miracle Mile, and eating at a California Pizza restaurant we went back to our hotel room. I was in constant agony debating over whether to actually call Jack and invite myself over or not wanting to disturb the man. My wife was in heaven; calling me a wuss and teasing me about acting like a school boy asking the hot girl in class out on a date. Finally, my wife says to give her the slip of paper and she will call. I ask her what she will say, and she says that she will tell Jack that her idiot husband is in town for his birthday and Tom Horvitz gave him the number and told me to call you up for a birthday present. It wasn't true since my birthday is in August, but damn she made it sound convincing, so I said for her to go for it. She picked up the paper and dialed the number and the first thing I heard is her saying "Hello Mr. Kirby?" I was apoplectic! After a few minutes of small talk I saw her write down an address and directions and thank him for his time.
She turned to me and said, "Here you go wussburger, he says to come by on Monday around noon, I didn't even have to use the bullshit birthday story, it was like he was used to people calling and inviting themselves over, sounds like a real nice person."
Two days later, we loaded up our rental car with some food and the art page I had bought and headed out going west. The time in Palm Springs was great; warm and sunny, we spent a lot of time by the pool. Our internal clocks were haywire; we stayed up till almost three in the morning because people were still partying at the pool. We got hungry around one-thirty and were told that the grocery store a few blocks down was a 24 hour affair and we could get something there. We went into the store and found it half full. We were amazed that anyone was out shopping at this time, but a friendly man told us that it's uncomfortable to shop during the day when the temperature nears a hundred, so many people wait until early morning to do their weekly food shopping. Apparently there was no dress code either. People were milling about in shorts and tees, bathrobes, even skimpy bikinis with no one the worse for wear. My wife loved the idea. We hated leaving the desert. What we didn't bring was sweaters.
The trip through the Los Angeles basin was kind of boring, Los Angeles is not a very scenic vista, mostly small town after small town, and then a big town, but one without a very exciting skyline, at least from the freeway. What is noticeable is the constant growth of traffic as one nears Los Angeles, the ever restricting lines of traffic that winds its way around and through the city. Oh how I hated driving in LA when we lived there. Eventually in the distance you see a new horizon line, one that seems to rise and snake until you realize it is the San Fernando Mts, and you are heading into the Valley. The landscape changes from the browns and grays of the city to greens and orange from grass and red tiled Spanish roofed villas. The air was getting warmer and we neared midday. The valley went by quickly as we neared another mountain range. We climbed for a while and it leveled off, but it never got flat again, it became like a sea of swells up and over rise after rise. The view became gorgeous. But the air had gotten cool again, sweater cool, and we weren't prepared. Finally we saw the exit sign, and took the small streets that led to a road that seemed to head straight up. So up and up we went until we reached the crest, and before us was the house number we were given. We parked in front, slowly got out, working the kinks out and restoring the blood flow to our legs. The house was well appointed but not ostentatious- there was no sign that royalty lived there. We knocked on the door, and in the background we heard a dog barking, not a vicious bark, more a welcoming bark letting his master know that there was someone at the door.
Quickly the door opened and greeting us was a small grey haired man and his lovely wife, holding out their hands to embrace us. We said our hellos and I was struck that his handshake was not strong; in fact it was kind of weak. He must have noticed because he said the he probably wasn't what I expected. I laughed nervously and said no, but I was expecting someone bulkier and stronger. That's when he laughed and told me that drawing comics didn't take or build many muscles, mostly it expanded his seat. I laughed and patted my own big ass. We all laughed. I didn't know that at the time he was in poor health.
Upon entering you noticed that the walls were full of art, but not cluttered, it was obvious that the pieces were chosen based on personal memories, not career highlights. There was no Fantastic Four or even Fourth World pages noticeable. The most eye-catching was a huge collage made of cars of all sorts, race cars, motorcycles, dragsters, sportscars all arranged willy nilly, but the more you stared the more of a pattern emerged. This was not slapdash; this was well thought out, everything in its rightful place. Across from the collage in a place of honor was the double splash pages of the bar fight from Boy's Ranch #3.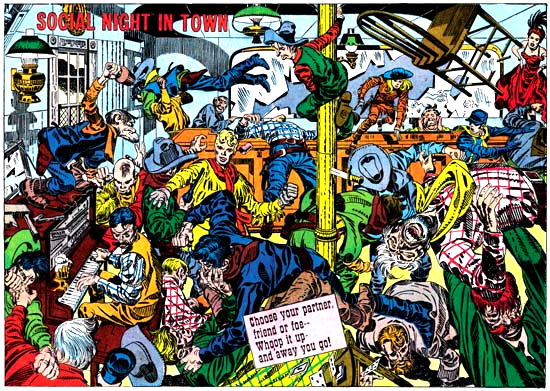 Jack noticed how quickly I made my way over to it. The original art is breathtaking, so alive and vibrant with those quirky Kirby Kolors. Every square inch was full of action and fun. I think more than any iconic Kirby aspect, the one that most amazed me was his ability to fill up every bit of space with action, yet never make it cluttered and chaotic. If you stare long enough the flow of action is always understandable. "Just a little something Joe and I came up with" Jack said. Now I knew that I was getting the canned spiel. I had read other recollections of people to the Kirby manor and I remember someone else getting the exact same quote. But it was reassuring, almost a realization that he had accepted me into his confidence. He ushered me over to a long hallway, but before we got there I stopped and looked at a small drawing on a side wall. It was the Thing, dressed up in yarmulke, and prayer shawl, holding the Talmud. I was in shock. "Jack, is this a personal drawing or something meant for a comic?" He laughed and said it was something done for a holiday card. I asked him why he never mentioned Ben Grimm being Jewish in the comics. He said that it pretty much a standard of the industry that religion was never mentioned except in the vaguest terms. The editors were always worried about not offending any segment of the buying public, and any mention of one religion might turn off another segment. Jack agreed, "Religion is so personal that unless there was an overriding need to highlight one, than it was best left unmentioned." He said that only at Christmastime was a story allowed to have a religious overtone, and even then it had to be multicultural; more Santa than Jesus. And yet when we finally reached the hallway, there were four very large pencil and inked drawings of man and God in contention. These four drawings would be offered by Dark Horse as a limited portfolio titled Interpretations of God in 1995. They were mighty, bold, and awesome to behold; just a glimpse of a side of the man never revealed in the funny pages. I stood there for a long time trying to take them all in. The images were of Jewish origin but through a sci-fi prism of unknown bent. But to Kirby, one wore his religion in his heart, not on a sleeve.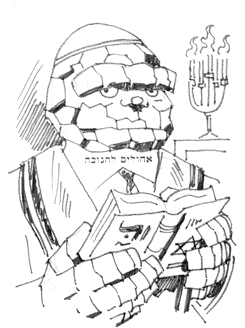 Jack asked me if I wanted something to drink and he led me to the kitchen. I didn't realize it but my wife had not followed me around the rooms, she and Roz had been sitting in the kitchen drinking coffee and talking about their shared Jewish heritage and telling stories of the old country. I could envision my wife and her Grandmother sitting around the table after seder. My wife was raised partly by her grandmother and I often saw the same reassuring peacefulness that I saw in the Kirby kitchen, when we visited her Nanny.
The kitchen was not large but two drawings dominated the room. One was a beautiful splash page of American Eagle, by John Severin; perhaps the only comic art in the house not done by Jack. The colors were amazingly bright. Jack said that it was a page that he asked John for because he loved it so much. I could understand why.
The other drawing simply stopped one in their tracks; I had never seen anything like it before. It was the double splash page from what became known as Street Code, a biographical story of Kirby's early days.
The page is like a Rorschach test, images moving from front to back as other images come to the fore. Every inch offered new detail and movement. I asked why there were no open spaces, and Jack looked surprised. "That's how it was in my neighborhood", "there were no open spaces, just people everywhere, see? "The parks and trees were uptown."
After a little coffee break, we went back out to the living area and sat down on the sofa, so I could question Kirby. First though I saw his drawing table, and asked if I could sit at it. Jack laughed and said sure. Looking at it from the uncomfortable chair I began to laugh. Jack asked what was so funny and I picked up the few implements at the table and held them aloft. In my hands were a collection of crayons. I asked if he was experimenting with a new media. He laughed and said his granddaughter Tracy had been up over the weekend, and she always draws on the table; inspiration through osmosis.
I excused myself for a minute and went outside to get the art page I had just bought for Jack to look at. Jack took the page, looked it over and began nodding. "It's all there" he said. I didn't quite know what he meant but he continued. "It's all there, all the elements that the story needed" And he was right, the story was told with the art, no words were really needed. Later I would wonder if maybe he was talking about Colletta's penchant for erasing, but at this time I had no idea there was a debate over Colletta. Jack said that he was sorry but he couldn't sign the page. I said that was ok, I didn't need him to, but why? He mentioned the fight for his artwork, which I knew about, and his principle not to sign pages that were never returned to him. We talked about the art battle, and about how dealers got these pages, but I could see it bothered him. It always struck me funny at his hatred of the non-returned pages, yet he was friendly with many art dealers who sold this same un-returned art.
We talked about my childhood and why I read comic books, and what made Jack's stories so much better. I explained that his art resonated on so many levels, and that his stories seemed truer is many ways, even though they were so fantastic. They ignited my imagination and made me think. I told him that in my small group of comic fans, his style was the one we always copied. It was more dynamic than anyone else's. He told me that he always copied Alex Raymond. I mentioned that he was this generations Raymond and the FF was our Flash Gordon. He laughed a small laugh; he seemed to not be thrilled with the comparison. He talked about his time in animation, which I really wasn't aware of. And we talked and laughed about Destroyer Duck. I really loved the irony and spoofing of the industry.
I asked Jack about Stan Lee but it quickly became clear that Stan was not a fit subject for mixed company. Funny though it was Roz who was the most dismissive of Stan, not Jack, and it also became clear that it was Roz who took the lead whenever there was a contentious subject brought up. "I'll tell you about Stan Lee, if you ever meet him, don't bend over; if you do he'll stamp your butt with his name. "He'll take credit for anything." Roz spat out. Roz was the spark plug of the couple.
I asked Jack if he was going to write a biography. He said he had thought about it, but there were other books that told his story, and he got up, walked into another room and brought me out a small book titled The Jack Kirby Treasury Vol 1 by Greg Theakston. "He's a close friend and he tells my early history in this book. You should try to get a copy." I looked the book over carefully and stared at the art on the cover. Jack said the art was from Simon and Kirby stationary and featured all the great characters that he and Joe created. I looked and quietly named all the characters until I came upon one I didn't recognize. "Who's the green woman in the middle?" I asked. Jack looked and I could see his mind searching for an answer, but it wouldn't come. "I don't remember her name but she was a very early character, maybe even the first villain we drew." He asked Roz, but she was of no help. "Hold on" I'll find out." He bent over and picked up the phone and punched a number. "Mike, Mike, hey it's Kirby, How are you? I'm fine, but I have a question. I have a fan over and I showed him Greg's book. Do you remember who the green woman on the cover was?" About a minute later Jack replied, "Oh yeah, now I remember, thanks. Mike Thibodeaux says she's the Green Sorceress from Blue Bolt, the first thing Joe and I worked on." That made sense since I had never seen any Blue Bolt stories before. I asked Jack, what was this penchant for starting every character name with a color? Blue Bolt, Blue Beetle, Green Sorceress? I asked. 'I think that was to make sure the colorists knew what color to make the hero." He replied. "Y'know we always called the Hulk the green behemoth, or green colossus so that the colorist would remember he was green and not gray." I just nodded uncertainly, not sure if he was pulling my leg. "Mike wants' to know if you have a copy of From Here to Insanity #12?" I assured him I didn't but said to say hello to him. Jack talked another minute on the phone and then hung up. "He's been trying to find a copy because he thinks there some S&K work in it. I don't know for sure."
We talked for another hour on the sofa, about every stupid fan question one could think of-except who's stronger Thing or Hulk? Jack loved the questions about his early years, and occasionally threw in a war story, but Roz always stopped him short when he started. "Jackson, he doesn't want to hear that!" Roz snapped, not realizing I was eating it all up. Once, when I had asked a rather obnoxious question, my wife reached over and slapped me on the head. WHAP!!! Roz and Jack looked at her in mock horror, but she explained that it was an agreed upon signal to alert me if I was getting a little too near to geek territory. I don't even remember what the question was. Jack said don't worry; he's heard all the questions. Finally I asked him. What was the most important influence in your storytelling? What makes your art you? Jack replied. "I needed to make sales." Now I knew I was getting the boiler plate.
I tried again. "I know that feeding your family was most important, but what separated you from all the others?" Roz joined in, "he wants to know what drove you from your soul?" I thought, "Damn, her question was better than mine, "Oh, you mean what drove me as a person; two things, my childhood in the Lower East Side, and the war. Jack stood up and walked over to a bookshelf full of books, a thunderbolt award, a three dimensional representation of a comic cover, and other artifacts of a life well lived. He grabbed a book, opened it up and showed me a picture I recognized as the planet Apokolips, from the New Gods series. "That's where I grew up. No one lives in that horror and doesn't get changed by it. That's why so many entertainers came out of my neighborhood, because the only way to get out was by making others notice you and making them laugh, see?" And the war, I wasn't there long, but it didn't take long to realize what we can do to each other. It never leaves you." You know what, make that three things, the other is meeting Roz, she is what got me out of the ghetto, and kept me alive in Europe." I looked at Roz, and saw a softening smile and a quiet nod Jack's way.
Jack asked if we brought a camera, and I replied yes. He said let's go outside and take a few shots. I only took two, one with Jack, myself, and my wife, and one with Jack, Roz and me. I also made sure we got one with that old yeller dog. This dog loved Jack, wherever Jack went, this dog was nearby. Jack pretended that the dog was a nuisance, but we caught him a couple times reach down and pet him without even realizing it. You can't fool a dog.
We finally made our good byes and were shocked at Roz's soft hug and warm personal wishes to my wife. I thanked them for their time and trouble and told them that were even better in person than I had read about. I literally flew back to the hotel. It would be many years before I decided to actually write a bio of Kirby, but the one thing guiding my every word was to let the reader know that nothing was more important to making Kirby what he was than his childhood in the Lower East Side, and his time at war, plus the woman always at his side. The warmth of those two would be felt for a long time, as we headed to the car, I didn't even care that we had forgotten to bring a sweater.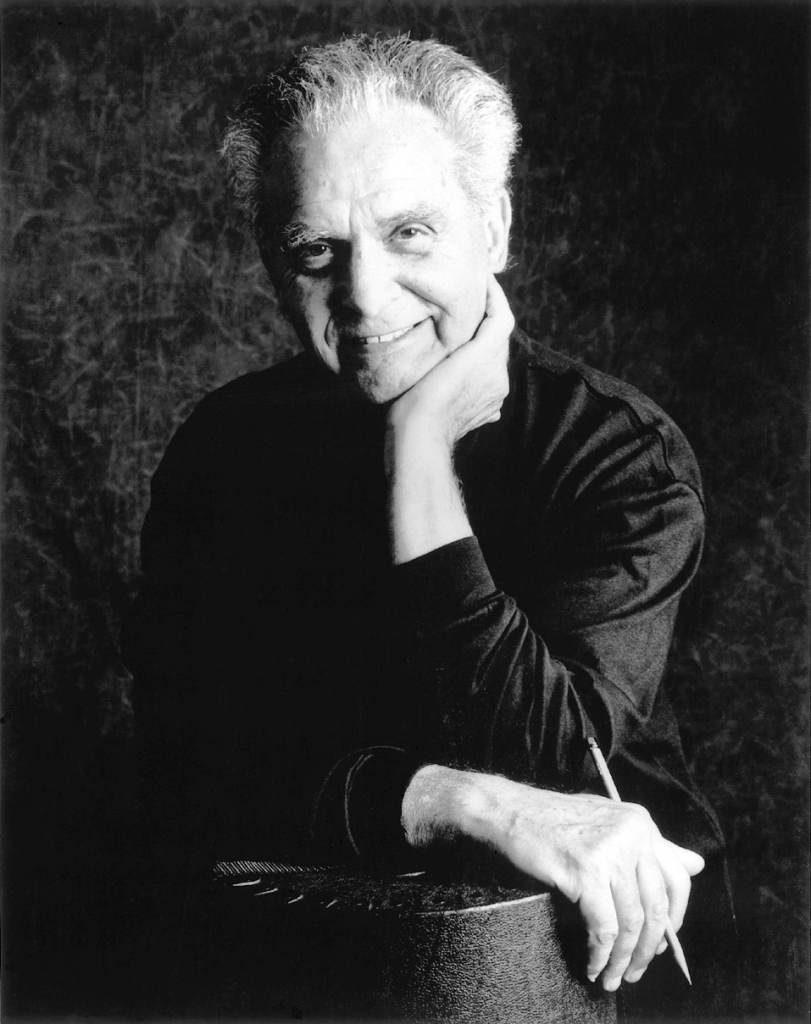 The Man and His Pencil
Previous – Title, Dedications, and  Notes | top | Next – 1. Jack Kirby's America