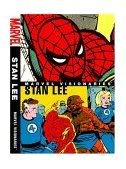 A fair bit of Jack Kirby, some of it never before reprinted (the final
Kirby issue of THOR), in the upcoming Marvel Visionaries Stan Lee
hardcover, due February of next year.
Hardcover: 304 pages
Publisher: Marvel Comics; (February 1, 2005)
ISBN: 0785116931
In celebration of its 65th anniversary, the House of Ideas proudly presents a timeless testament to another true Marvel visionary! In 1961, writer Stan Lee penned Fantastic Four #1, an historic issue unlike any comic book that had come before. This super-hero team had true personalities – they doubted their own abilities, battled problems of money and illness, and even fought among themselves. The monumental popularity of this realistic comic-book style inspired Lee to create similarly themed titles – including Hulk, X-Men, and Avengers with artist Jack Kirby; and Amazing Spider-Man with artist
Steve Ditko. By 1965, Lee had successfully established Marvel Comics as a cohesive universe populated by world-famous comic-book characters. Now, this deluxe keepsake edition collects his greatest moments – some never before reprinted:
"Captain America Foils the Traitor's Revenge" (Captain America Comics #3): Stan's first story, a two-page text piece! "The Red Skull's Deadly Revenge" (Captain America Comics #16): The defining Golden Age Red Skull story! "The Raving Madman" (Suspense #29): Stan's satire on Frederick Wertham and the comics witch hunts of the '50s! "Your Name Is Frankenstein!" (Menace #7): A modern Frankenstein story, featuring many of the elements of the later Marvel books! "Where Walks the Ghost" (Amazing Adult Fantasy #11): A short, twist-ending story by Lee and Ditko! Plus: "Spider-Man" (Amazing Fantasy #15); "A Visit With the Fantastic Four" (Fantastic Four #11); "How Stan and Steve Create Spider-Man" (Amazing Spider-Man Annual #1); "In Mortal Combat with Sub-Mariner" Daredevil #7); "The Final Chapter" (Amazing Spider-Man #33);"Bedlam in the Baxter Building" (Fantastic Four Annual #3); "And Who Shall Mourn for Him?" (Silver Surfer #5); "Brother, Take My Hand" (Daredevil) #47; "And Now, The Goblin," "In the Grip of the Goblin," and "The Goblin's Last Stand" (from Amazing Spider-Man #96-98); "No Longer Alone" (Captain America #110); "No More the Thunder God," "When Gods Go Mad," and "One God Must Fall" (from Thor #179-181); "While the World Spins Mad" (Marvel Premiere #3); and "The Circle of Life" (Spectacular Spider-Man Super-Special 1995)!