Kirby was brought in to give a new direction to the reportedly under-performing SILVER SURFER book with this issue, inked by Herb Trimpe, who was apparently supposed to take over the art with the next issue. Said next issue doesn't exist, of course, and the issue ends on a cliffhanger that I believe isn't even acknowledged in the next Surfer story.
The Surfer's wanderings take him to the region of the Inhumans' Great Refuge. He's first attacked by some of the renegade Inhumans who are under the command of Maximus. He's able to drive them off, but that's enough to make the Surfer paranoid when he comes across the Great Refuge and winds up in battle against the Inhuman royal family (the Inhumans don't help the situation by attacking him first).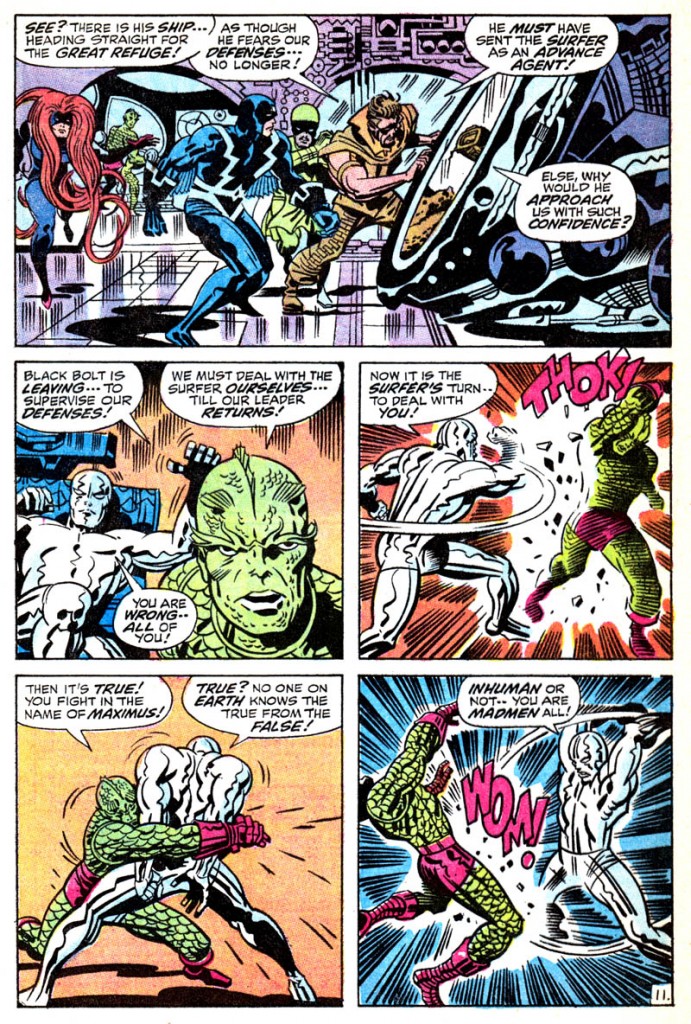 Said battle continues through an attack by Maximus, including an amusing episode where Lockjaw is able to use his mighty jaws to keep the Surfer's board from him. The Surfer finally leaves, and renounce reason, love and peace and revel in the madness he's always found himself greeted with on Earth. Verily, the sixties were over at that point.
This is a really mixed issue. In some ways I'm not sure Kirby was fully engaged in what he was asked to do, understandably since he was just about to leave the company, and couldn't have been that happy about being asked to "fix" the Surfer two years after the character was launched in a solo book without him. So I'm not sure that the new direction was even viable. However, some of the artwork is really nice, in particular the splash page of the Surfer entering the Great Refuge. Trimpe's inking is really fine in spots.
The Bullpen page for this issue announces that Kirby is leaving Marvel.
There doesn't seem to be a consensus on the cover, as some sources credit Kirby and others don't. I'd say the background Inhumans definitely don't seem to be Kirby, but the Surfer and Black Bolt figures are clearly at least someone talented trying to do Kirby, maybe based on previous drawings (they're pretty generic poses for the characters). Opinions?
Published 1970