The second collection of Jimmy Olsen stories by Jack Kirby should be out this week, bringing all of the 1970s Fourth World stories by Kirby into print.
#144 will be among those issues. It opens with a Kirby cover inked by Neal Adams, featuring the Newsboy Legion and Jimmy Olsen, as well as Jimmy Olsen's Pal, Superman, with a giant sea monster. Far-out!! indeed.
"A Big Thing In A Deep Scottish Lake" is a 22-page story inked by Colletta, with of course facial modifications by Murphy Anderson. Morgan Edge sends Jimmy and the Newsboys off to Scotland to investigate the Lake Trevor Monster, and directs his contacts at Intergang to take care of them.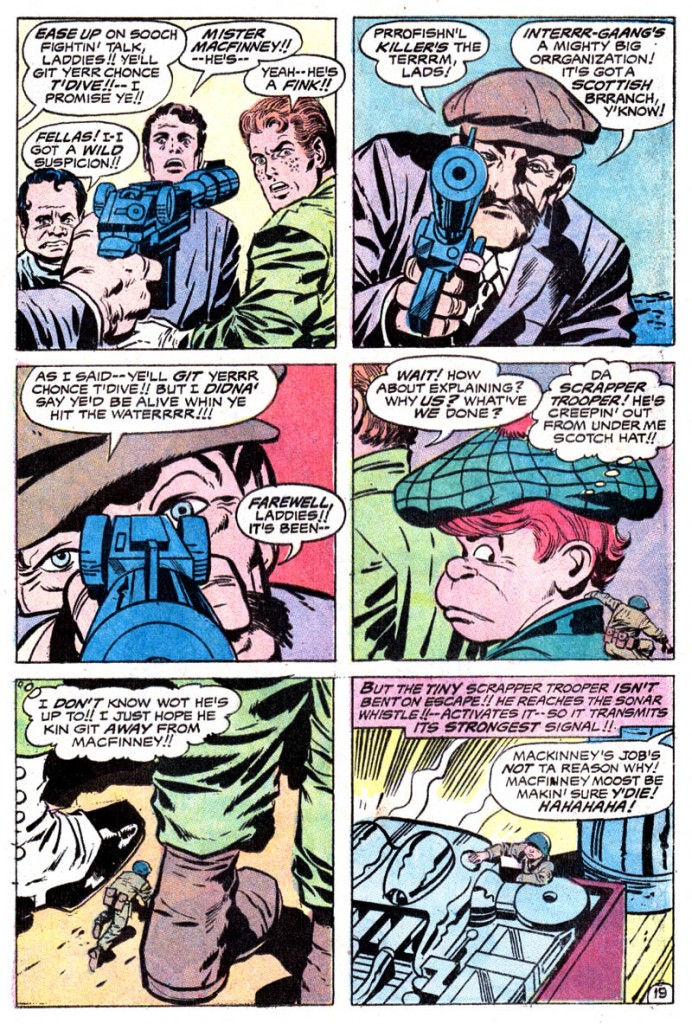 And for once, Flippa's scuba gear finally comes in handy, as he goes down to explore the lake, while their guide, Felix MacFinney, reveals himself to be an Intergang agent. Fortunately, they're saved by the Scrapper Trooper (a miniature clone of Scrapper) and the timely arrival of the Loch Trevor monster, who looks to be a distant relative of Fin Fang Foom.
Meanwhile, Superman and the Guardian are invited to a new discotheque, where they encounter Dubbilex the DNAlien, Terry Dean and the San Diego Five String Mob.
"The Torn Photograph" is a two-page vignette giving some hints about some of the mysteries surrounding the DNA Project, stuff Kirby didn't get a chance to fully explore, but many of which informed modern day Superman stories featuring the Project.
Back-up this issue is the cover and lead story from STAR-SPANGLED COMICS #10, the fourth Newsboy Legion story from 1942, "Kings For A Day". It features the boys winning an election where kids run the city for a day. They take jobs as Mayor, DA, Police chief and Commissioner of Sanitation. Of course, they're disappointed to find that they're honourary positions, but still manage to foil various criminals, with some help of Jim Harper, the Guardian.
Published 1971