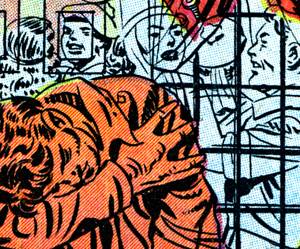 A pair of Kirby stories, plus a cover, are among the things of note in this issue of the Simon&Kirby edited horror comic from Prize. The cover is for the story "The Cat People", which opens up the book. In this 6-page story, George Gates goes to visit an old friend after a long time away in Europe, which ended in an extended hospital stay. He then freaks out when his friend's kids are playing cat's cradle, and tells the story of his recent time in Spain, when he got lost and was invited to stay the night in the remote cavern home of an old woman and her beautiful daughter. As you'd gather from the title, they turn out to be able to transform into cats, using a spell cast by the original version of the cat's cradle game. He barely escapes with his life, and not untouched.
A nice little story with an especially well done bit of adventure in the chase scene. This story was reprinted, with some minor art touch-ups in DC's BLACK MAGIC #2 [1974].
The next story isn't Kirby, but "A Hole In His Head" is notable as being one of the first stories Steve Ditko drew. He'd go on to do some other noteworthy things.
More Kirby with the 5-page "The Merry Ghosts Of Campbell Castle", a tale of the Scottish Highlands. Two friends go to Scotland, where one of them wants to write a book about his family, the Clan Campbell. Things spiral out of control as Campbell hears music and then later sees ghosts in the ancestral castle, eventually leading to his demise, and then his friend starts to hear the same music.
I especially like the look of the ghosts in this one, inked in a more delicate style and with far less shadow than the rest of the story (and most of Kirby's horror work for the title), but still very detailed and expressive.
If you're interested in BLACK MAGIC, be sure to check out the on-going series of posts on the title over on the S&K Blog, Little Shop of Horrors. Nine posts cover the first 26 issues of the title, the next one should start with this issue and the next few (here's an earlier post from me on #28)