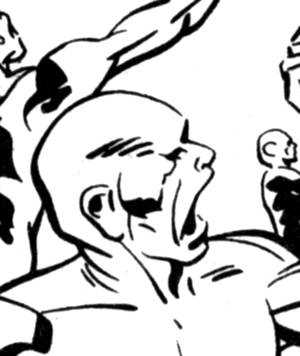 This issue of Dark Horse's long running anthology series promises an "exclusive never-before-seen Jack Kirby centerfold" on the cover, and indeed we do get this Kirby image from 1970, inked by Mike Royer, on a two-page spread in the middle of the book.  This is one of several religious themed images that Kirby did and displayed in his home.  Dark Horse published this and the other images in the series in a portfolio the following year, signed and with commentary by Roz Kirby, and I think they've all been seen in various issues of  The Jack Kirby Collector and other places in the years since.
It's a fascinating image of God turning his back on the world, very open to interpretation on the exact meaning, and an showing a few of the visual motifs that he used in his comic book work in a more pure form.
A nice look at some of the work that Kirby did when there was no real commercial aim or deadline (remember, he did these kinds of things while maintaining his regular comics work at several pages per day).