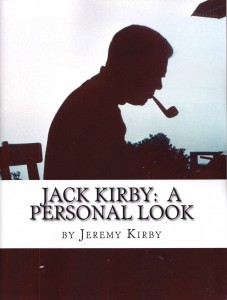 Just got a copy of JACK KIRBY: A PERSONAL LOOK, the recent book by Jack Kirby's grandson Jeremy. It's available print-on-demand from Amazon, and I have to say, print-on-demand has come a long way in the last few years, especially in reproducing images. It looks a lot sharper than I expected.
There are two main components to the book. First it's a photo album, with dozens of family photos, from the earliest photo of Jack Kirby they have through the war years and early days of comics through to photos with the grandchildren in the 1980s. You can see a sample of the photos on the original Kickstarter page for the book.
The bulk of the book is the original typewritten manuscript to a screenplay that Jack Kirby wrote, "Frog Prince", a 99-page 3-act drama. There's no hint about when it was written, I'm guessing maybe the 1950s, when you might see a one-hour standalone drama done for TV. Bits of it feel like WEST SIDE STORY, combined with what you'd expect one of Kirby's romance or crime comics might be if he had more than a dozen pages to develop them. There are a few thematic connections you could make with some other Kirby work, especially Orion. I'm guessing the cigar-chomping diner owner is the role Kirby saw himself in. It's definitely something different, but very Kirby, and it's good to see it in a pure form (I think every excerpt of Kirby's novel "The Horde" made public has been filtered and adapted by others instead of being Kirby's original).
In other news, I just got shipping notification for my copy of THE ART OF THE SIMON AND KIRBY STUDIO, so hopefully that'll be in my hands sometime next week.