This is a favourite issue of KAMANDI for many readers, myself among them. Following their involvement in the Bulldog/Leopard wars, Kam and Ben come across a flying figure that's neither a bird nor a plane. Before they find out more they find a giant comic strip mural carved in stone, telling the story of how the great hero "Mighty One" saved the world during the Great Disaster, creating the Landbridge between North America and Europe. It turns out the gorillas of this region have passed along the legend of Mighty One, distorting it along the way, and do things like fire themselves off catapults with a cry of "Up, Up and Away".
(and I never noticed before that the "Demonstration Course" has a giant DC logo)
Kamandi is especially interested in the legend, and convinces Ben to compete to prove he's the Mighty One, competing on such trials as moving a giant stone called the "Daily Planet". In the end Ben wins the rights to Mighty One's suit, which one of the gorillas tries to claim but Kam rescues, insisting it be left for the inevitable return of the real Mighty One.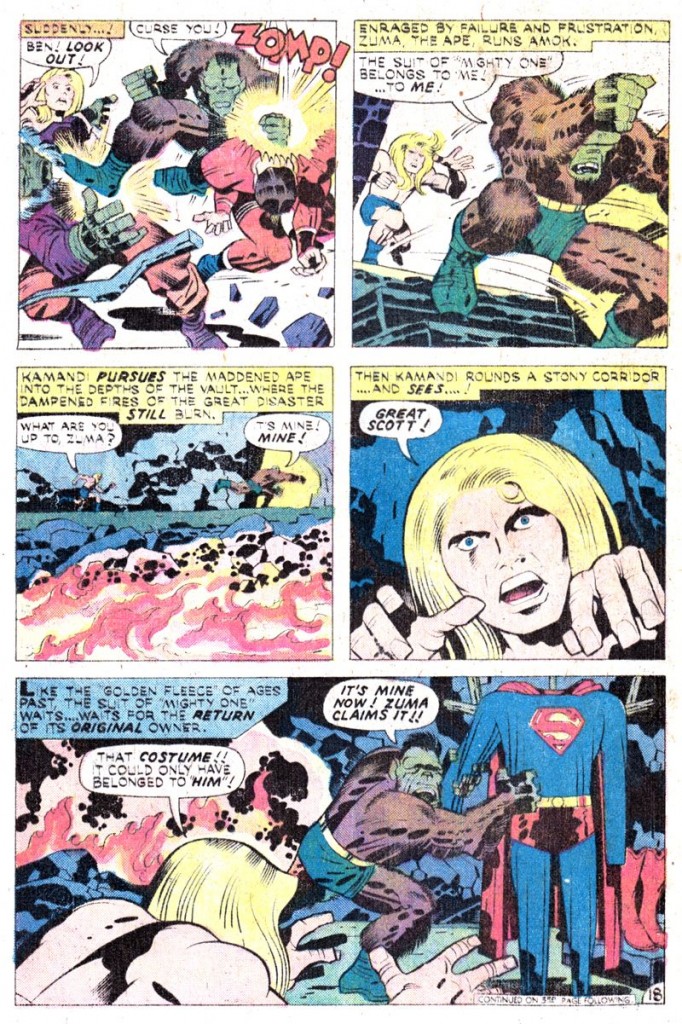 As I said, a favourite from this series, as well as one of the best Superman stories from the era (certainly among those that don't actually mention Superman…). The giant comic strip mural on the double page spread is spectacular, and the whole thing shows a great understanding of the character.
Long time Kirby assistant Steve Sherman is credited with suggesting the idea for this story, and D. Bruce Berry inks the cover and story.
Published 1975