This is the second of two issues published in 1973 reprinting 1940s S&K Boy Commandos stories. Boy Commandos is my favourite of the major S&K work for DC from the 1940s, so these are welcome reprints to go with the stories reprinted in MISTER MIRACLE the year before.
"Nine Lives for Victory" is a 9-page story from BC #2 (1943). In this one the boys pick up a stray cat, and keep it hidden from Rip Carter as it's a violation of regulations. It sneaks its way aboard on a mission to France. The team runs into a nazi patrol and let themselves be captured to keep the rest of the Nazis off the trail of the rest of their mission. The hidden cat then attacks the rat-ish looking nazi officer.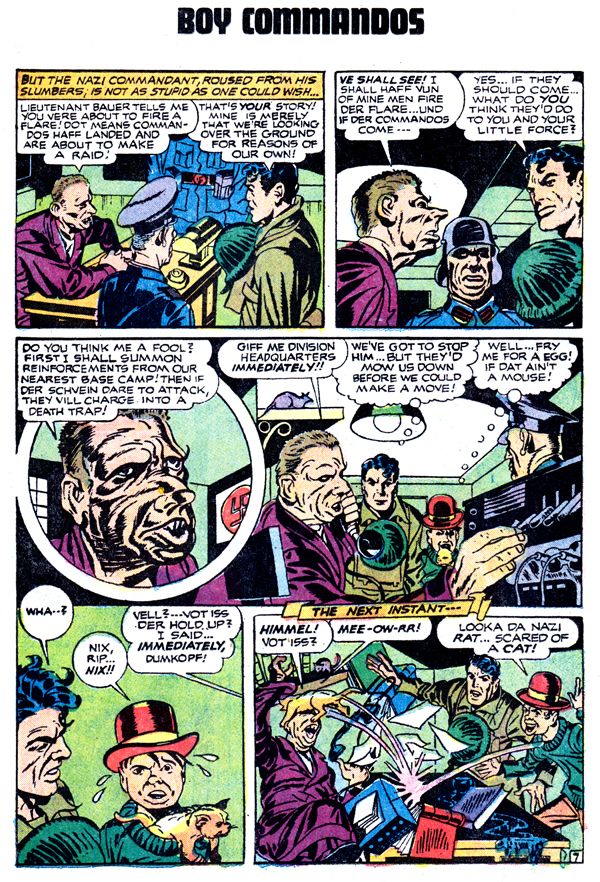 This creates enough confusion for them to finish their mission and get away. Back in England, the boys expect to be rewarded but are instead put on kitchen duty for disobeying orders while the cat is toasted as the hero of the mission.
The second story is an 11-page story from BC #6 (1944), "News from Belgium", where the team are given a mission to smuggle parts for a printing press into Belgium so that the underground can continue to produce their newspaper of real news of the world to counter the Nazi propaganda. The team gets split up along the way, and Brooklyn and Alfy wind up being helped by a Belgian farm girl who disguises them in girl's clothing, which is pretty amusing. Later re-united with the rest of the team, they get the parts to the newspaper editor, and come up with the idea of baking the newspaper into loaves of bread, so they can be delivered right under the noses of the occupiers.
Some of the inking on this story is especially good, especially the scenes in the Belgian forest. Also, I know I don't give too much attention to the scripting in these things, but there are some interesting things in this one, like "with a practiced landing that would put even the feather-footed tiger to shame" and "the ominous thud of booted feet bodes evil for those living under the Nazi heel". There's some really nice scripting and imagery in here.
Published 1973