Returning home from his adventure where he found out about his link to the Demon, Jason Blood is plagued by nightmares of his connection to Etrigan. He has little time to relax, as the Cult of Master Eye is using spells to kill the members of a UN taskforce investigating the supernatural, including Jason's friend Randu Singh.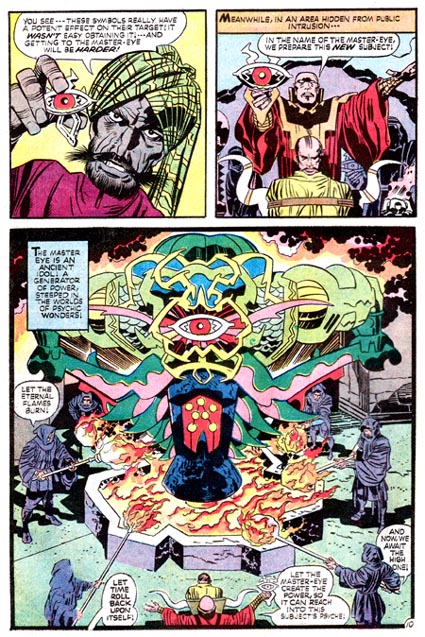 Their spells involve switching people with identities from their past life to use them as untraceable assassins. Unfortunately for them, Randu is able to transform Jason to Etrigan in time, and he goes to the cult's headquarters, cleaning house and reducing their leader to a lower life form.
I've mentioned before that I kind of wish on the early DEMON issues that Kirby had stayed with the Merlin/Morgaine storyline rather than move quickly to villain of the month. That's the case here, although the visuals in here, including the monster in Jason's dreams and the cult symbols (I wonder if that was something that Kirby had planned for SPIRIT WORLD and used here when that mag didn't continue).
Mike Royer inks the 22-page story and cover.
Published 1972