More of the toyline tie-in story pencilled by Kirby. The group of heroes going after the pod of Darkseid that landed in New York consists of Hawkman, the Red Tornado and Green Arrow, and they find the pod in the subway, defended by Kalibak. The pod transports them all 75 million years into the past, where they battle dinosaurs, some of whom also go through the time portal to modern New York where Aquaman and J'onn J'onzz arrive from their mission in England in time to keep them in control.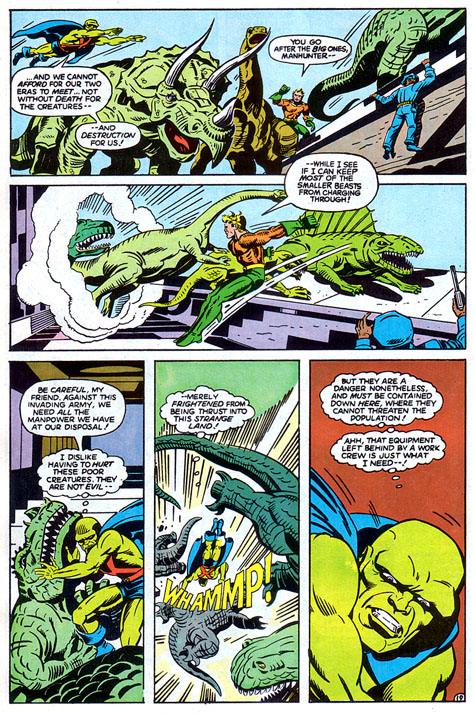 Another scene setting up the next issue has the team of Green Lantern, Wonder Woman and Dr. Fate tracking down another pod to Easter Island, while on Darkseid's moon base we find out that DeSaad has his own plans to betray Darkseid.
None of the main heroes this time really fit well with Kirby's style (I do like his version of Dr. Fate in one brief scene, though). Still, there are some nice scenes with Darkseid and DeSaad, and Kirby dinosaurs are always some fun.
Greg Theakston inks the cover and 24-page story.
Published 1985