After just providing covers and plots for the first four issues, Kirby writes and draws the finale of this series that promoted the line of action figures. In his Kirby-like way, though, the story that promises "final combat with Darkseid" on the cover never actually has the heroes face Darkseid. Instead, as Darkseid prepares to unleash his four armies on Earth, out heroes and villains are whisked through various worlds by Metron, including one interesting one in a two-page spread where the skeletal remains of some giants lie, in order to evade Darkseid's detection. Finally he places them all (including Robin, who was yanked in from the JLA satellite at the last minute to make sure everyone with an action figure was present) in a brain booster powered by the mysterious Worlogog…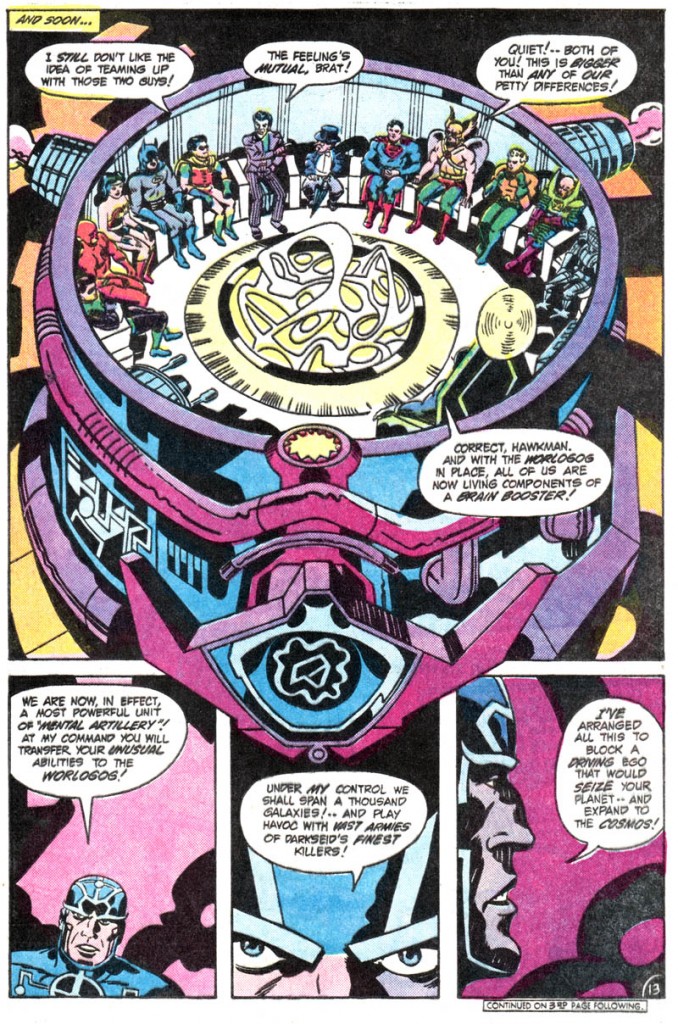 …which enables him to use the remains of the extra powers Darkseid gave the villains to divert and destroy Darkseid's armies. I wonder if the Brain Booster™ playset comes with a Worlogog™ or you have to buy it separately?
So not the big battle climax you'd expect, which is nice, although in all this series is just a bit of a diversion, a little bit better than you have a right to expect from a toy tie-in, but still a trifle.
Greg Theakston inks the cover and 25-page story.
Published 1984