Kirby's big return to one of his greatest creations is trumpeted on the cover like very few credits at Marvel ever had been before ("King Kirby is Back — And Greater Than Ever"). This issue starts the "Madbomb" story that would carry the book up to #200, as Cap and the Falcon first find themselves in the middle of a spontaneous riot in the middle of the city, the result of an experimental device, powered by an artificial brain which induces madness, from a secret organization that SHIELD has been tracking, without much luck. A SHIELD agent brings Cap and the Falcon in to help, but not before they're made to run a "Panic Course" in order to prove their identities.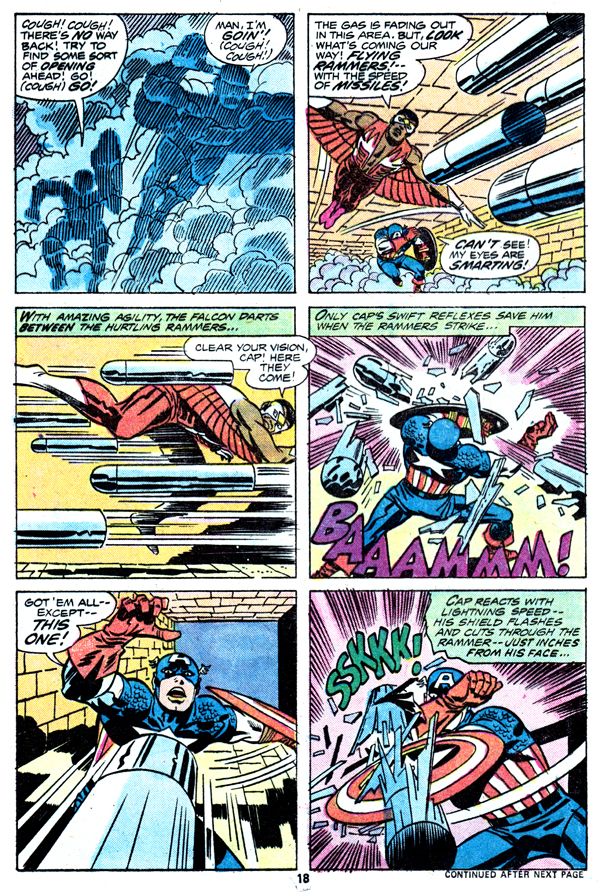 Passing the course in record time, of course, they're now cleared to be briefed by Henry Kissinger (yeah, I always thought that was a bit weird), who informs them that after a few trial runs, like the one they witnessed, the enemy is planning an attack with a "Big Daddy" Madbomb the size of a house, powerful enough destroy the US.
I really like this issue, and the whole storyline, just so bold and full of non-stop action and new ideas. I'm glad it was finally reprinted a while back.
Frank Giacoia inks the 18-page story, while John Romita inks the cover.
Published 1976
An aside, I just checked my hitcounter and saw I passed 100,000 sometime in the past week, since I added the counter about a year ago. Pretty modest by some weblog standards, but 250-300 hits a day is more than I ever expected. Thanks to everyone who dropped by and everyone who linked to this place, it's always appreciated.