As part of the revolving door of art teams for the first year of SHIELD stories, Joe Sinnott takes a turn at finishing Kirby's layouts for this 12-page story, where we find Nick prisoner of Hydra, who are holding the world hostage to their orbital bomb. Tony Stark has developed a Braino-Saur, which can diffuse the bomb, while Dum Dum and Gabe lead the rescue mission for Nick.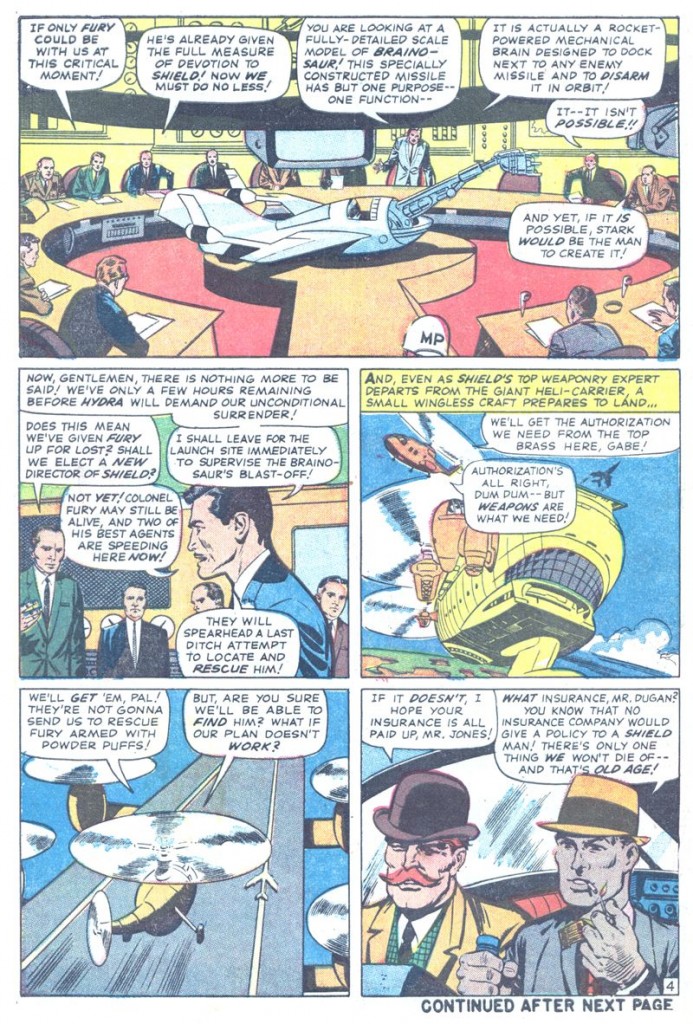 Of course, Fury isn't sitting still, and manages to use his explosive shirt and Hydra's high-tech meals to blow his prison, and escape with the help of the Supreme Hydra's daughter. Very James Bond of him.
I like Sinnott's work here, although I'm more glad he didn't stick with SHIELD and continued inking FF for the next few years.
This issue also has one of the more unusual Marvel covers of the 1960s. They took a stat of the splash page, and the cover has a Doctor Strange figure (I believe by Marie Severin) holding it. I wonder if there was a real cover done that wasn't used for some reason? I don't think one has ever shown up in the fanzines.
Published 1965