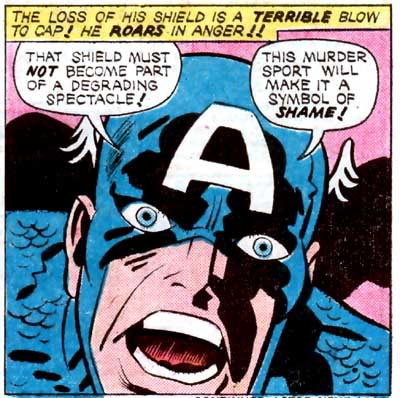 Oh, Cap, if only you knew the degrading spectacles you and your shield would be part of in the 1990s…
In this issue, Cap and the Falcon, on the hunt for the Madbomb, are held in the hidden HQ of the New Society and forced to participate in the violent Kill-Derby in order to recover Cap's shield. Man oh man, wild combat on turbo-charged skateboards, does it get more Kirby than that? Some nice scripting, as Kirby plays off the contrast of the idealistic Cap and Falcon with the greed based thoughts and actions of the New Society. I like this bit from the last page:
SOMEHOW, THE NAZI GHOST NEVER SEEMS TO DIE WITHIN MAN. IT MARCHES WITH INSANE PRIDE… RESPECTING NOTHING… TAKING EVERYTHING AND IGNORING THE PAIN OF OTHERS. CAP SIGHS IN RESIGNATION. HE WILL HAVE TO FIGHT FOR HIS SHIELD.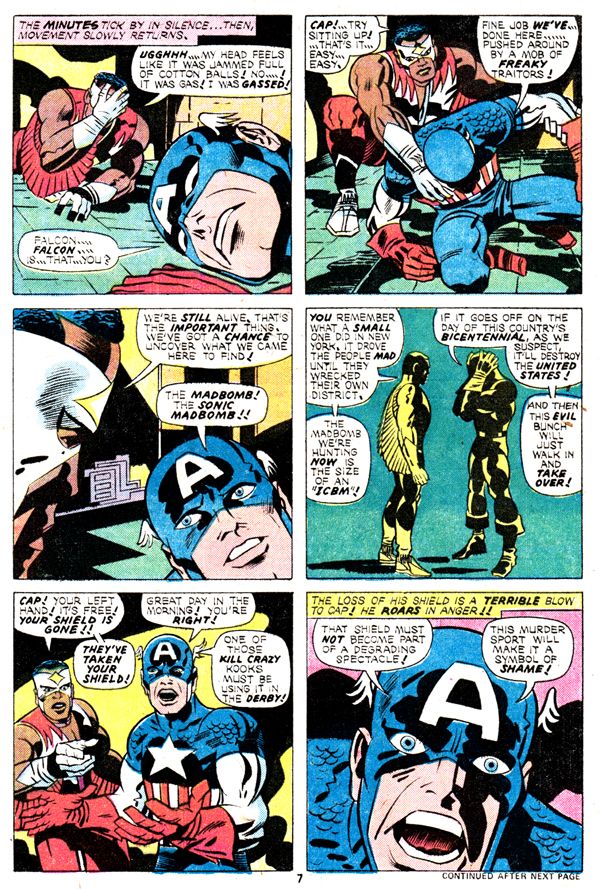 D. Bruce Berry inks Kirby on the 17-page story while Frank Giacoia inks the cover.