Joe Simon's packaged reprints of stories from the 1950s BLACK MAGIC series started off with a trio of great S&K stories from 1954, late in their run on the book.
"Maniac" from v5#2 (#32) is about two brothers, one a bit slow and picked on by the other kids and the other who tries to defend him. A now-cliche bit of misdirection which I'm sure was fresher back then, this story also has some really good use of shadow and some real power in the layouts.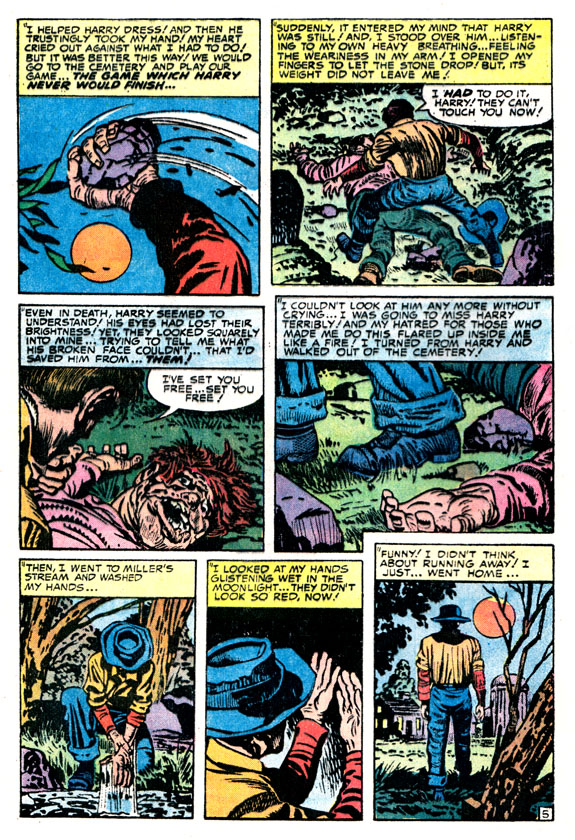 "The Head of the Family" is from v4#6 (#30) and, well, the (non-Kirby) cover kind of gives away the ending (the original Kirby version did as well), but it's still a fascinating story about a woman brought into the strange family of the man she loves. A classic bit of horror.
"The Greatest Horror of Them All" v4#5 (#29) was one of the stories that was brought up in the hearings on horror comics of the era, and probably seems a bit tame now (I don't know if Simon did any re-drawing on it for the reprint). A good companion piece to the previous story, this time it's the man who falls in love with a beautiful woman who works in sanctuary for deformed mutants. Of course, everything is not as it seems, and it ends in violence as always.
Some great artwork in all of these stories, with strong confident layouts and heavy shadows on the inks. Definitely a strong period for the S&K team, cut short by circumstances.
Published 1973