"The Kingdom of the Damned" features the Forever People trapped by Desaad in an amusement park that he runs, where people are tortured behind the scenes, while their suffering is disguised as amusement park features by Desaad's machines, so they get to see other people apparently observe their suffering while doing nothing. An interesting middle part to a story.
Darkseid has some interesting scenes in FOREVER PEOPLE. The highlight of this issue is his interaction with Desaad and the scene that begins in the scan below, where he walks out among the crowd, scaring children.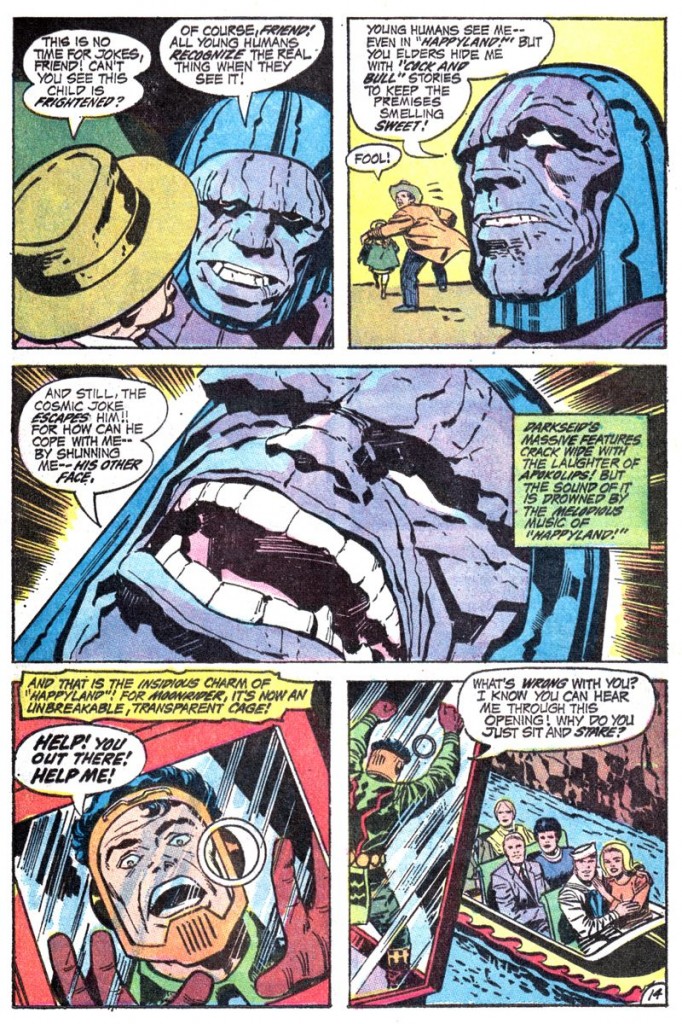 This issue was the first where DC increased the price and page count of their books, adding in reprints. The Kirby books all had golden age S&K reprints, with FOREVER PEOPLE getting Sandman reprints from ADVENTURE, starting with the cover and story for ADVENTURE #85 (1943), "The Unholy Dreams of Gentleman Jack". It's an amusing story about a felon who re-creates his jail after being released, with guards under his employ and rubber bars, and attempts to imprison the Sandman.
Also in here, three Forever People related pin-ups and a Kirby self-portrait introducing the reprints, which appeared in all the Fourth World books, all inked by Colletta.
Published September 1971