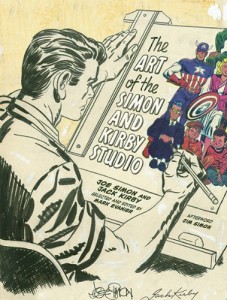 Missed it, but a few weeks ago Abrams ComicArts publisher Charles Kochman talked about upcoming projects:
After years of neglect on my part getting sidetracked by other projects, we are finally releasing this Fall The Art of the Simon and Kirby Studio by Mark Evanier and the Joe Simon Estate, featuring 386 pages of original art from their archives at an affordable price and manageable format.
I'm not sure if this listing (October release, $60 cover price) is still valid or if it's from back when the book was first announced over five years ago. More when I know more.
Edited to add, apparently that is still a valid listing, and here's the cover to go with it. Mark Evanier writes about the decision to include one particular Mort Meskin story over here.