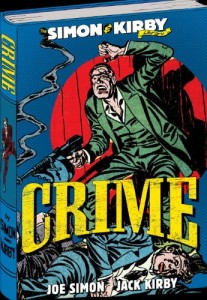 Some interesting stuff tentatively scheduled for later this year.  As you can see on the right, there's a possible cover design for the previously mentioned S&K LIBRARY: CRIME volume Titan is publishing.  Harry Mendryk says the October date listed on Amazon is probably early, but I look forward to it whenever.  Joe Simon's autobiography and the softcover FIGHTING AMERICAN are also coming from Titan.
DC has some stuff showing up in the long-term listings on Amazon, which may or may not change.  KAMANDI OMNIBUS v1 would be the first half of Kirby's run, released a few years ago in two volumes in the Archives format, so we might get a second book with the mostly unreprinted half of the run.   And there's a JACK KIRBY'S FOURTH WORLD OMNIBUS v1 softcover listed, no idea if that's a straight reprint of the hardcover series which reprinted the family of books in chronological order or something else.
And of course, lot's of Marvel stuff just solicited in various formats.  Mostly stuff that's been reprinted multiple times in better formats, but some unreprinted Vision stories from MARVEL MYSTERY in there.  Three more to go after this upcoming reprint, hopefully we get a separate collection of all 15 of the Vision stories at some point.  And I don't think that Kirby FF #200 cover in the Fantastic Four book (the only Kirby content in there) has been reprinted before.
---
CAPTAIN AMERICA: REBIRTH #1
Written by STAN LEE & KARL KESEL
Penciled by JACK KIRBY & KARL KESEL
Cover by LEE GARBETT
The origins of Captain America and the Red Skull, revealed! As the evils of Adolf Hitler and the Nazi party spread across Europe, Steve Rogers becomes the legendary Captain America! With his sidekick, Bucky, and under the direction of Franklin Roosevelt himself, Cap battles the diabolical Red Skull on every front! Witness their earliest confrontations here! Collecting material from TALES OF SUSPENSE #63 and #65-68, fully remastered with modern coloring. Plus: an all-new framing sequence by Karl Kesel (CAPTAIN AMERICA 1940S NEWSPAPER STRIP).
64 PGS./One-Shot $4.99
---
MARVEL MASTERWORKS: GOLDEN AGE MARVEL COMICS VOL. 6 HC
Written by STAN LEE, JOE SIMON, RAY GILL & VARIOUS
Penciled by CARL BURGOS, BILL EVERETT, JACK KIRBY, PAUL GUSTAVSON, BEN THOMPSON, BOB OKSNER, AL GABRIELE, SID GREENE & VARIOUS
Cover by ALEX SCHOMBURG
The series that made Marvel the biggest name in comics continues its heralded run in the MARVEL MASTERWORKS! Headlined by the hottest hero of the Golden Age, the Human Torch, and the anti-hero with a temper just as fiery, Prince Namor the Sub-Mariner, MARVEL MYSTERY COMICS presents a collection of stories that defined the medium! Torn from the turbulent headlines of 1941 America, each tale crackles with the tension of a nation on the brink of war — and there's no doubt these heroes were ready to fight! And arriving on the scene to prove it is Jeffrey Mace, a.k.a. the Patriot, making his MARVEL MYSTERY debut! Of course, each 64-page issue is also jam-packed with the adventures of Ka-Zar, protecting his jungle domain from Nazi invaders; school-boy sleuth Terry Vance and his monkey compatriot, Dr. Watson, solving mind-boggling mysteries; other-dimensional hero the Vision, fighting the weirdest menaces imaginable; and the gritty Angel, battling evil from gangsters to ghosts! Collecting MARVEL MYSTERY COMICS #21-24.
280 PGS/All Ages… $59.99
ISBN: 978-0-7851-4204-1
---
MARVEL MASTERWORKS: THE MIGHTY THOR VOL. 3 TPB
Written by STAN LEE
Penciled by JACK KIRBY
Hail Asgard! The MARVEL MASTERWORKS are back with another selection of trendsetting Stan and Jack stories featuring the Mighty Thor! That's right, the creative team that sparked the Marvel revolution shows you how it's done with classic stories including an earth-shaking fight to end all fights between Thor and the Incredible Hulk, the return of the Grey Gargoyle, the entrance of the Absorbing Man, Thor and Loki's exile to the danger and desolation of Skornheim, the first appearance of the unstoppable Destroyer, and the introduction of Hercules and the Greek gods to the Marvel Universe! And it's all backed by the fan-favorite "Tales of Asgard" featuring the origins of Marvel's Norse pantheon of heroes, villains, giants and mystic lands. Reserve your copy today, because ightning doesn't strike twice! Collecting JOURNEY INTO MYSTERY #111-120 and ANNUAL #1.
248 PGS./All Ages …$24.99
ISBN: 978-0-7851-5066-4
---
FANTASTIC FOUR: THE OVERTHROW OF DOOM PREMIERE HC
Written by LEN WEIN, ROGER STERN, MARV WOLFMAN & BILL MANTLO
Penciled by GEORGE PÉREZ & KEITH POLLARD
Covers by JACK KIRBY & KEITH POLLARD
The Fantastic Four have been split up for months, facing multiple threats — such as the Texas Twister, Diablo, the Impossible Man and the Sub-Mariner — on their own! But with the deadly threat of Dr. Doom on the horizon, the team is reunited! Will Doom triumph? Will Latveria ever be the same? And who is the mysterious Invincible Man? Collecting FANTASTIC FOUR (1961) #192-200.
192 PGS./$29.99
ISBN: 978-0-7851-5605-5
---
IMPOSSIBLE MAN TPB
Written by VARIOUS
Penciled by VARIOUS
Cover by JACK KIRBY
He's green, he shape-shifts, he flies — he does the impossible! See the aptly named Impossible Man wreak havoc across the Marvel Universe, from Latveria to the S.H.I.E.L.D. Helicarrier to the Savage Land! And wait till you meet the Impossible Woman — and their kids! Guest-starring EVERYONE — from the Fantastic Four to Spider-Woman to Thor to the X-Men! Collecting FANTASTIC FOUR (1961) #11 and #176, MARVEL TWO-IN-ONE #60 and #86, SPIDER-WOMAN (1978) #45, X-MEN ANNUAL #7, NEW MUTANTS ANNUAL #3, SILVER SURFER (1987) #33, IMPOSSIBLE MAN SUMMER VACATION SPECTACULAR #1-2, MARVEL COMICS PRESENTS (1988) #91, and X-FORCE & CABLE ANNUAL '95
360 PGS./$34.99
ISBN: 978-0-7851-5520-1
---
ANT-MAN & WASP: SMALL WORLD TPB
Written by TIM SEELEY with ERNIE HART & STAN LEE
Penciled by TIM SEELEY with JACK KIRBY & DON HECK
Cover by SALVA ESPIN
Two of Marvel's smallest heroes must join forces and get over one big elephant-in-the-room! Eric O'Grady once stole the Ant-Man suit from Hank Pym. But now, Eric is the only one who knows about a secret A.I.M. plot to steal Pym's greatest invention! Can these two mighty mites get along long enough to save the soul of former Goliath Bill Foster? Tim Seeley, creator of Hack/Slash, brings you the big story of the two smallest Avengers! Plus: early Marvel Age action featuring the original Ant-Man and Wasp! Collecting ANT-MAN & WASP #1-3 and material from TALES TO ASTONISH #44-48.
152 PGS./$14.99
ISBN: 978-0-7851-5567-6