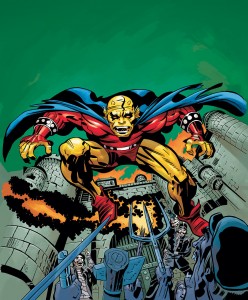 Major Kirby release in the latest solicitations is a complete run of THE DEMON, the first time any of those stories has been reprinted except for #1 in a digest almost 30 years ago. Over at Marvel THE ETERNALS gets completed in the softcover format, FF #108, in all its cobbled together glory, shows up amidst the post-Kirby work in the Masterworks format, and i plead ignorance on why a story from TALES TO ASTONISH #13 would be in the ANNIHILATION CLASSIC hardcover. There were two Kirby stories in that issue, "I Challenged Groot" and "I Found the Abominable Snowman". I figure Groot (an alien tree-man) is the most likely to somehow tie into recent Marvel cosmic comics, but I could be wrong.
---
JACK KIRBY'S THE DEMON OMNIBUS HC
Written by Jack Kirby
Art and cover by Jack Kirby & Mike Royer
One of Jack "King" Kirby's most memorable creations returns in this title collecting the entire, original 16-issue series from the early 1970s! Part man, part elemental fury, Etrigan the Demon was bound to Jason Blood by Merlin to defend Camelot, only to become a demonologist in the modern-day DC Universe.
on sale November 19 – 384 pg, $49.99 US
---
ETERNALS BY JACK KIRBY BOOK 2 TPB
Written by JACK KIRBY
Penciled by JACK KIRBY
Cover by JACK KIRBY
A time of titans, terror and time travel – as only the King could conceive! Imagine a race of immortal beings possessed of seemingly limitless superhuman abilities including energy projection, strength and flight. Once worshipped as gods, this fantastic group left Earth to explore the stars after warring with the Greek, Roman and Norse pantheons for supremacy over mankind. In 1976, Jack Kirby introduced what was to be his final great Marvel Comics creation: the Eternals! With nearly four decades of experience creating iconic characters, Kirby stretched his imagination to the limit for his last tale. Looking beyond the familiar ground of super heroes, Kirby crafted a cosmic epic that took comic-book fans on a spectacular adventure every month. Since Kirby's groundbreaking work, the Eternals and their malevolent counterparts, the Deviants have become vital parts of the Marvel Universe. Awarding-winning creators such as Neil Gaiman have revisited the concept, finding new levels of meaning in Kirby's visionary work. Now, for the first time, Marvel proudly presents the entire ETERNALS series in two softcover volumes – further proof that Jack Kirby was truly the King. Collecting ETERNALS #12-19 and ANNUAL 1.
188 PGS. $24.99
---
MARVEL MASTERWORKS: THE FANTASTIC FOUR VOL. 11
Written by STAN LEE with ARCHIE GOODWIN
Penciled by JOHN BUSCEMA with JOHN ROMITA & JACK KIRBY
Cover by JOHN BUSCEMA
The World's Greatest Comic Magazine marches forward with a new great artist, Big John Buscema, and the same great man – Stan "The Man," 'natch – in A fresh set of epic adventures as only mighty Marvel can make 'em! It all begins when Johnny Storm's ladylove, Crystal, must leave the polluted human world for the Inhumans' sanctuary, but within her lies the secret solution to freeing the Thing from his rocky prison. Then, as Benjamin Grimm emerges with the power to change into the Thing at will, Reed Richards must descend into the dark of the Negative Zone to face entropic Annihilus and the mysterious Janus, the Nega-Man. But what good is controlling your powers, when you're losing control of your mind? The Thing goes on a rampage and New York City better look out because it can only end in the biggest, the baddest, the best fist-pounding, building-toppling, earth-shaking slobbernocker in Marvel history! The ever-lovin', blue-eyed Thing goes toe-to-toe with the gamma-powered goliath, the Incredible Hulk, and only one will walk out alive. That's not all, though! Before the FF collect themselves, the all-powerful Over-Mind descends on the planet Earth – and you know it ain't gonna be good for real-estate values when the Watcher shows up, too. It's a menace so great that even the evil Doctor Doom joins forces with the FF, so reserve your copy today, True Believer – there's plenty more classics to come! Collecting FANTASTIC FOUR #105-116.
272 PGS $54.99
---
ANNIHILATION CLASSIC HC
Written by TODD DEZAGO, LARRY LIEBER, MARV WOLFMAN, MARK GRUENWALD, BILL MANTLO, DOUG MOENCH, SCOTT EDELMAN & ROY THOMAS
Penciled by DEREC AUCOIN, JACK KIRBY, JOHN BUSCEMA, JOE SINNOTT, PAUL RYAN, MIKE MIGNOLA, TOM SUTTON, MIKE ZECK & GIL KANE
Cover by JOHN BUSCEMA, PAUL RYAN, GIL KANE & MIKE MIGNOLA
Space may be a vacuum, but Annihilation didn't pull its heroes out of nowhere! Journey through time, space and continuity with the sensational space saga's stars! The re-making of Adam Warlock and the first look at his nemesis Thanos! See the origin of Nova and the origin of Quasar, while Bug watches the origins of >tik< EVERYBODY! Monsters, mammals and more! Collecting BUG #1, TALES TO ASTONISH #13, NOVA #1, QUASAR #1, ROCKET RACCOON #1-4, MARVEL SPOTLIGHT #6, LOGAN'S RUN #6 and MARVEL PREMIERE #1.
232 PGS. $29.99