FF #236 was the the 20th anniversary of the book (it was bi-monthly for the first few issues). To have some Kirby in the issue they took some storyboards he did for the FF cartoon series a few years earlier (though apparently not with Kirby's "consent and cooperation" as they claim) and adapted it to a 14-page comic book story. For the inks they rounded up most of the available inkers who had worked with Kirby on the 1960s series (Joe Sinnott, Chic Stone, Dick Ayers, George Roussos, Sol Brodsky, Frank Giacoia, Vince Colletta) plus a few later artists (Al Milgrom, Pablo Marcos and John Byrne) and split the pages among them. This page was one of Chic Stone's.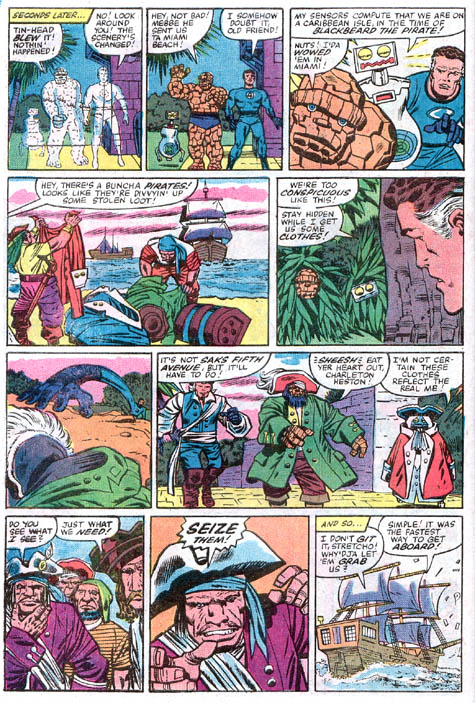 As you can see, the story was "The Challenge of Dr. Doom", adapted from FF #5, most notably changed to substitute the Human Torch with the robotic Herbie. Other than that it pretty much follows the original, with Doom attacking the Baxter Building, sending the boys back to get "Blackbeard's treasure chest" and getting tricked by his exact wording, as well as a rescue effort from Sue. Still a lot of goofy fun even in this form.
Despite various misgivings on the genesis and quality of this story, it was an interesting glimpse into what Kirby was up after his comic book years, and it was nice to see some of the classic inker combinations one more time. Of course, these days we've had a much better chance to see Kirby's storyboard work in its pure form, including his notes (the recent KIRBY COLLECTOR #47 printed the boards for a full episode).
Published 1981