Back in 1986, the Fantagraphics published fan magazine AMAZING HEROES celebrated its 100th issue in style, devoting most of the magazine (except for regular features like the upcoming release list and letter column) to Jack Kirby. Over 60 pages of material on the Kirby, from today's perspective, with over 50 issues of Kirby dedicated fanzines and several books available it might not seem much, but back then it was pretty unique, and still holds up well, giving an overview of his whole career. The biggest weakness compared to the more recent Kirby publications is that they didn't have access to the copious amounts of uninked and/or unpublished material, so the visuals are mostly taken directly from printed comics.
Steve Rude opens up the show by inking a Kirby cover featuring Kirby and many of his most famous characters, from the golden age right up to Captain Victory. Very eye-catching cover, coloured by Tom Luth.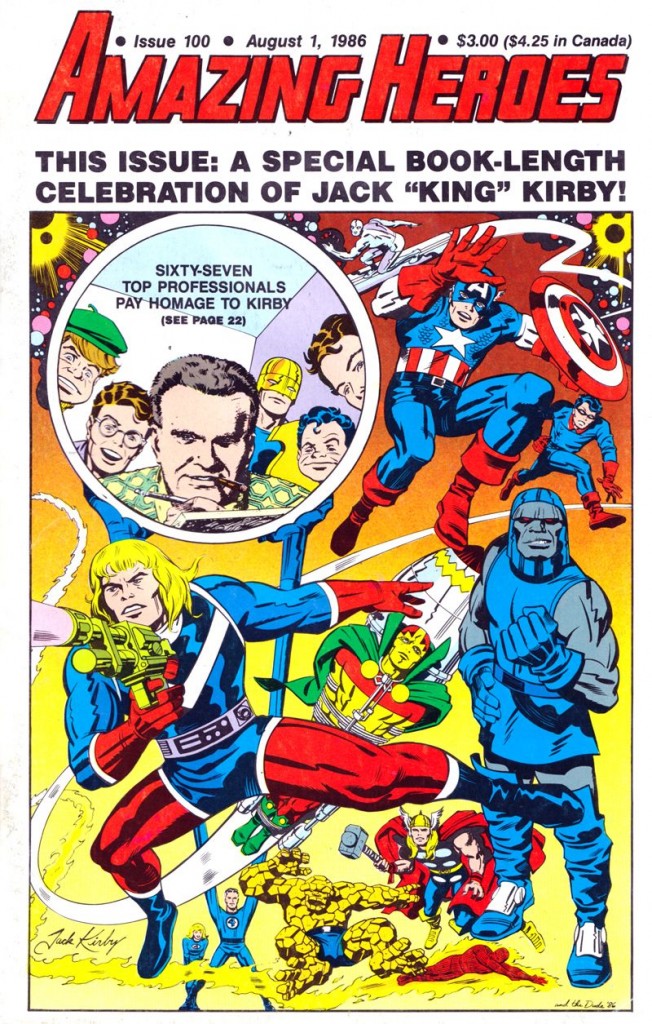 Several dozen comic creators then supply a few (or sometimes many) words and/or images about Kirby. I especially liked the contributions of Scott Shaw!, Michael T. Gilbert and Larry Marder.
Greg Potter then has a long article, starting with a quick biographical sketch of Kirby (with a few odd errors, like treating CHALLENGERS OF THE UNKNOWN as a golden age S&K book), then looking in-depth at "The Pact", with a dozen pages from the story reproduced at half-size in glorious black and white, the best art reproduction in this magazine.
Mark Evanier supplies the interview for the issue, a nice casual conversation with Jack and Roz Kirby touching on many aspects of his career, including the classic Kirby line "I've always found that naked women never paid any attention to me".
Richard Howell provides the highlight of the issue, a look at 10 great Kirby stories from throughout his career. A good selection, and fortunately, unlike when this was published most of them have seen a reprint in recent years (or will soon in the case of the "Tales of Asgard" sequence he cites), so more people can now compare their opinions with his. Some interesting insights. I did wonder about his reference to George Papp as the inker on SHOWCASE #12, since this is the only place I've seen that credit. I've seen that credited to Stein or Premiani or Kirby himself, and those sound more likely than Papp. He also says nice things about Colletta inks, and regular readers can guess how that makes me feel, but I forgive for the interesting comments about the romance stories and Boys' Ranch.
Greg Theakston is up next with a closer look at Kirby's art, with some interesting insights into both his page composition and his use contrast and lineweight to lead the eye. Some interesting comments about the Don heck inked figure of Heimdall from the Gods Portfolio.
Finally their then-regular reviewer R.A. Jones provides his own overview of Kirby's work, which isn't nearly as good as Howell's, and can be safely skipped. He also says good things about Colletta, among many other incorrect things he says, but I'm far less forgiving.
Well worth digging up if you have a copy buried somewhere, or picking up if you're lucky enough to find one.
Published 1986