This book, published by Greg Theakston's Pure Imagination in 1987, is a reproduction of a sketchbook that Jack Kirby did as a gift for his wife Roz in the 1970s. It features 129 full page images reproduced from Kirby's pencils of characters he'd drawn (mostly created as well, although a few like Conan and the Yellow Claw are in there too) in his decades in the comic biz, from as early as Blue Bolt and going as late as his last few Marvel books like Devil Dinosaur and Machine Man. A few odd omissions (at least one of which, Odin, was included in the inked version, mentioned below, so maybe there were a few pages missing for some reason), but then Kirby could have filled two or three more such books given all his characters.
The drawings range from simple head-shots to full body portraits to complete scenes with detailed backgrounds.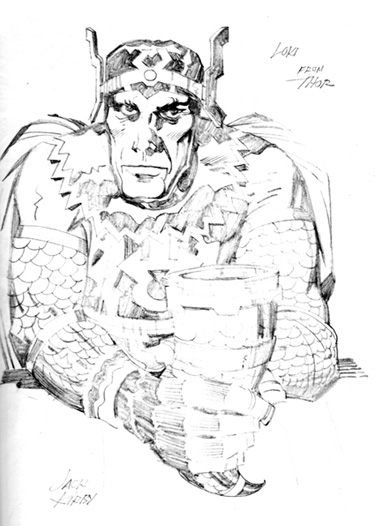 The reproduction is really good (and apparently there's a deluxe signed edition that looks even better, but I've never even seen that one). It captures the look of penciled originals nicely, to the point that it almost looks at a quick glance like a sketchbook.
(Note I darkened up the scans to make them look a bit better on a low resolution scan on a computer monitor, and they aren't anywhere near as good as the printed images)
The Loki is one of my favourites in the book, just a great brooding but supremely confident villain piece. The Yellow Claw has one of those great out-stretched Kirby hands, and that DeSaad is nicely sinister. The heroes in the book looked good, too,but the villains had many of the best pieces.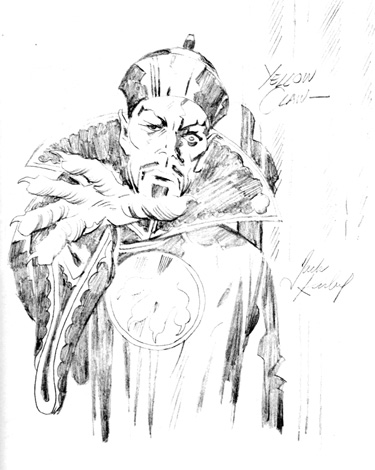 A few of the other highlights are:
Ben Grimm, shown fishing with a stogie
Fandral of the Warriors Three ready to attack
The Guardian on the streets of Suicide Slum
Angel of Boys' Ranch going for his guns on an old west street
Modok, just, y'know, being Modok
Barda, just, y'know, being Big
Also in this book, a two page introduction by Jim Steranko about his early experiences with the Kirbys, plus a 1984 photo of Kirby and endpapers of a Kirby-tech drawing that appeared in the 1970 Marvelmania portfolio.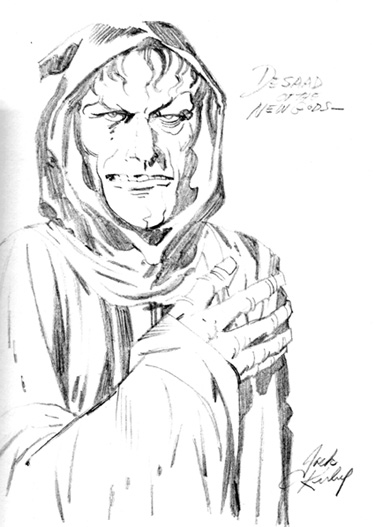 Theakston would later publish the "Black Magic" edition of the book, which had various artists take a swing at inking the drawings, with mixed results.
If you don't have it already, I doubt it'll be easy to find any edition of this other than the Black Magic one, but if you do it's worth it.
Published 1987