The logic of DC including YOUNG ROMANCE #1 among the books they reprinted in 2000 as part of their "Millennium Edition" line is suspect, but it was definitely the highlight of the line (only a handful of the other books were even in this league in quality, and most of them had seen several superior reprints over the years).
The original comic was published in 1947, launching a hughly successful line that Kirby would work on for a dozen years, with several spin-off titles (YOUNG LOVE, YOUNG BRIDES).
This issue had a Simon&Kirby cover, unrelated to any of the interior stories and telling a little mini-story all its own about an artist being seduced by his fiancée's older sister, and three S&K stories, and two more by Bill Draut.
"I was a Pick Up" opens the book, with the story of Toni Benson, a high-school senior who is kept tightly in check by her grandmother, who fears Toni will wind up with a bad reputation like her mother. Of course, Toni rebels, and walks out in one of her mother's old dresses. Having been so secluded, she falls for the pick-up line in the page below: "Pardon the greeting, lady, but it's not often I see a dream — floating by –".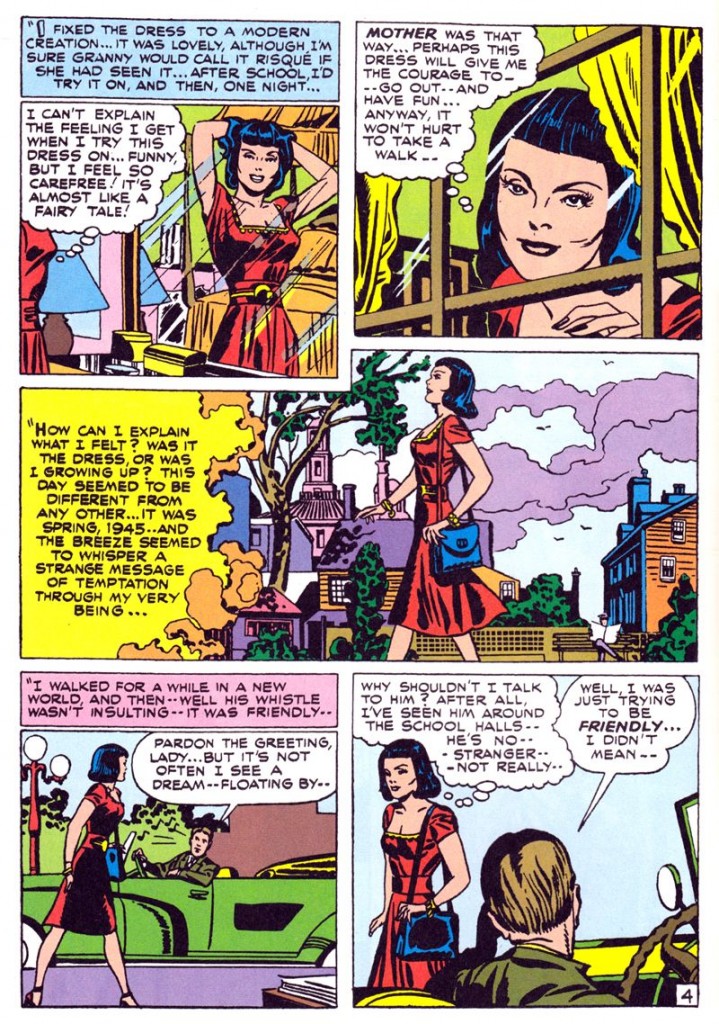 Naturally complications ensue (including a narrow escape from the police that involves overturning tables and jumping out of windows. S&K weren't about to let the romance genre quell their trademark taste for action), and she finds that the guy who picked her up, unfortunately named Bob, had no respect for her since she was obviously so easy. Yet more complications ensue as she starts to date Stanley Budko, a local hoodlum, and finds herself with a reputation just like her mother. Quite a few twists in this 13-page story, but it ends happily at last, as they usually do in these books.
"Misguided Heart" features the working class love story of June Collins and Sherman Sherman (aka Ditto) and how it's complicated by Karl Barton, the son of the boss. It's a bit of an abrupt story at only 7 pages, but it's a very attractive story, with the best art of these, and it a good look at the whole class struggle theme that is so often a part of these stories.
"Young Hearts Sing A Summer Song" is another class based conflict story, with a local girl in a resort town trying to win the attention of one of the wealthy vacationing boys. It doesn't take much familiarity with the genre to know that doesn't work out for her, and she ends up with one of her fellow "peasant" types. Not too bad, although the art seems a bit flatter than the other stories. Not sure if it's just that the reproduction seems rougher or what.
There have been far too few reprints of Kirby's romance comics work, and even most of those are hard to find (Eclipse's REAL LOVE and some of Greg Theakston's books). It was nice to see at least one example of it get somewhat wider distribution and still available at a very nice price.
Published 2000