In "The Fall of Asgard", Thor is on Earth, tending to business like rounding up hijackers, while the Warriors Three and Balder are leaving the realm of the Norn Queen. Odin picks this time to go into the Odinsleep that he needs to retain his Odinpowers for another Odincycle, leaving the Odinrealm open for attack by the evil Odinson Loki, who gathers various Odinfoes like the storm giants.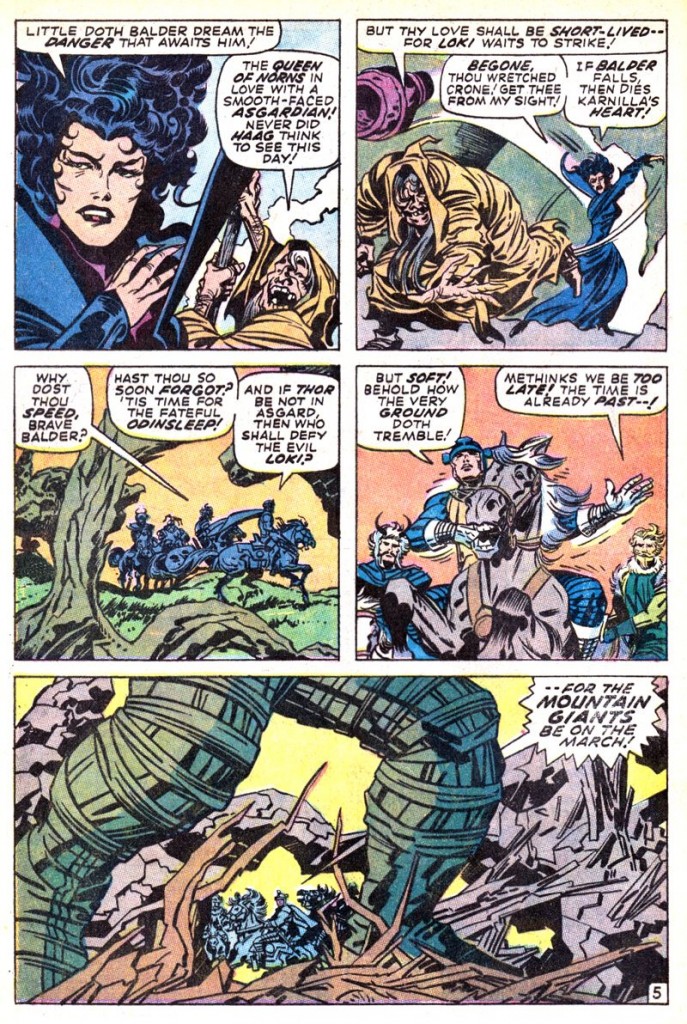 The page after this, a full page of the giants on the rampage, is gorgeous, by the way. Check it out if you have this issue.
Sif is able to contact Thor on Earth and get him to return to Asgard, and he and the various defenders of the realm battle the invaders, but not before Loki is able to get the Ring Imperial from the Allfather and take Sif prisoner, making him Thor and the other bow before him.
Bill Everett inks the 20-page story, the last of his brief run (with some possible assistance from John Verpoorten, see comments). It's kind of uneven compared to his others, although still better than most Thor inking. Some pages are great, but a few others seems stiff, maybe a bit rushed.
The cover is by Marie Severin, replacing the one Kirby did. The likely reason for the replacement is the the Kirby version (shown in TJKC #18) has Thor bowing before Loki, defeated, while the published version has him still defiant, so I guess someone decided the hero should look more heroic on the cover. Both versions do seem to use the same background of Asgard, though, and Severin does do a good Kirby (in fact, the original art boards to both versions shown in TJKC are signed by Kirby).
Published 1970