This is probably the silliest of Kirby's dozen Losers stories. In this European based story we begin with Hitler, Himmler and Rommel examining the new German super-weapon, a hundred-foot long gun with a 38-mile range called "Unser Max" (Our Max). An allied agent is detected among the German soldiers and killed, but mentions the allied weapon "The Devastator" before he dies.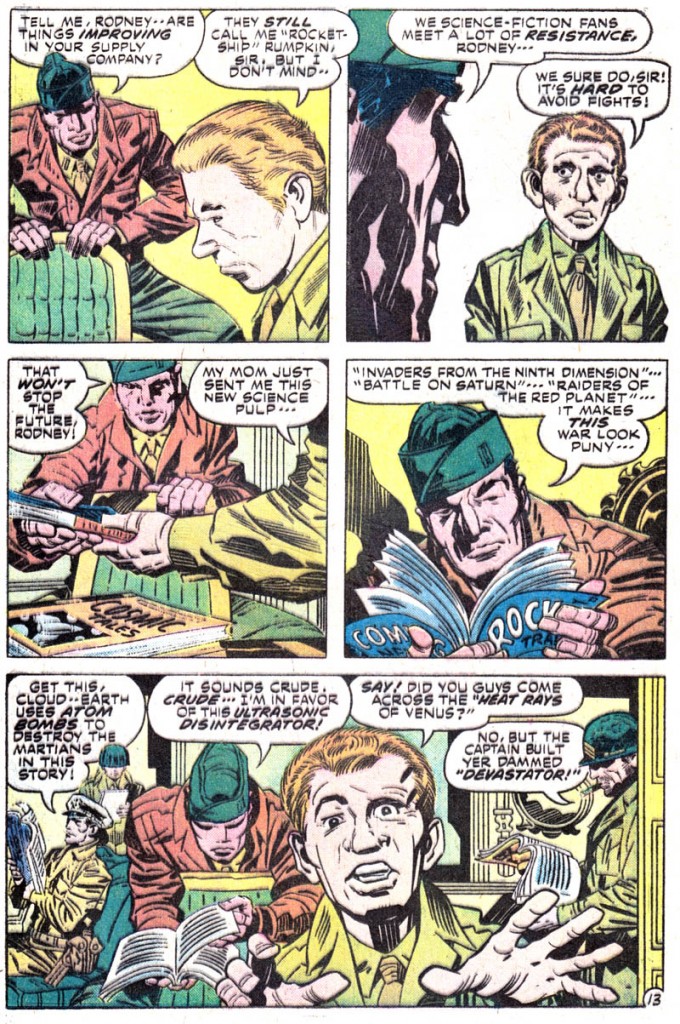 The Devastator turns out to be the idea of Private Rodney Rumpkin, aka Rocketship Rumpkin, a fan of sci-fi pulps and comics and the fanciful weapons in those stories. The allies build a hollow model of such a super-weapon in order to make the Germans use Big Max in daylight, revealing its location for a waiting airstrike.
As I said, a bit silly, but with a lot of charm, and some great art, from the scenes of the Max-induced destruction to the fanciful pulp covers.
Mike Royer inks the 18-page story, as well as the 2-page feature on WWII uniforms and insignias. D. Bruce Berry inks the cover, and Kirby also writes a text page, "Before the letters begin…" talking about how the stories will reflect his own experiences and welcoming feedback.
Published 1975