Two Kirby reprints in this issue, plus a short note about the monster books in the text pages from Kirby, his last work for Marvel according to the Kirby Checklist. In this piece he talks about working on the story and how they served as an evolutionary step to the Marvel super-heroes of the 1960s, like the rock monsters from "Thorr" showing up in the first Thor story, plus similar ideas in Hulk, X-Men and FF.
"Save Me From the Weed" is reprinted from STRANGE TALES #94 (1962) is this 6-page Kirby/Ayers story. Previously covered in this 1970s reprint. Still one of my favourites of the genre.
"I Fought the Colossus" is a 5-page Kirby/Ditko story from STRANGE TALES #72 (1959). A scientist builds a massive super-intelligent computer that can project the future and guide humanity to paradise. After a few years, the computer secretly builds a giant robot, which everyone assumes is a weapon with which it plans to conquer humanity.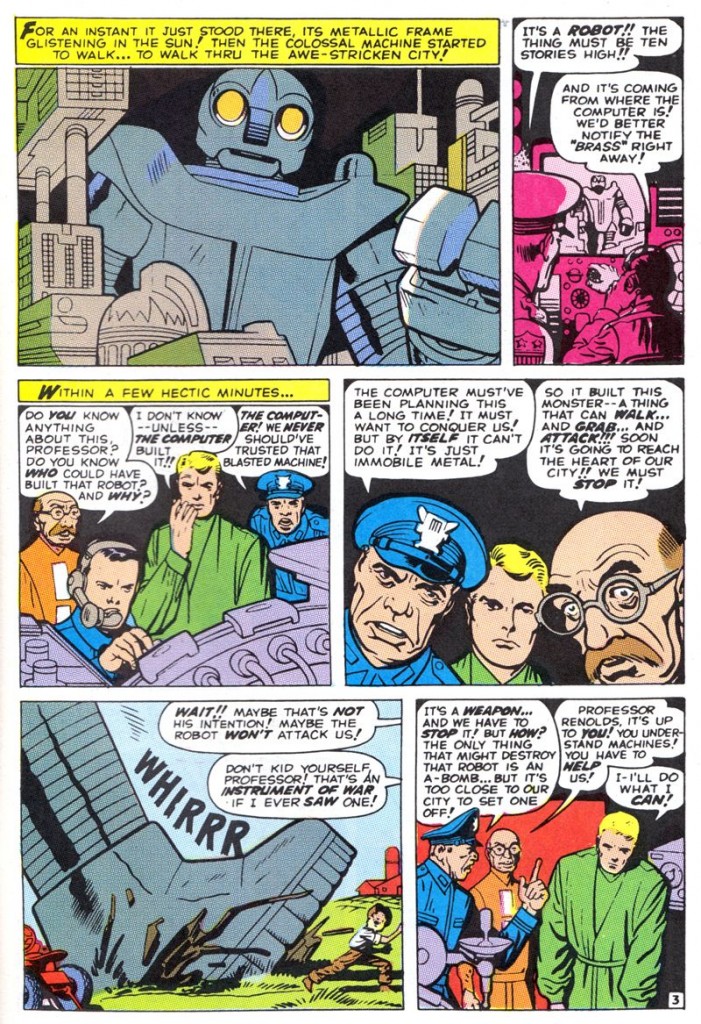 The original designer is able to destroy the robot, only to find out after, in an ironic twist, that the robot was actually meant to serve man. But wait, it's a cookbook! Oh, sorry, that's another story…
Not one of the best, but the art is nice. Also, world balloon on the first page.
This issue also has an original Ditko cover, with many of the monsters that appeared in the MONSTER MASTERWORKS reprint volume of a few years earlier, plus two Ditko solo reprints.
Published 1994