"Now Ends the Universe" is the middle of the big Mangog storyline, as Thor observes the dark storms that portend trouble in Asgard, and finds Sif in a hospital bed from their previous adventure, heals her and departs for Asgard. We also catch up with Balder, having his own troubles with the Norn Queen, and a brief reminder about the colonizers of Rigel, the Recorder and Ego for future storylines.
As usual for this era of Thor, my favourite scene involves the Warriors Three, first doing some of their normal brawling for fun, then informed by Loki that Mangog approaches as Odin sleeps his Odinsleep, and sends them off to do battle.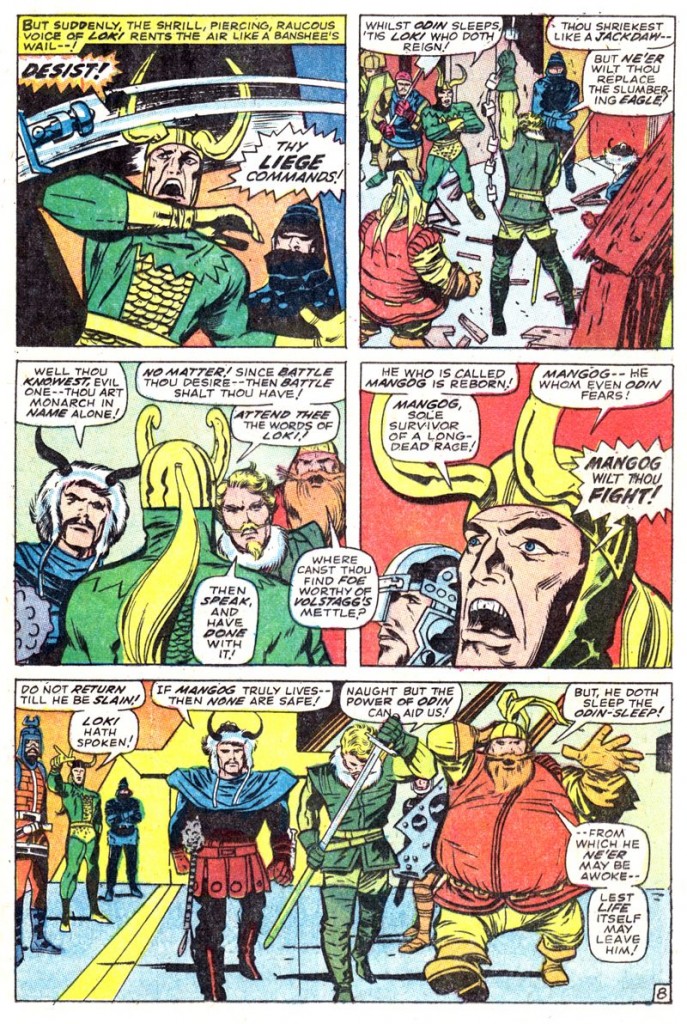 First the Storm Giants and then the forces of Asgard battle bravely but futilely against Mangog (including, oddly a very futuristic rocket called an Odinian Force Arrow. Always thought the mix of old styles with modern technology in Asgard was weird). Thor follows the trail of carnage, finally finding the Warriors Three imprisoned and coming face to face with Mangog.
Great issue, very densely plotted, fast moving and taking advantage of the various parts of the mythology that had been introduced in the previous years, and the artwork is just gorgeous, full of power and clever storytelling bits.
Colletta inks the 20-page story and cover.
Published 1968