Thor and the Recorder are off to confront the Ego, the Living Planet this issue, one of Kirby's most audacious villains of the era, in a reprint of "Behold, The Living Planet" from THOR #133 (1966). Edited reprint, of course, cutting out the second page of a two-page spread, moving a word balloon over. Still looks good, but the original is spectacular, one of the best of Kirby's two-pagers.
It's really a mile-a-minute in this era of Thor, if a Thunder God and an alien archivist fighting against the humanoid anti-bodies of a living planet in the Black Galaxy in order to save Earth from the colonizers of Rigel isn't enough, there's also a stop along the way to set up the next story, which has Jane Foster going to interview for a job with someone who turns out to be the High Evolutionary.
The cover is also from #133, but another, clearer face of Ego is in place of the original. Looks like it might have been pasted up and retouched from an interior panel in this or another story.
Also this issue, "Gather, Warriors", a Tales of Asgard story from JOURNEY INTO MYSTERY #119 (1965), as the many heroes of Asgard join the quest that Thor and Loki are leading. This story introduces the trio who would become known as the Warriors Three, Hogun the Grim, Frandal the Dashing and of course…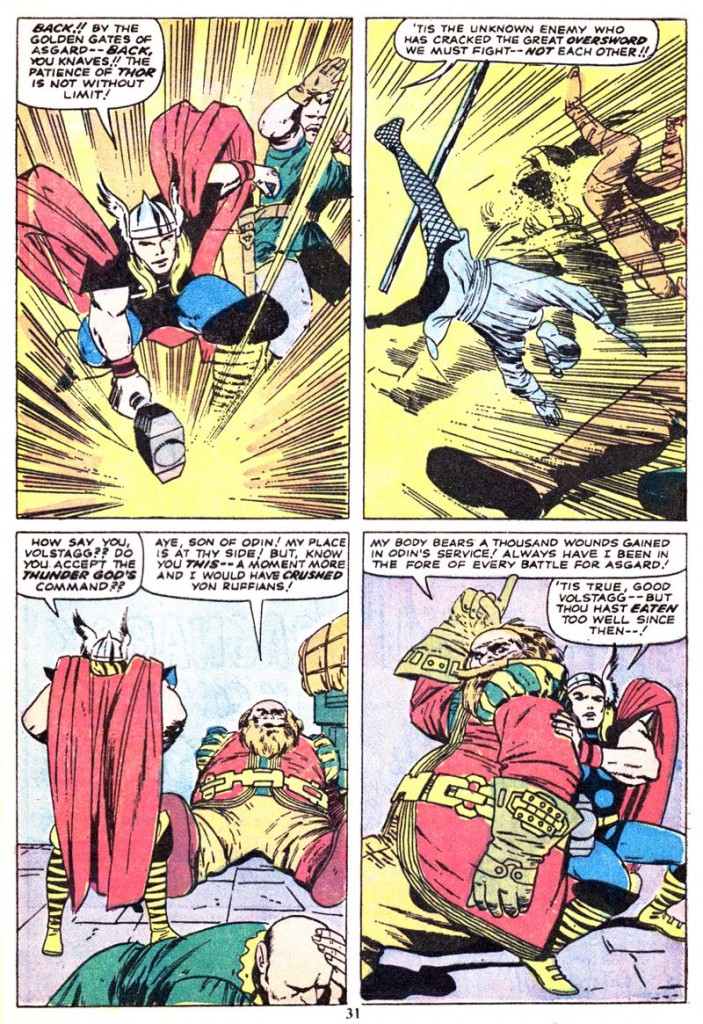 Volstagg the Enormous. Of course he would be the source of comedy gold in future issues of the book, and starts off great in his debut.
Published 1973