Following an introduction where Vanilla Cupcake™ meets the Reagans, the battle with the Cogburns continues in this issue, and we get the origin of Booster Cogburn as our heroes flee to the airport. Inspired if extremely mean stuff when you know what it's a parody of. "The machismo posturing, the overblown ego, and the company man mentality are all artificially encoded in the genes". "…would lead them to a disturbing truth: that human exist who possess the capacity to create something new, something beyond a flawed replication of what's gone before". I love this stuff, that scene is probably the highlight of the DD series.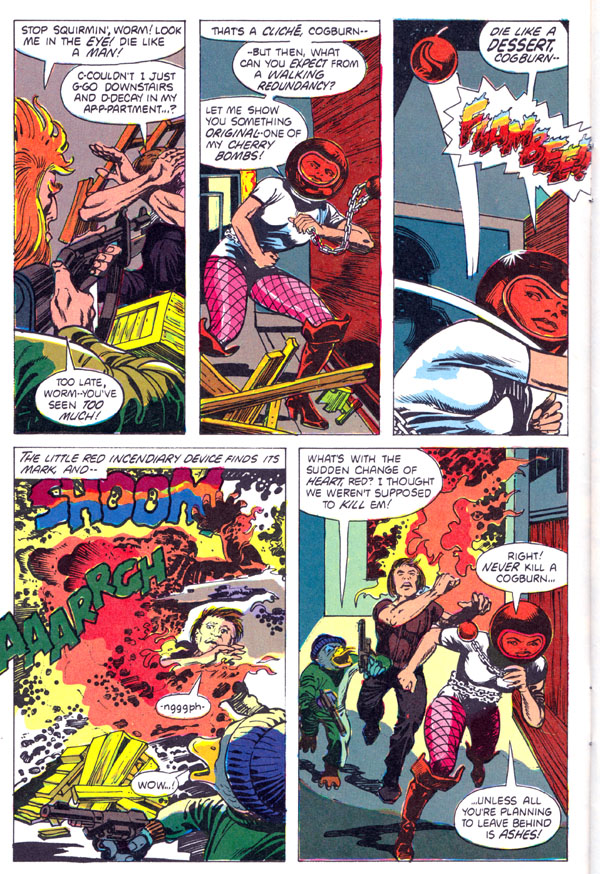 Beyond the Cogburn scenes, this issue features the set-up for the final battle in Hoqoom, as GodCorp's plans there continue apace and Duke and his friends are on the way, with Duke suspecting that the Little Guy may be alive.
Steve Gerber writes of course, and Alfredo Alcala inks the 20-page story and cover. Very attractive work in this issue, I thought the previous two issues were a bit loose but the Kirby/Alcala combination seemed to click better this time around.
Published 1983