Another of Marvel's facsimile reprints of the early 1990s. You know the story, scientist Bruce Banner gets caught in a gamma bomb explosion trying to rescue trespassing teen Rick Jones. In the aftermath Banner finds he turns into a large grey monster at nights and is pursued by the army. Later he's taken prisoner by the Russian scientist the Gargoyle and manages, as Banner, to defeat him.
While there would be much meddling in the exact direction of the Hulk over the years, a surprisingly large amount of the most essential stuff is laid out in this story, "The Coming of the Hulk".
The sequence below has been repeated, referenced, traced and referred to countless times in the comics since, but never gets old for me. The transition from panel 1 to 2 is great, with Banner racing towards Jones and then dragging him behind. Panel 4 with Banner just at the edge of the trench when the bomb goes off, a true classic. The hours long scream from panel 6 to 7. That's some storytelling going on here.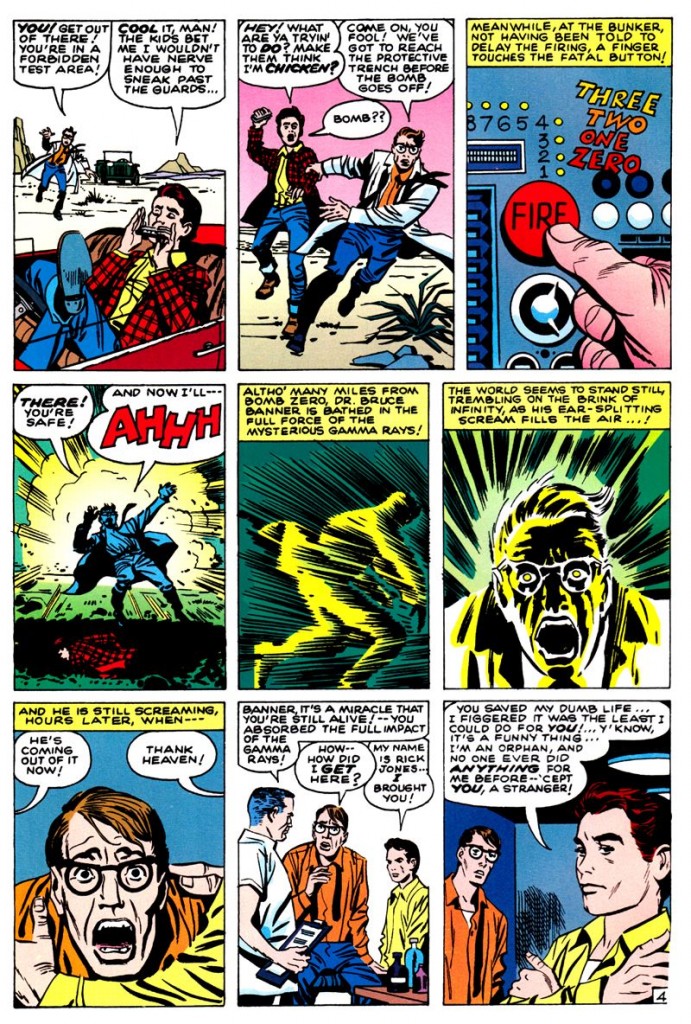 This issue also has an ad for FANTASTIC FOUR with an original early image of the team in their uniforms by Kirby.
Paul Reinman inked the 24 page story. There seems to be some disagreement on the cover, as various sources list Reinman, Roussos and Ayers. Hard for me to tell at the best of times, moreso with just a reprint, but I'm leaning to Reinman.
Published 1991