An obscure late entry in the Kirby bibliography, ANYTHING GOES was a benefit book published by the Comics Journal due to a lawsuit filed against them. Kirby contributed an odd three page story, made of three splash pages featuring characters from his Pacific Comics books of a few years earlier, CAPTAIN VICTORY and SILVER STAR. Joe Sinnott inked the three pages.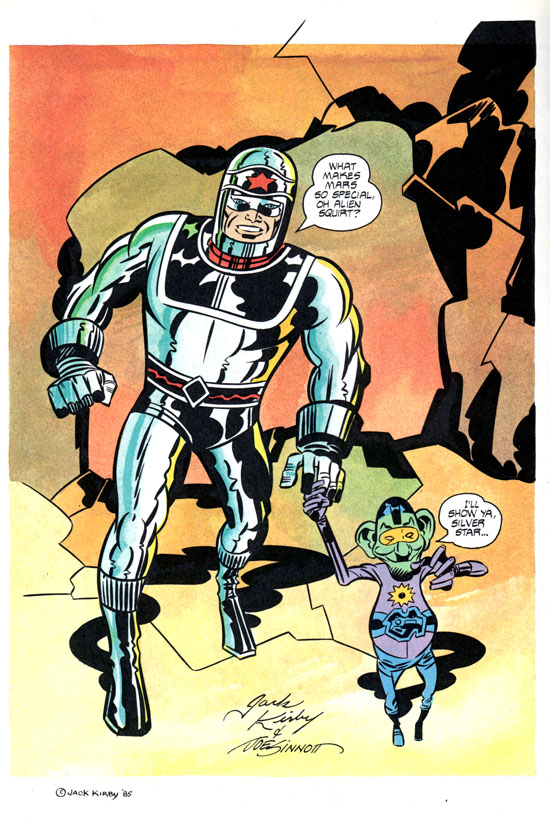 It's a weird three pages, a kind of gag with Kirby's sense of humour at its quirkiest. Pretty fun, and interesting to see Sinnott inking work of that era (Sinnott's inked a number of Kirby things since, like several TJKC covers, but it's usually work that was actually penciled in the 1960s or 1970s. The only other 1980s art I can think of him inking is a WHO'S WHO piece). As is typical for Kirby's work of the era, the anatomy is a bit wonkier than normal, but still a nice power to the work, and some nice design on the final page punchline.
There's also a short bio of Kirby in the contributor notes section. The editorial also thanks them, but mistakenly notes its their first collaboration in 15 years, forgetting the many covers and the SILVER SURFER graphic novel in Kirby's last Marvel stint.
Published 1986