This collection published by Eclipse brings together various crime and sensationalistic comics of the 1940s and 1950s. Two 13-page Simon&Kirby stories from Prize's HEADLINE are among the featured stories, both featuring sexy girls lured into a life of crime. Black and white reconstruction on the stories was by Greg Theakston's Pure Imagination.
"The Bobby Sox Bandit Queen", from HEADLINE #27 (1947), is a great little story about a 16-year-old girl who gets caught up in crime thanks to her older boyfriend, leading to a cross-country crime spree of bank robberies, hostage takings and stolen cars, with the police on their tails the whole time. The story was also reprinted in the recent Jack Kirby Reader v2
"I Worked For the Fence" is from HEADLINE #28 (1948). In this saga, Monica Bell, a failed show-girl, is about to go back home from the big-city when she finds her suitcase has been switched with one full of jewels. Remembering a co-workers mention of a fence, "Buyer Busch", she takes the jewels to him, finding out she was set-up by him as a likely prospect for a "switcher" as he explains the inner workings of his operation. She takes the job and makes some easy switches, and then works as a buyer at the racetrack. She's spotted by a private investigator, who she quickly falls in love with him, but almost gets caught when her next buy turns violent.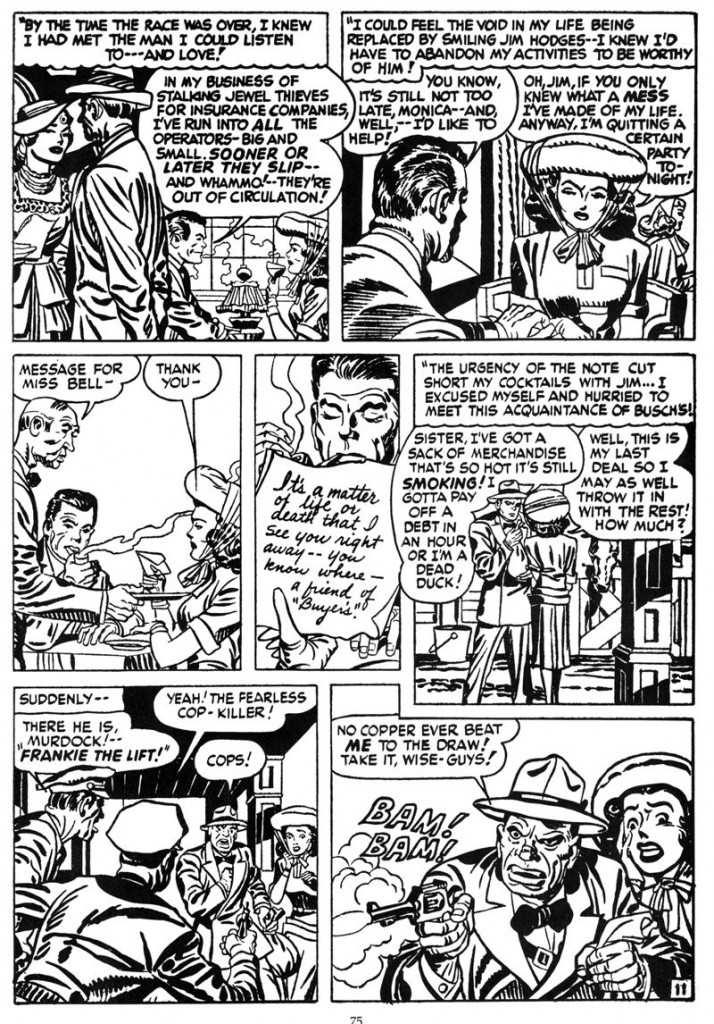 She tried to quit but finds she's already in too deep, but is rescued by her new beau, and is now serving her time in jail, determined to live life straight when she gets out. Because, if you haven't learned by now, Crime Never Pays.
Other stories include "Lucky Fights It Through", a Harvey Kurtzman comic about syphilis, "Teen-Aged Dope Slaves", from the Rex Morgan strip, plus other tales of drugs, sex and violence.
Published 1989