See, this weblog isn't as monomaniacal as all that. I'm more than happy to cover major Kirby inkers as well as Kirby…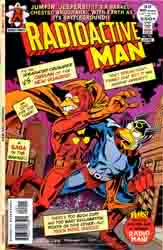 Anyway, Mike Royer makes a rare return to comic books by providing the inking, over Batton Lash script and layout and Mike DeCarlo pencils, for the lead story in Bongo's RADIOACTIVE MAN #9 (numbered #197 on the cover), which has a story featuring RM going up against Obrian of the New Guards. There's even a story of the golden age "Radio Man".
Something about this seems familiar, but I can't quite put my finger on it. Oh well, as the cover says, "Dont Speak! Don't Think!! Just Buy It and Shaddap Awready!!!".