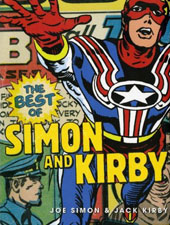 Well, barring something unforseen, it looks like every major Kirby publication of 2009 should be out now, so why not get the annual recap out of the way early, while there's still time for last minute gift shopping. I count 42 publications with Kirby content this past year, a few of them trivial, but a lot of them major books full of great material, including several hundred pages of never previously reprinted comics.
As usual, lists of stuff announced and released, and some links, are over here.
---
THE BEST OF SIMON AND KIRBY [HC]
Book of the year, by a long shot, maybe book of the decade, this massive hardcover, the first in Joe Simon's new publishing deal with Titan, provides a great sampler of the long and fruitful collaboration of S&K. All genres represented (including a few stories from Marvel and DC), a lot of stuff that hasn't been seen since it was first published, and gorgeous full-colour restoration. If for some reason you don't have this book yet, get it now. Plus more books on the way from Simon in the years ahead.
---

COLLECTED JACK KIRBY COLLECTOR VOL. 7 [TPB]
THE JACK KIRBY COLLECTOR #52
THE JACK KIRBY COLLECTOR #53
Courtesy of TwoMorrows, the 7th volume of COLLECTED brings the last of the 8.5×11 issues back into print, with the usual selection of new material. Meanwhile the tabloid sized issues continue, with the usual assortment of rarities, pencil art and more. #52 reprinted a Jim Bowie western, and #53 reprinted a long BLACK MAGIC story. Next issue should be out in January. Digital editions (downloadable PDF files) are available for many recent issues.
---
THE LOSERS BY JACK KIRBY [HC]
THE SANDMAN BY JOE SIMON & JACK KIRBY [HC]
DC had two major books of Kirby from different eras, and if it weren't for the BEST OF S&K above they'd be duking it out for book of the year honours. THE LOSERS collects the dozen issues of OUR FIGHTING FORCES Kirby did in the mid-1970s, an assignment that he somewhat surprisingly managed to turn into a deeply personal and highly memorable run of classic comics. And then DC finally got around to collecting some of the classic golden age S&K material, with a reprint of all of their Sandman stories from ADVENTURE and WORLD'S FINEST (not the ALL-STAR COMICS stories, unfortunately), plus their 1970s reunion on a new version of the character (the first S&K&Royer issue only, not Kirby's later work on the character). NEWSBOY LEGION on tap for 2010, presumably BOY COMMANDOS after that (that will likely take two volumes), or maybe a slim volume for MANHUNTER.
SUPERMAN: THE COMING OF ATLAS [HC]
Also from DC, they brought back Atlas, from one of Kirby's FIRST ISSUE SPECIAL #1 in 1975, as a character in a recent Superman storyline, so when they reprinted the new stuff they were nice enough to include a reprint of the Kirby original. There'll be a softcover of the collection coming out in 2010, again with the Kirby. Similar thinking goes into the upcoming KOBRA: RESURRECTION book having the Kirby debut of the character.
---
SUPERMEN! THE FIRST WAVE OF COMIC-BOOK HEROES (1939-41) [TPB]
Despite the title, not from DC, this Fantagraphics collection of various superhuman types who proliferated in comics soon after the debut of Superman includes the Cosmic Carson story from SCIENCE COMICS #4 and the final S&K Blue Bolt story from BLUE BOLT #10. Plus a bunch of Jack Cole, Bill Everett, Lou Fine, Basil Wolverton and others. Worth a look.
---
And the rest is all Marvel, with the usual selection of Kirby reprints in all their various formats.
ESSENTIAL THOR VOL. 4 [TPB]
ESSENTIAL SUB-MARINER VOL. 1 [TPB]
Marvel's line of thick black&white reprints, the THOR volume finally takes them to the end of Kirby's run and beyond, so good to have that full run available in handy reprints for the first time ever. The SUB-MARINER volume includes a pair of stories that Kirby did in TALES TO ASTONISH, plus a lot of covers by Kirby.
MARVEL MASTERWORKS: GOLDEN AGE CAPTAIN AMERICA VOL. 3 [HC]
MARVEL MASTERWORKS: THE MIGHTY THOR VOL. 8 [HC]
MARVEL MASTERWORKS: GOLDEN AGE MARVEL COMICS VOL. 4 [HC]
MARVEL MASTERWORKS: ATLAS ERA BLACK KNIGHT/YELLOW CLAW VOL. 1 [HC]
MARVEL MASTERWORKS: THE INHUMANS VOL. 1 [HC]
MARVEL MASTERWORKS: THE HUMAN TORCH VOL. 2 [HC]
MARVEL MASTERWORKS: GOLDEN AGE YOUNG ALLIES VOL. 1 [HC]

More then two decades in the old hardcover line continues. GA CAP v3 has the last two S&K issues and continues beyond that. THOR v8 brings them one volume from the end, with some really nice Everett inked issues included. GA MARVEL v4 has the first four Vision stories, some never reprinted before. Big Kirby release among these is probably the BLACK KNIGHT/YELLOW CLAW book, which has all three issues of Kirby's CLAW from the mid-1950s, some of it never before reprinted. INHUMANS v1 has some nice stuff, the back-up feature from THOR, the stories from AMAZING ADVENTURES #1-#4 and even some NOT BRAND ECHH before moving on to post-Kirby stuff. TORCH v2 has one Kirby story and a bunch of covers. YOUNG ALLIES is really trivial Kirby content. In upcoming volumes, Kirby art in the third TALES TO ASTONISH book.
THE X-MEN OMNIBUS VOL. 1 [HC]
A massive hardcover, in colour and slightly larger than the Masterworks books, of the first 31 issues of the series, so all the issues Kirby drew, plus the ones after that that he did full cover pencils for (a few later issues he's sometimes credited with cover layouts). Looks like a Thor movie is in the works, so expect a volume whenever the film opening is.
MARVEL MASTERWORKS: THE AMAZING SPIDER-MAN VOL. 1 [TPB]
MARVEL MASTERWORKS: THE FANTASTIC FOUR VOL. 1 [TPB]
MARVEL MASTERWORKS: THE X-MEN VOL. 1 [TPB]
MARVEL MASTERWORKS: THE AVENGERS VOL. 1 [TPB]
MARVEL MASTERWORKS: THE FANTASTIC FOUR VOL. 2 [TPB]
MARVEL MASTERWORKS: THE X-MEN VOL. 2 [TPB]
MARVEL MASTERWORKS: THE INCREDIBLE HULK VOL. 1 [TPB]
MARVEL MASTERWORKS: THE AVENGERS VOL. 2 [TPB]
And they started releasing the Masterworks line in $25 softcovers this year. One a month, following the same sequence as the originals, so lots of Kirby in the first few years. His contribution to the SPIDER-MAN volume is minimal, of course, but he's all over the other listed books. If they maintain the schedule 2010 will see two more FF volumes, two SURFER books (I think the current layout has a Kirby short story in v1 and his work on the last issue of the series in v2), lots of Kirby in THOR v1 and CAPTAIN AMERICA v1, some Kirby in IRON MAN v1 and DAREDEVIL v1 and trivial Kirby in SPIDER-MAN v4.
THOR: TALES OF ASGARD BY STAN LEE & JACK KIRBY #1 (JiM 97-104)
THOR: TALES OF ASGARD BY STAN LEE & JACK KIRBY #2 (JiM 105-112)
THOR: TALES OF ASGARD BY STAN LEE & JACK KIRBY #3 (JiM 113-120)
THOR: TALES OF ASGARD BY STAN LEE & JACK KIRBY #4 (JiM 121 – Thor 128)
THOR: TALES OF ASGARD BY STAN LEE & JACK KIRBY #5 (Thor 129 – Thor 136)
THOR: TALES OF ASGARD BY STAN LEE & JACK KIRBY #6 (Thor 137 – Thor 145)
For some reason they decided to finally do a stand-alone reprint of the long run of 5-page "Tales of Asgard" stories that ran in the back of JiM/THOR for four years, but they also decided to do with some thoroughly modern colouring. If that's your thing, then this is for you. A hardcover collection comes out in a few months, a softcover will probably follow soon after.
MARVEL 70th ANNIVERSARY [TPB]
ANNIHILATION CLASSIC [TPB]
FANTASTIC FOUR: LOST ADVENTURES BY STAN LEE [TPB]
MARVEL SUPER HERO TEAM-UP [TPB]
PET AVENGERS CLASSIC [TPB]
A few collections with some Kirby content, but mostly other stuff. I think some Cap, FF and Avengers in 70th, a short sci-fi/monster story in ANNIHILATION, the reconstructed FF #108 in LOST ADVENTURES, a Cap/Fury team-up in TEAM-UP (that was the book that was supposed to be called MARVEL BROMANCE) and an FF story in PET AVENGERS.
THOR #600 (several Tales of Asgard short stories)
CAPTAIN AMERICA COMICS 70th ANNIVERSARY SPECIAL #1 (one S&K reprint from CAPTAIN AMERICA #7)
MYSTIC COMICS 70th ANNIVERSARY SPECIAL #1 (reprints of two Vision stories from MARVEL COMICS #13 and #16)
SECRET INVASION: REQUIEM (first Wasp story)
THOR #600 (some Tales of Asgard stories)
THOR GIANT-SIZE FINALE (reprints JiM #83)
And every now and then, when there's some giant issue of a comic that they want to justify adding a few dollars to the price, a Kirby reprint will show up as back-up material to some new stuff. Here are the examples I know of from this year, there may be more, they aren't always announced ahead of time.