Doesn't look like any more Kirby is due out in the last two weeks of the year, so here's an overview of 2008 in Kirby publications. You can probably still get some of them in time for Hanukkah gift giving. Busy year again, with 41 publications listed below, some trivial but a fair number of major works as well.
Highlight of the year, that's a tough one. Evanier's KIRBY: KING OF COMICS is a strong contender. The latest COMPLETE KIRBY has some amazing material. All 16-issues of THE DEMON in one big book. Plus several of the TwoMorrows publications. Today I'd go with COMPLETE KIRBY v5.
As usual, lists of stuff announced and released, and some links, are over here.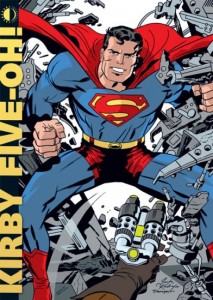 First up, from TwoMorrows:

KIRBY FIVE-OH: 50 YEARS OF KING OF COMICS
KIRBY FIVE-OH: 50 YEARS OF KING OF COMICS [Hardcover]
JACK KIRBY COLLECTOR #51
COLLECTED JACK KIRBY COLLECTOR – VOLUME 6
COMICS GO HOLLYWOOD—FCBD 2008 EDITION
JACK KIRBY CHECKLIST GOLD EDITION
Only two issues of TJKC, but one was double-sized (and #52 should be out early in 2009). As usual some new art to go with the reprints in the COLLECTED JKC book. The updated checklist was a treat, especially if you get the searchable PDF version as well. Very good year overall.
I'm sure that some of their other magazines, especially ALTER EGO, had some Kirby content throughout the year, though I haven't seen them all. Anyone know if there was anything more than spot illustrations, enough to warrant being included on this list?
Looking forward to 2009, more of the same, v7 of COLLECTED already scheduled, finishing up the issues in the original pre-tabloid format.
---
DC reprinted the following: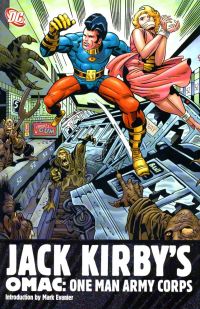 JACK KIRBY'S FOURTH WORLD OMNIBUS VOL. 4
JACK KIRBY'S OMAC: ONE MAN ARMY CORPS
JACK KIRBY'S THE DEMON
Some nice matching hardcovers of Kirby's 1970s and 1980s work, a lot of it reprinted for the first time ever and sometimes including stuff not in the originals (the original version of HUNGER DOGS, a few unused pages from THE DEMON and OMAC).

COUNTDOWN SPECIAL: KAMANDI
COUNTDOWN SPECIAL: OMAC
COUNTDOWN SPECIAL: THE NEW GODS
A few one-shot comics reprinting some 1970s Kirby with tangential connections to then-current new DC comics. Only one Kirby story in the OMAC one, the other two are all Kirby, and the KAMANDI one includes one of the issues not yet reprinted elsewhere.
SHAZAM: THE GREATEST STORIES EVER TOLD TP
One of the stories from CAPTAIN MARVEL ADVENTURES #1, the only issue of the series produced by S&K back in 1940.
In 2009, look for more 1970s material, starting with The Losers, and probably some 1940s S&K, plus some stray bits like the 1970s Atlas issue of FIRST ISSUE SPECIAL in a reprint of some current Superman comics.
---
Marvel, as usual, had a lot of Kirby in various formats:
JACK KIRBY'S GALACTIC BOUNTY HUNTERS VOL. 1 TPB
A third chance to buy the material based on Kirby's concepts (with some of his art) done by Lisa Kirby, Mike Thibodeaux and others.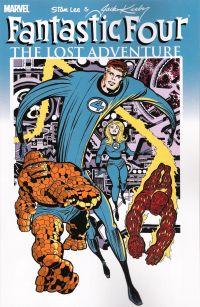 FANTASTIC FOUR: THE LOST ADVENTURE
FANTASTIC FOUR: LOST ADVENTURES BY STAN LEE HC
The reconstruction of the story that was chopped up to become FF #108, newly inked by Joe Sinnott. The one-shot comic includes the pencils and the version printed in FF #108, not sure of the hardcover (which includes other later-day returns to the FF by the writer) includes those. There's also one page which turned up later which I don't think is included in the above.

ETERNALS BY JACK KIRBY BOOK 1 TPB
ETERNALS BY JACK KIRBY BOOK 2 TPB
The complete 1970s series gets collected in a pair of softcovers for those who didn't get the one-volume hardcover a few years back.
ANNIHILATION CLASSIC HC
HULK VS. THE MARVEL UNIVERSE TPB
SECRET INVASION: THE INFILTRATION TPB
Some Kirby is included among various non-Kirby stories in these reprints that tie into current Marvel events.
AVENGERS CLASSIC #8
AVENGERS CLASSIC #9
AVENGERS CLASSIC #10
AVENGERS CLASSIC #11
AVENGERS CLASSIC #12
HULK VS. HERCULES – WHEN TITANS COLLIDE
A few reprints in more traditional comic book format. Just minor Kirby reprints in those AVENGERS CLASSIC issues after #8, and a short back-up reprint in that HULK VS. HERCULES one-shot.
MARVEL MASTERWORKS: ANT-MAN/GIANT-MAN VOL. 2 HC
MARVEL MASTERWORKS: ATLAS ERA TALES OF SUSPENSE VOL. 2 HC
MARVEL MASTERWORKS: ATLAS ERA TALES TO ASTONISH VOL. 2 HC
MARVEL MASTERWORKS: GOLDEN AGE CAPTAIN AMERICA VOL. 2 HC
MARVEL MASTERWORKS: SGT. FURY VOL. 2 HC
MARVEL MASTERWORKS: THE FANTASTIC FOUR VOL. 11 HC
MARVEL MASTERWORKS: THE MIGHTY THOR VOL. 7 HC
Various eras of Kirby continue in this line of books, with mostly just covers in the ANT-MAN/GIANT-MAN and SGT. FURY books, a half-issue (since reconstructed in that LOST ADVENTURE book above) in the FF book, but lots of Kirby in the others.

THE INCREDIBLE HULK OMNIBUS VOL. 1 HC
THE INVINCIBLE IRON MAN OMNIBUS VOL. 1 HC
The bigger and thicker versions books that usually accompany theatrical releases of the characters, these two include pretty much all of Kirby's 1960s work on these series, plus lots of others.
For 2009, the big news is the re-release of the MASTERWORKS books in $25 softcovers, monthly and following the original release order, so expect two books each of FF, Avengers and X-Men and one each of Spider-Man and Hulk. The hardcover line continues, several already on tap to include some Kirby, including a few 1940s Vision stories never before reprinted. The X-MEN OMNIBUS will include close to all of Kirby's contribution to that series.
---
And from other publishers: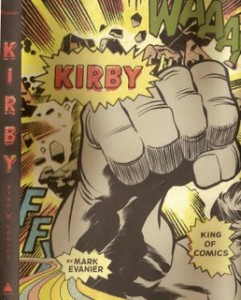 KIRBY – KING OF COMICS
Mark Evanier's long-awaited art book survey of Kirby's career. Very pretty, though not without various minor quibbles. I wouldn't expect the even longer-awaited detailed biography for a while.
JACK KIRBY QUARTERLY #15
The original Kirby fanzine from England returns with one more issue. I haven't seen it, but the various preview images I saw looked nice.
THE COMPLETE JACK KIRBY v5
SEX, DRUGS, AND VIOLENCE IN THE COMICS
Two new books from Greg Theakston's Pure Imagination, with the first volume of COMPLETE in six years continuing with Kirby's 1947 material, filling a 172-page book with just two months of his publishing output, some great stuff there. SEX, DRUGS… features three S&K crime stories among other such comics of the era, good choices, though all three available in other books as well (but I guess those old Eclipse reprints aren't easy to find).
THE MAMMOTH BOOK OF BEST CRIME COMICS
A single S&K Kirby, "The Money-Making Machine Swindlers" from JUSTICE TRAPS THE GUILTY #6 [1948], is included in this thick collection of crime comics from around the world, but it's a really good one, and hasn't been reprinted elsewhere.
The big release for 2009 should be at least the first of many new Joe Simon books reprinting some S&K material, possibly Greg Theakston's JACK MAGIC biography of Kirby, which should be interesting, and some other stuff. I'm still hoping Image gets the 1980s Kirby material back on the schedule.