Cap and the Falcon's search for the "Big Daddy" Madbomb leads them to captivity in the underground lair of the New Society, where the traitors to the American way experiment in ways to rob people of their free will and make them workers for the rulers. There they meet the extremely creepy Cheer Chadwick, daughter of one of the leaders of the New Society.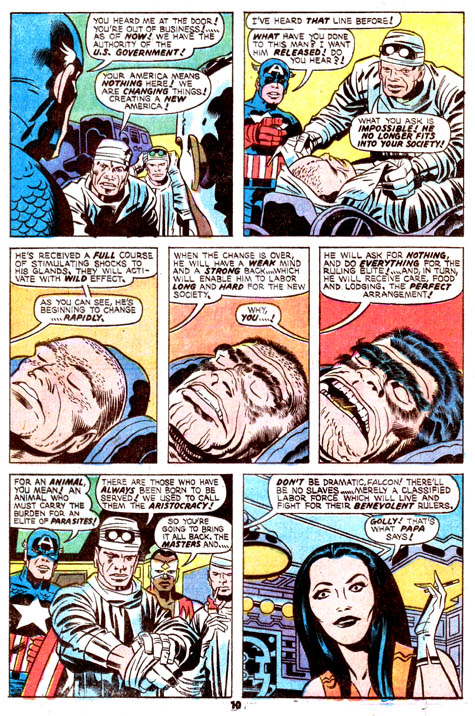 Chadwick pulls rank on the soldiers and leads our heroes on a tour of the place, which culminates in a nightmarish vision out of Orwell (hence the title of the story) of a charismatic computer composite dictator on a screen whipping a crowd into a frenzy against freedom. She then tells Cap and the Falcon that they'll have to participate in the Kill-Derby, although as a fight against the leader of one of the teams, Tinkerbell, shows, their obsolete notions of "fair play" won't serve them well in the arena.
Definitely some crazy stuff, with Kirby exploring some of his favourite ideas in different ways while still keeping the action up there.
D. Bruce Berry inks the 17-page story and Frank Giacoia inks the cover.
Published 1976