The final issue of the series begins with Ikaris imprisoned by his cousin Druig, who is determined to find a weapon capable of destroying the Celestials hidden in the Pyramid of the Wind. Ikaris manages to escape after Druig departs, and pursues, while one of the Celestials also makes his way to the Pyramid.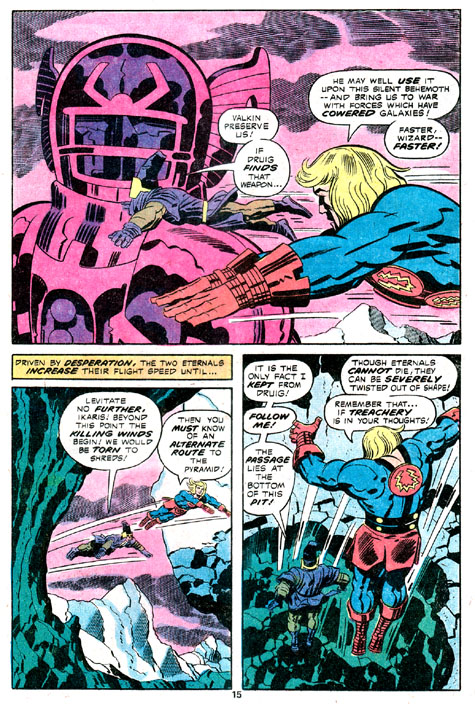 Ikaris eventually realizes that he won't be able to capture Druig alive and the weapon is disintegrated, killing Druig and starting a chain reaction that threatens to destroy the Earth. Fortunately, it turns out the Celestials are a lot more powerful than the Eternals had given them credit for, and Ziran of the Fourth Host is able to defuse the out-of-control energies of the weapon.
A somewhat satisfying ending to the series, at least not ending on an unresolved cliffhanger like so many Kirby endings. Obviously there was a lot more he wanted to do with the concepts, but that wasn't to be, and the story at least hints at some of the themes of ancient secrets and mankind's final destiny that drive the series.
Mike Royer inks the 17-page story and Frank Giacoia inks the cover.
Published 1978