The cover to this issue has the final Sunday page for the Sky Masters comic strip, from February 14, 1960, concluding the "Yoga Spaceman" storyline with Sky and Falcone being rescued by the Luna 2 in a trance-like state, thanks to Sky's yoga training, saving their lives with the minimal air they had on their unexpected adventure.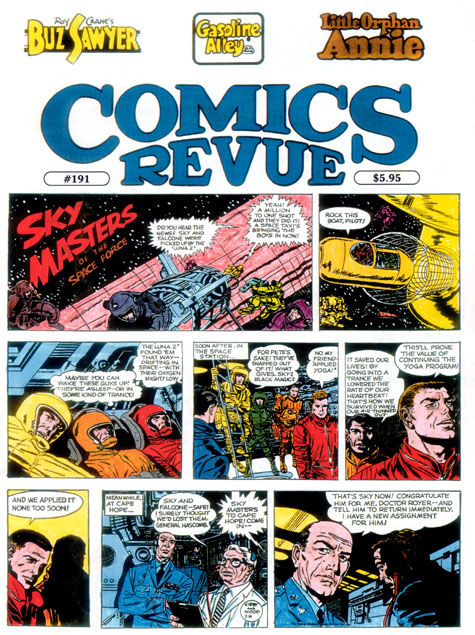 The art on this page was made up almost entirely from artwork clipped from previous strips, so I guess finishing up the Sunday pages was either rushed or wasn't that much of a priority. The daily strip must have still been doing well as it continued for another year beyond this. The panels are pretty well chosen, so they still tell the story, abrupt as it is, and I especially like that tube bringing in the "space taxi".
Find out more about COMICS REVUE here. The Sky Masters daily strips ran in #124 – #142, #144 – #153 and CR SPECIAL #1. Sunday strips ran on the covers (usually front and back, with the front missing the "Scrap Book" footer and sometimes the cut panel) of the odd numbered issues from #145 – #191.
Published 2002